Blair gets standing ovations in US
With embattled British Prime Minister Tony Blair at his side, US President George W. Bush on Thursday stood by his assertion that Iraq was trying to reconstitute its nuclear weapons program and declared: "We won't be proven wrong."
A White House press conference intended as a celebration of the US-British special relationship and the swift overthrow of former Iraqi president Saddam Hussein, was marked instead by questions about post-war chaos in Iraq, disputed intelligence and British terror suspects held in a US military jail.
Blair defended British intelligence on Saddam's alleged weapons of mass destruction which they used to justify invading Iraq, saying he believed it was "genuine."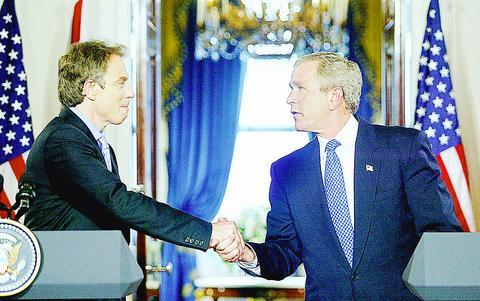 US President George W. Bush, right, shakes hands with British Prime Minister Tony Blair in the White House during a press conference yesterday in Washington.
PHOTO: AFP
Bush called it "sound" and lashed out at "the skeptics," who have focused on a now-discredited line in his State of the Union speech about Iraq's attempt to get uranium from Africa. The White House says it should not have been included in Bush's address.
"He [Saddam] possessed chemical weapons and biological weapons," Bush said. "I strongly believe he was trying to reconstitute his nuclear weapons program and I will remind the skeptics that in 1991 it became clear that Saddam Hussein was much closer to developing a nuclear weapon than anybody ever imagined."
"He [Saddam] was a threat. I take responsibility for dealing with that threat," Bush said, adding: "We won't be proven wrong ... We will bring the information forward on the weapons when they find them and that'll end all this speculation."
In an impassioned defense of the war before a joint session of Congress, Blair said that toppling Saddam was justified even though weapons of mass destruction have failed to materialize.
"Can we be sure that terrorism and weapons of mass destruction will join together? Let us say one thing: If we are wrong we will have destroyed a threat that at its least is responsible for inhuman carnage and suffering," Blair said in what was billed as one of the most important foreign speeches of his six-year premiership.
"That is something I am confident history will forgive," he said.
Blair and Bush are under fire for allegedly overstating the threat from Iraq's banned arms to justify the conflict. What should have been a period of triumph after a quick military campaign has turned into a nightmare for the allies.
Political chaos grips parts of Iraq, troops are under attack and public trust in Blair has slumped while Bush's approval ratings have slipped since the war ended.
"We're being tested in Iraq," Bush said. "Our enemies are looking for signs of hesitation. They're looking for weakness. They will find none."
Blair alluded to the atmosphere at home as he thanked the US lawmakers, who gave him 17 standing ovations.
"I'm deeply touched by that warm and generous welcome," he said. "That's more than I deserve and more than I'm used to, quite frankly."
Also see stories:

Panel tells US it's now or never in Iraq

Comments will be moderated. Keep comments relevant to the article. Remarks containing abusive and obscene language, personal attacks of any kind or promotion will be removed and the user banned. Final decision will be at the discretion of the Taipei Times.