US troops, warships head to Persian Gulf
DEPLOYMENTS The George W. Bush administration waited until after Christamas to issue orders to tens of thousands of military personnel to prepare for combat
Thousands of US troops and dozens of warships will head to Persian Gulf in the coming weeks as the Pentagon puts forces in place to make war on Iraq, defense officials say. \nSince Christmas, the Pentagon has been alerting units around the US and overseas to prepare for deployment. The Navy has been ordered to prepare two aircraft carrier battle groups and two amphibious assault groups -- which carry thousands of Marines -- to be ready to head to the region sometime in January, officials said Friday. \nAir Force combat aircraft wings and Army units also are receiving orders to deploy, officials said. Military personnel will go to Kuwait, Saudi Arabia, Qatar, Oman and Bahrain, among other locations, reinforcing the 50,000 US military personnel already in the region. \nThe fresh troops are intended to coerce Iraqi President Saddam Hussein into disclosing and abandoning his efforts to acquire chemical, biological and nuclear weapons, military officials said. No decision to go to war has been made. \n``We don't comment on specific unit deployments. However, forces will be flowing to the region to be in place should the president decide to use them,'' said Jim Wilkinson, a spokesman at US Central Command, which would oversee operations in Iraq. \nThe Bush administration waited until after Christmas to issue the orders. Officials said tens of thousands of military personnel will receive orders to go to the region, but a precise figure was unavailable. \nSome of the units being sent to the region are combat-ready, including infantry outfits, warships and strike aircraft, officials said. Many more are logistics, engineering and support teams, which will prepare for the arrival of even larger combat units in the months ahead, officials said. They will add to the 50,000 US military personnel already in the region. \nThe Pentagon's orders require the Navy to have its carrier and amphibious assault groups ready to sail to the seas around Iraq within 96 hours after a certain date in January, the officials said, speaking on the condition of anonymity. They did not specify that date. \nThe Navy has determined that one the carriers will be the USS George Washington. The ship just arrived home to Norfolk, Virginia, from the Persian Gulf region and has remained ready to return. The Navy has not decided on the second carrier, but officials said it will either be the Everett, Washington-based USS Abraham Lincoln, now in port at Perth, Australia, having just left the Persian Gulf region, or the USS Kitty Hawk, currently in port in Japan. \nAn aircraft carrier battle group includes six to eight surface escorts, including cruisers, destroyers, frigates and other vessels, dozens of strike and support aircraft and about 7,500 sailors. An amphibious ready group has about 2,200 Marines.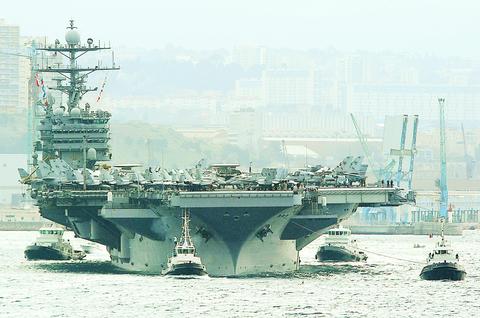 The USS Harry S Truman aircraft carrier, surrounded by French tugboats, leaves the harbor of Marseille, Friday.
PHOTO: REUTERS
Comments will be moderated. Keep comments relevant to the article. Remarks containing abusive and obscene language, personal attacks of any kind or promotion will be removed and the user banned. Final decision will be at the discretion of the Taipei Times.