Big fish netted in Zanadau affair
CORRUPTION A senior adviser to the president and two former economics ministers are the latest high-profile names to be dragged into the scandal
Investigators yesterday searched the residence of Senior Adviser to the President, Yu Chen Yueh-ying (余陳月瑛), before summoning her and later referring her to the Kaohsiung District Prosecutors Office last night for her alleged part in the high-profile Zanadau financial scandal.
Yu Chen, Interior Minister Yu Chen-hsien's (余政憲) mother and a former Kaohsiung County Commissioner, served as president of the Zanadau Development Corp.
Accompanied by Yu Cheng-hsien, Yu Chen yesterday afternoon presented herself before the Kaohsiung city office of the Ministry of Justice Bureau of Investigation.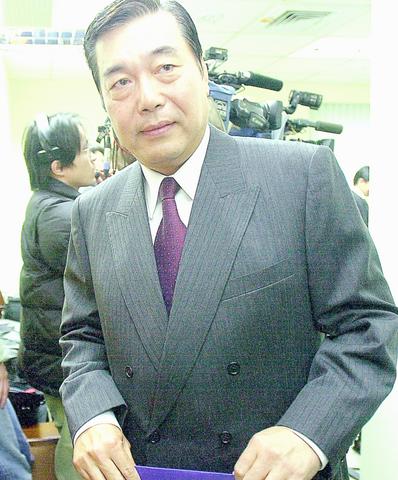 Former economics minister Wang Chih-kang holds a press conference yesterday to refute media claims that he was involved in the Zanadau corruption case.
PHOTO: CHU YU-PIN, TAIPEI TIMES
Yu Chen , who claimed to have a bad memory due to her age, reportedly authorized her lawyer to answer all questions raised by the investigators.
Also yesterday two former economic ministers cried foul over their alleged involvement in the Zanadau scandal, saying the local government, instead of their ministry, held the key to granting licenses for the multi-billion NT dollar project.
Former ministers of economic affairs Wang Chih-kang (王志剛) and Chiang Ping-kun (江丙坤) both denied exerting improper influence during their stints as top economic policymakers to help clear legal obstacles for the Zanadau Development Corp.
The probe into the alleged influence-peddling scheme revealed that principal Zanadau shareholder Su Hui-chen (蘇惠珍) exploited ties with key Cabinet officials years ago to obtain licenses for construction of a giant shopping mall in Kaohsiung County.
Though work on the project came to a halt later for lack of capital, Su is suspected of unduly inflating the price of the land on which the mall is located.
The businesswoman allegedly did so through the help of Chen Sheng-fu (陳伸夫) and other middlemen who enjoy close friendship with politicians of all stripes.
Wang, now chairman of Fu Hua Securities and Investment Co, said the Zanadau project had the backing of the ministry before he took its helm in June 1996.
He admitted meeting once with Su and Chen but emphasized that nothing illegal or unethical transpired during their meeting.
"I agreed then to receive all sponsors of major domestic investment projects in a bid to boost the economy that had seen a sharp decline after Beijing staged a series of war games," Wang said. "To that end, the ministry welcomed all investment plans and would provide a helping hand when asked to do so."
As local governments had the final say on whether to issue assorted licenses, the ministry chiefly played the role of encourager, he added.
"It is up to local governments to decide rezoning and environmental impact assessment requests as well as the issuance of construction permits and other licenses," the former minister said.
Wang admitted Chen was a classmate at college but added they had only met once in the past 35 years.
Though Zanadau failed to carry out construction as required by law, Kaohsiung authorities agreed to extend its license in 1999, citing an ambivalent directive from the economics ministry.
The document at issue states permission for development projects becomes invalid one year after developers fail to act on it and that Zanadau violated no rules throughout the process.
Suspecting malfeasance on the part of officials involved, investigators have detained Lin Chi-jui (林琦瑞), former chief of the public works bureau of Kaohsiung County Government.
Chiang, who steered the economics ministry before Wang, said he does not know Su or have a clear memory of the Zanadau project.
But he said it was the former KMT government's policy to encourage establishment of industrial-commercial complexes.
"The ministry would be more than happy to promote any investment plan that could help stimulate the economy and provide job opportunities," said Chiang, now the legislature's vice speaker.
The speedy conversion of the cheap farmland where the mall was to be situated into an industrial-commercial zone is said to have contributed to its steep rise in value.
Both Wang and Chiang urged investigators to get to the bottom of the controversy, saying their characters could withstand the severest test.
Comments will be moderated. Keep comments relevant to the article. Remarks containing abusive and obscene language, personal attacks of any kind or promotion will be removed and the user banned. Final decision will be at the discretion of the Taipei Times.