Speaker elections controversial
GAINING STRENGTH The blue camp swept the board in Taipei while the shady Chu An-hsiung took the Kaohsiung post, despite a lack of DPP support
Taipei and Kaohsiung city councils yesterday finished elections for speakers and deputy speakers. \nThe KMT's Wu Bi-chu (吳碧珠) took the speaker's post in Taipei with the PFP's Lee Hsin (李新) taking the deputy post. \nIn Kaohsiung, the controversial Chu An-hsiung (朱安雄) took the speakership with Tsai Song-hsiung (蔡松雄) as his deputy. Both are independents. \nTaipei City Mayor Ma Ying-jeou (馬英九) and Kaohsiung City Mayor Frank Hsieh (謝長廷), both re-elected on Dec. 7, were sworn in yesterday. \nWu yesterday won 30 votes from the pan-blue camp to be successfully re-elected, beating challenger Chen Chin-hsiang (陳錦祥) also from the KMT. \nWu's victory came in the wake of a row among the KMT city council caucus, especially from the so-called "Chen clan," which includes Chen Cheng-chung (陳政忠) and Chen Chin-hsiang, who also wanted to run for the speakership despite party headquarter's preferring Wu. \nThe DPP seemingly gave up in the speaker's election as all of its 17 councilors voted for themselves. Instead the party concentrated on its candidate for deputy speaker, Chou Po-ya (周柏雅). \nWinning 20 votes, Chou, however, lost the race to the PFP's Lee Hsin who received 22. \nThe election of Wu and Lee made the pan-blue camp dominant in the council and has effectively marginalized the DPP. The result is expected to smooth the way for Taipei Mayor Ma Ying-jeou (馬英九) of the KMT to implement his administrative goals. \nWu, 54, is a five-term Taipei City Councilor, and was the first female speaker of the council upon her election to the post in her previous term. \nLee, 50, was re-elected for a second term as a city councilor. He is also a former member of the National Assembly. \nIn Kaohsiung, the scandal-ridden Chu An-hsiung, in an unexpected turn of events, defeated his DPP rival for the speakership Kao Tzeng-ying (高宗英) by 25 votes to 14. \nChu, notorious for his alleged involvement in both bribery and financial scandals for which he is currently being prosecuted, won the speakership with the support of KMT, PFP and independent city councilors who gave him 11, six, and eight votes respectively, while the DPP's 14 councilors followed the party's direction to vote for Kao. \nThe KMT and PFP were severely criticized afterwards for supporting a "black-gold" politician with the KMT ignominiously failing in its aim of running a clean election. \nChu, 58, is a four-term councilor and has served two terms as a Control Yuan member. \nTsai Song-hsiung, a three-term city councilor, was re-elected yesterday as Kaohsiung's deputy speaker, receiving a total of 25 votes. \nAlso see stories: \nDPP says its clean reputation intact \nElection makes mockery of leaders' claims \nCity councilors in the clear, prosecutors say \nKaohsiung shows need to end `black gold,' DPP says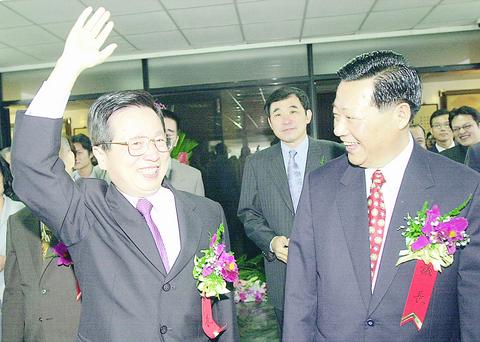 Former Kaohsiung City Council speaker Huang Chi-chuan, left -- accompanied by newly elected speaker Chu An-hsiung -- waves to the media at the handover ceremony yesterday afternoon in Kaohsiung.
PHOTO: CHANG CHUNG-YI, TAIPEI TIMES
Comments will be moderated. Keep comments relevant to the article. Remarks containing abusive and obscene language, personal attacks of any kind or promotion will be removed and the user banned. Final decision will be at the discretion of the Taipei Times.