Give up UN entry bid, Lu suggests
`A THIRD WAY ' The country should focus on developing better relations with its Pacific Rim neighbors rather than wasting time trying to join the UN, the vice president said
Taiwan should stop trying to join the UN and find other ways to end its international isolation, Vice President Annette Lu (呂秀蓮) said yesterday.
"Taiwan has to find `a third way,' otherwise it will run the risk of being marginalized," Lu said.
Lu, a longstanding supporter of the country's attempts to rejoin the UN, wants to create an assembly of democratic nations in the Asia-Pacific region.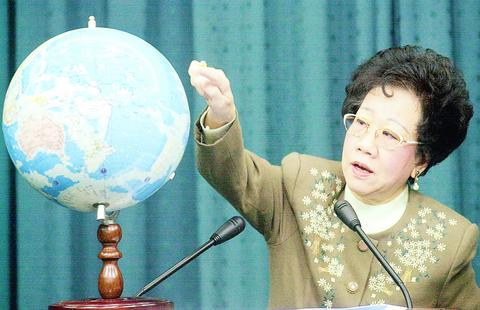 Vice President Annette Lu points at a globe to stress the significance of Taiwan in the world at a meeting held by the Democratic Pacific Assembly yesterday.
PHOTO: LEE HUNG-MING, TAIPEI TIMES
She said the establishment of such a grouping, known as the Democratic Pacific Assembly, would help break the nation's isolation in the Pacific Rim region.
Lu made the remarks at a press conference yesterday ahead of a two-day preparatory meeting for the assembly. The international meeting is slated to begin in Tao-yuan County today.
She highlighted the fact that Taipei has been excluded from ASEAN and the "ASEAN Plus Three" dialogue process.
The "ASEAN Plus Three" arrangements refer to the annual meetings of leaders and ministers of ASEAN and their counterparts from China, Japan and South Korea to discuss key political, economic, security and tourism issues.
The vice president suggested that the assembly would yield more constructive results that the bids to rejoin the UN.
Since 1993, Taiwan has been trying to rejoin the UN as the Republic of China, but has been denied each time following opposition from China.
"Taiwan can say `no' to the UN in public," Lu said.
If Taiwan can make an unprecedented contribution to the Pacific Rim through other endeavors, the UN would "naturally invite Taiwan to join," she said.
When the country becomes the only state in the world without UN membership, its "uniqueness" will thus be highlighted, Lu said, adding that entry to the UN would then become a petty issue.
Vice Minister of Foreign Affairs Michael Kau (高英茂), who was also at the press conference, declined to clarify whether the ministry would adjust its strategy in the wake of Lu's remarks.
"That was the vice president's personal view. Don't mix it up with the foreign ministry," Kau said.
Under resolution 2758, the UN General Assembly decided to oust the ROC and admit the PRC in 1971 by a vote of 76 to 35, with 17 abstentions.
Comments will be moderated. Keep comments relevant to the article. Remarks containing abusive and obscene language, personal attacks of any kind or promotion will be removed and the user banned. Final decision will be at the discretion of the Taipei Times.