No al-Qeada link found yet: Kenya
Kenya said yesterday it had so far found no link between 12 people held over Thursday's attacks on Israelis in Mombasa and the al-Qaeda network that some suspect was involved. Two of the detainees were freed. \nUS officials said on Friday the top suspect for the blast at the Israeli-owned Paradise Hotel in which 15 people including three attackers were killed was the Somali-based group Al-Itihad al-Islamiya, known also as AIAI or the Islamic Union. \nThey said it was a prominent radical Islamist group in the Horn of Africa and had links with Osama bin Laden's al Qaeda, target of US President George W. Bush's war on terror after the Sept. 11 attacks on New York and Washington last year. \nThe interim government in lawless Somalia called yesterday for the dismantling of "terror groups" in East Africa, without commenting on the US charge. A leading Somali cleric, however, said such violence was the result of what he called oppression. \nKenyan Internal Security Minister Julius Sunkuli, asked if police had found any connection between al-Qaeda and those being held over the explosion and a failed simultaneous attempt to shoot down an Israeli airliner, told reporters: "None so far." \nPolice later released two detainees, American Alicia Kalhammer and her Spanish husband Jose Tena, after questioning, saying they had no connection with the attacks. The two said they bore no grudge against Kenyan authorities. \n"There are no hard feelings. We love Kenya. We love the Kenyan people and we know they were doing their job," Kalhammer, 31, told Reuters. \nTena, 26, said they attempted to leave their Mombasa hotel for a safer place in Kenya shortly after hearing about the blast, only to be detained by police. The two said they would now continue their holiday elsewhere in Kenya. \nThe other detainees are six Pakistanis and four Somalis who were arrested for entering Kenya illegally and only later came under suspicion by those investigating the attacks, police said. \nFriday's US comments were the first from Washington to point a finger at al Qaeda and the Somali group since suicide bombers rammed an explosives-laden vehicle into the beach hotel and missiles nearly hit an Israeli airliner carrying 261 people. \nBut US officials stressed it was too early to be sure about who was responsible. \n"The pattern could fit al Qaeda," said one official. Security analysts said the apparently coordinated attacks just minutes apart bore the hallmarks of bin Laden's network. \nAl-Qaeda is widely accused of the 1998 bombings of US embassies in Kenya and Tanzania in which 224 people died, most of them Africans. \nAn official of Somalia's Transitional National Government said Prime Minister Hassan Abshir Farah "condemns in the strongest terms what happened in Mombasa."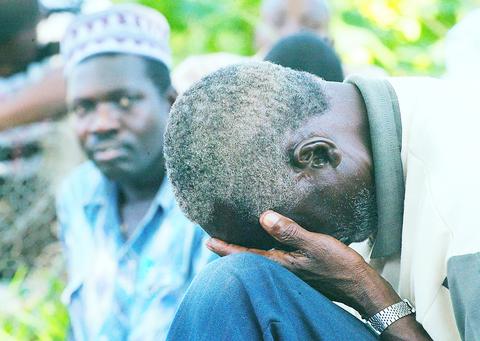 A Kenyan reflects during a memorial service in Mombasa for the victims of the Paradise Hotel bomb attack yesterday.
PHOTO: REUTERS
Comments will be moderated. Keep comments relevant to the article. Remarks containing abusive and obscene language, personal attacks of any kind or promotion will be removed and the user banned. Final decision will be at the discretion of the Taipei Times.