Chirac set to trounce Le Pen in French election
DENYING EXTREMISM On the eve of the presidential election, the country's voters were urged to back the incumbent, however unsavory that may be for some
After two weeks of political mayhem, French voters across the political spectrum were urged yesterday to rally behind Jacques Chirac in today's presidential vote and deny far-right leader Jean-Marie Le Pen victory. \nWith the mud-slinging campaign officially over and the noisy street rallies a distant echo, voters had a final day to reflect on an election that has become a referendum on the extreme right after Le Pen's shock success last month. \nLe Pen, a 73-year-old former political street brawler who once called the Holocaust a "detail" of history, stunned Europe on April 21 when he edged Socialist Prime Minister Lionel Jospin into third place in the first round with 17 percent of the vote. \nIn an example of the unity that has emerged in the wake of Le Pen's triumph, France's leading newspapers yesterday urged readers to vote for the sleaze-tarnished Chirac in order to block the xenophobic far-right leader. \nThe left-wing daily Liberation printed the word "Oui" in big block letters on its cover over a drawing of a ballot being cast for Chirac -- - evoking the huge front-page "Non" it ran the morning after Le Pen knocked Jospin out of the race. \nWith Chirac the expected victor by default in today's runoff -- thanks to a rare show of unity that has both the Catholic church and homosexuals joining to block Le Pen -- everyone is looking ahead to parliamentary elections next month for the real contest. \nThose elections, held over two rounds on June 9 and 16, will determine the color of the next government and whether Chirac again has to share power with the left after five years of paralyzing "cohabitation" with Jospin. \nCommentators say today's vote could influence Chirac's choice of an interim prime minister to serve the next two months -- a sign of what could come if his conservatives were to win a majority in the 577-seat National Assembly. \nThe main favorites for the job are provincial moderate Jean-Pierre Raffarin and the ambitious Gaullist Nicolas Sarkozy. \n"A high Le Pen score would push Chirac to the right, putting Sarkozy in the prime minister's office," Liberation wrote yesterday, saying a weak showing by Le Pen would likely keep Chirac closer to the political center. \nThe main question in the runoff vote now seems to be the size of Chirac's victory. Severely criticized for not predicting Le Pen's surge, most pollsters have been wary about putting a figure to Chirac's score but some see it as high as 80 percent. \nWith polls hinting that Le Pen has failed to generate momentum during the final week of the campaign, the turnout will be key to determining his share of the vote. \nA record 28 percent of France's 41.2 million voters stayed away from the polls in the first round and one-third of voters opted for candidates on the political extremes in a measure of the breadth of disillusion with the mainstream. \nPolls suggest interest in today's runoff surged with Le Pen's shock qualification, and that abstentions would be far lower -- a showing that would almost certainly boost Chirac. \nMany voters on the left prepared to swallow their pride and vote for Chirac, but some still admitted they were torn. \n"I haven't decided yet whether I'll vote Chirac or cast a blank ballot. I just don't know if I can bring myself to do it," said 26-year-old chef Nicolas Lefebvre. \n"Thank goodness we've got the legislative elections where we can express a real choice. If not I'd be really fed up." \nSome on the left have suggested voters wear gloves, face masks or clothes pegs on their noses while voting for Chirac in protest at the "odor of corruption" they say surrounds him. \nBut France's electoral watchdog has warned voters not to break rules that ban partisan displays during voting, saying they could be fined or jailed and have their ballots annulled. \nAhead of today's vote, Le Pen predicted foul play. \n"We are going to witness an enormous enterprise of fraud," Le Pen told a news conference Friday, in remarks that appeared aimed at preparing his supporters for defeat. \nAs a purported example, Le Pen held up two ballots -- one for Chirac and one for himself. The one for the president was slightly whiter, which Le Pen said was an effort to make voting for him less desirable -- if only subliminally. \nLe Pen complained that his campaign posters were not being pinned up, that postal carriers were refusing to deliver his election manifesto to French households and that his supporters were being harassed. \nHe called it "a climate of totalitarianism" and said his campaign director would meet with authorities to discuss those issues. Le Pen also indicated he might contest the election result if his performance appeared to be abnormally low. \nEven if Chirac prevails at the polls, the reverberations caused by Le Pen's big score on April 21 will likely be felt for months or even years to come and may possibly set the stage for a complete overhaul of the French political system. \nLe Pen capitalized on fears over crime, immigration, and a loss of French identity in an integrated Europe and globalized world, tapping a vein of resentment among voters fed up with what they see as an unresponsive governing elite. \nExperts feel a backlash from emboldened foes of globalization could seriously curb a new government's appetite for pursuing the economic reforms that many view as crucial to France's future. \nEU insiders expect a more pugnacious, nationalistic French attitude in Europe regardless of who wins today and in next month's parliamentary vote.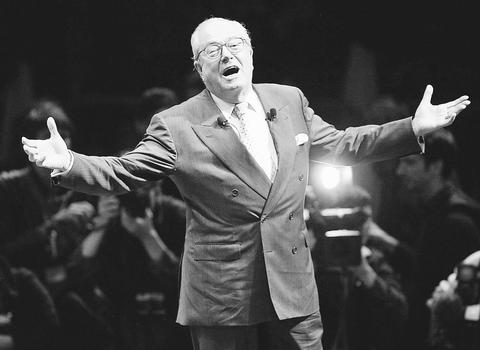 PHOTO: AP
Publication Notes
Comments by Le Pen:
ABORTION: "The idea that your body belongs to you is completely pathetic. It belongs to life, and, also, in part, to the nation." (1996)
AIDS: "AIDS sufferers, by sweating the virus through their pores, threaten the stability of the nation ... AIDS can be spread through sweat, saliva, contact. It is a type of leprosy." (1987)
IMMIGRATION: "This worrying phenomenon imposes on us its customs, its habits, its religion and is stealing our soul ... The tide of immigration is going to submerge us after ruining us." (1996)
-- "Do we want for tomorrow a multiracial society, which we must know will come undone and inevitably lead to a fracture, and then to an ethnic war?" (1996)
-- Illegal immigrants should be placed in "relatively comfortable transit camps," and, "I think we could make a special train to send them" to Britain. (2002)
RACES: "Yes, I believe in the inequality of the races ... At the Olympic Games, there is an evident inequality between the black race and the white race; it's a fact." (1996)
SPORTS: "I find it artificial to bring over foreign players and to baptize them the French team ... Most French players don't even know or want to sing the Marseillaise [the French national anthem].'' (1996)`
Comments will be moderated. Keep comments relevant to the article. Remarks containing abusive and obscene language, personal attacks of any kind or promotion will be removed and the user banned. Final decision will be at the discretion of the Taipei Times.