Aborigines protest nuclear waste
UNFILLED PROMISE Hundreds of demonstrators called on President Chen Shui-bian to fulfill his campaign pledge to remove all radioactive waste from the island
Hundreds of Aboriginal protesters from the Tao (達悟) tribe protested yesterday to demand that government officials remove roughly 98,000 barrels of low-level nuclear waste from their Orchid Island home.
The protesters demonstrated in front of a temporary repository on the island operated by state-run Taiwan Power Co (台電) and called on President Chen Shui-bian (陳水扁) to keep his promise to find another home for the radioactive waste.
"We hope that President Chen Shui-bian can do what he ought to do with courage," said Shyman Faagien (郭建平), a Taitung County councilor who led the protest.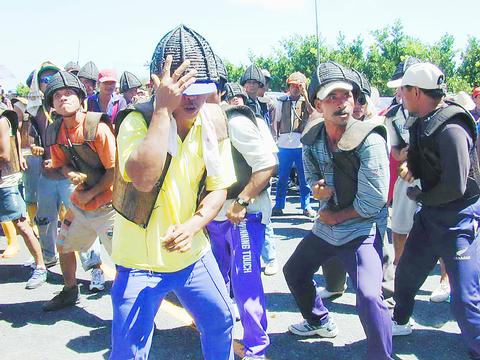 Men from the Tao tribe perform an exorcism ritual during a demonstration on Orchid Island against the nuclear-waste storage site there.
PHOTO: LI KUANG-PIN, TAIPEI TIMES
Demonstrators demanded that the waste be removed from Orchid Island by the end of the year.
During the 2000 presidential campaign, Chen promised Orchid Island's residents that, if elected, he would find a new storage place for the nuclear waste.
The Atomic Energy Council (AEC) opened the waste repository in 1982 and management control was turned over to Taipower in 1990 under an agreement that required all waste to be relocated by the end of this year.
Demonstrators in talks with Taipower officials yesterday asked the Ministry of Economic Affairs -- which oversees Taipower -- for a clear promise to remove the waste.
Protesters gave officials a petition containing four demands.
First, the Orchid Island residents asked that Chen not break his campaign promise made in 1999. They also demanded a clear time-frame for the removal of the radioactive material.
In addition, until the relocation takes place, the residents asked for a trustworthy task force composed of environmental groups and social organizations be established to oversee the repository's operations.
Finally, the demonstrators asked that government officials not consider Orchid Island as a permanent repository for radioactive material.
Minister for Economic Affairs Lin Yi-fu (林義夫) responded to protesters' demands yesterday by fax, saying he would order Taipower to reinforce safety measures at the repository.
In addition, Lin said he would order the AEC to establish a task force to supervise the repository's operations.
As for government plans to build a permanent repository, Lin said Taipower has picked Hsiaochiu Islet (小坵嶼) in Kinmen County as one of its choices.
But the Environmental Protection Administration has not yet approved the environmental impact assessment for the site.
Lin's responses, however, didn't satisfy demonstrators, who said the answers didn't go far enough to meet their demands and repeated earlier statements made by the government. The protesters tried to break into the repository to show their disappointment.
Comments will be moderated. Keep comments relevant to the article. Remarks containing abusive and obscene language, personal attacks of any kind or promotion will be removed and the user banned. Final decision will be at the discretion of the Taipei Times.