Police arrest kidnappers, free hostage
CRIME Two kidnap cases ended yesterday with both hostages freed. In one case police did nab the kidnappers, the other criminals may have collected millions in ransom
Police yesterday arrested three suspected kidnappers after they turned up in Kaohsiung to collect ransom for a relative of a famous restaurant owner.
The kidnapped woman was rescued during the raid as well.
Chen Li-chiu (陳麗秋) was kidnapped at her residence on Thursday night in Changhua County. She is the sister-in-law of Chen Wen-han (陳文漢), a major shareholder of the famous Ah-chiu (阿秋) seafood restaurant chain.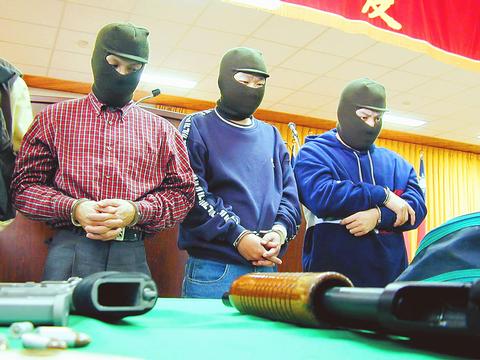 Kaohsiung police present the three suspects involved in the abduction of Chen Li-chiu, a relative of a well-known restaurant owner, after their arrest yesterday.
PHOTO: WU WEI-KUNG, TAIPEI TIMES
The kidnappers asked Chen for NT$10 million in ransom, according to Chinese-language media reports.
Police yesterday surrounded the drop-off point on Wenhsiu Street in Kaohsiung, where the kidnappers had instructed one of Chen's friends to hand over the ransom.
They arrested three suspects -- Teng Chin-chang (鄧進昌), Chen Chien-heng (陳建亨) and Shou Ming-wei (壽明瑋) -- while freeing Chen Li-chiu.
The police team seized a pistol, a shotgun and about 20 rounds of ammunition.
Police officials say one of the kidnappers posed as the notorious fugitive Hsueh Chiu (薛球), who is believed to be the mastermind behind the Oct. 1 kidnapping of Taichung City Council Vice Speaker Chang Hung-nien (張宏年). Chang was released a few days after being grabbed by his kidnappers.
Two of the kidnappers, Teng and Chen, were arrested in October last year on suspicion of installing fake ATMs in Sanchung City in Taipei County. After installing the fake ATMs they used the machines to steal the passwords of unsuspecting patrons.
Both were out on bail when they allegedly kidnapped the restaurant owner's relative.
Police are investigating claims that the kidnapping may be related to Saturday's elections. Chinese-language media said the restaurant owner, Chen, was planning to run for Changhua County councilor next year.
The kidnappers said they had initially planned to kidnap Chen himself but opted to take his sister-in-law instead when they couldn't find him.
In related news, Taoyuan County Councilor Tseng Chung-yi (曾忠義) was kidnapped and held captive over the weekend in what police believe was an election-related vendetta.
Tseng was kidnapped while on his way home from the campaign rally of a legislative candidate in Linkou township, Chinese-language media reported yesterday.
Tseng's captors made at least five telephone calls to his home to demand NT$150 million in ransom.
The kidnappers released him yesterday morning.
His family refused to say whether any ransom had been paid to the kidnappers.
Tseng, a powerful figure in Taoyuan County, has been deeply involved in the elections and was reportedly trying to become the council's speaker. Police believe legislative candidates unhappy with Tseng may have been behind the kidnapping.
Comments will be moderated. Keep comments relevant to the article. Remarks containing abusive and obscene language, personal attacks of any kind or promotion will be removed and the user banned. Final decision will be at the discretion of the Taipei Times.