NATO plan offers Russia a veto
CLOSER TIES A proposal by British Prime Minister Blair would give Moscow something that it has coveted for decades; equality and the right to reject alliance plans
Senior Russian officials called yesterday for radical changes in Moscow's relations with NATO, after talks with its Secretary-General George Robertson on plans that could give Russia a long-sought veto in NATO affairs.
Foreign Minister Igor Ivanov and Vladimir Rushailo, secretary of Russia's Security Council, were noticeably upbeat about future ties with Russia's erstwhile Cold War foe, saying relations were moving to a new level.
Russia and NATO "clearly have the political will to undertake far-reaching steps to give a fundamentally new quality to our cooperation," Interfax news agency quoted Ivanov as saying after meeting Robertson.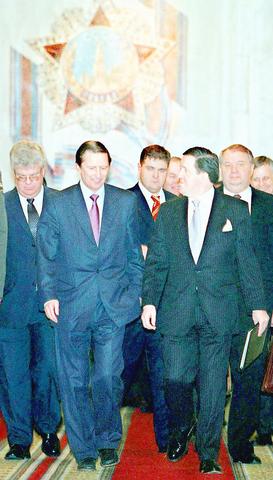 NATO Secretary-General George Robertson, right, and Russian Defense Minister Sergei Ivanov chat yesterday.
PHOTO: AP
The NATO secretary-general said on Thursday that the two sides were discussing plans for closer security ties that could imply a Moscow veto in some cases.
"That's one of the implications," Robertson said when asked whether the new proposals would effectively hand Russia a veto in NATO.
"It would depend on the subject matter as well ... but we're not at that stage yet. We're exploring it, and that is one of the implications that would have to be weighed up."
A plan put forward by British Prime Minister Tony Blair envisages inviting Russia to join the alliance's 19 members in the NATO council chamber to discuss specific topics on the basis of equality.
The new Russia-North Atlantic Council would take decisions on a consensus basis. The current Russia-NATO arrangement usually sees the NATO 19 ranged against Russia, a set-up Moscow complains asks it to rubber stamp decisions already taken.
Rushailo seized on Robertson's comments, saying "soon we will move from the `19 plus 1' format to that of 20 equals." But he stressed Russia did not plan to meddle in all alliance affairs.
"Defense issues are an internal matter for the alliance, and NATO itself must define the parameters of its own policies," Interfax quoted him as saying.
"However, the main thing for us at this stage is the broadening of cooperation in the security field, that is the fight against new threats."
These included terrorism, organized crime, non-proliferation of weapons of mass destruction, and cooperation in peacekeeping operations and responding to emergencies, he said.
Robertson was quoted as saying the two sides needed to seek creative solutions in terms of format and content to define their future relations.
Robertson was later to meet President Vladimir Putin, who has made integrating Russia into Western institutions a top priority, despite strong reservations among Russia's military and parts of the foreign policy establishment.
Putin insists that Russia, which remains a nuclear superpower, be treated with respect. "Russia doesn't intend to stand in line for NATO membership," he said on Thursday after meeting foreign policy lawmakers.
In a further sign of warming ties, Robertson made clear on Thursday that the West had re-evaluated Russia's two-year campaign in secessionist Chechnya since the Sept. 11 attacks on the US.
"We may disagree with the means Russia has chosen in the handling of that conflict ... but we have certainly come to see the scourge of terrorism in Chechnya with different eyes."
Comments will be moderated. Keep comments relevant to the article. Remarks containing abusive and obscene language, personal attacks of any kind or promotion will be removed and the user banned. Final decision will be at the discretion of the Taipei Times.