Hyde says Taiwan must be protected
ROLE MODEL US Legislator Henry Hyde said yesterday that Taiwan is of immense importance to the US and that its example should serve as an inspiration for China
The US should defend Taiwan because, as "the world's only functioning Chinese democracy," the nation could serve as a beacon of democracy for China, Chairman of the US House International Relations Committee Henry Hyde said yesterday.
"Instead of backing away from Taiwan, we should hold its democracy up as an inspiring example to all of China," Hyde told members of the Chinese National Association of Industry and Commerce during a luncheon talk in Taipei.
"We must protect it, not only because we have a duty to come to the defense of freedom, but because it provides tangible hope that the world's largest nation, with its ancient and profound civilization, will one day enter the ranks of the free nations of the world," the Republican from Illinois said.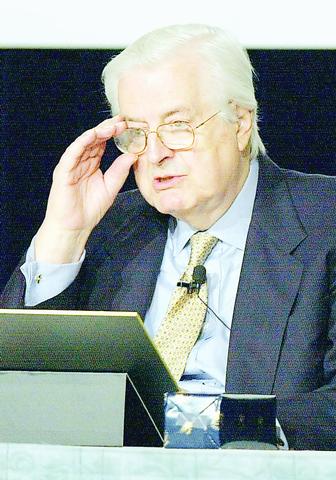 PHOTO:AP
"Taiwan's mere existence as a prosperous and stable Chinese democracy is a challenge to the regime in Beijing because it is proof that its propaganda about the impossibility of democracy in China is false," Hyde said.
Hyde said Taiwan's economic success could convince Beijing that "a Western, market-oriented economic model would work in China."
"It's time for Taiwan's democratic model to have the same effect, only this time the audience is the Chinese population," Hyde added.
Hyde also denounced the view that Taiwan is a liability to the US, saying, "Although some have grown used to regarding Taiwan as a liability, this approach obscures Taiwan's true importance. For a free and uncoerced Taiwan is of immense strategic importance to the US and to the world as a whole, perhaps an irreplaceable one.
"In fact, a free Taiwan is the key to the possibility of genuinely close relations between the US and China, and a guarantee that China's growing impact on the international system will be a positive one," Hyde added.
Taiwan held the first direct presidential election in Chinese history in 1996, which Hyde called a "historic accomplishment." He also said last year's peaceful transfer of power, the victory of Chen Shui-bian (陳水扁) of the DPP in the presidential election, further enhanced Taiwan's achievements in the process of democratization.
Hyde, who concluded his three-day visit to Taipei yesterday evening, said the potential for conflict between the US and China appeared to be rising.
"The regime in Beijing appears determined to bring about Taiwan's subordination, a determination so strong that, at times, it has even seemed willing to risk an armed confrontation," the 77-year-old veteran US congressman said.
Asked whether he would support a recent House resolution submitted by Gary Ackerman on July 24, that urged the US Congress to encourage the full participation of Chen in this year's APEC summit in Shanghai, Hyde gave a positive reply.
"I can support that resolution ... We can do that. If Gary wants it done, we'll do that," Hyde said. The proposal, House resolution 194, is to be put to a vote in early September, sources said.
Jeffrey Koo (辜濂松), chairman of the Chinese National Association of Industry and Commerce and one of Taiwan's ambassadors-at-large, saw Hyde's remarks as indicative of his firm support of Taiwan.
"One can't expect him to say, `I'll side with you in the event of war.' But in his capacity as the chairman of the House International Relations Committee, such a statement is rather strong," Koo said.
Comments will be moderated. Keep comments relevant to the article. Remarks containing abusive and obscene language, personal attacks of any kind or promotion will be removed and the user banned. Final decision will be at the discretion of the Taipei Times.