`God's Flock' gets culled in Philippine blaze
HOTEL INFERNO An early-morning fire which gutted a hotel near Manila left at least 75 guests dead, most of them attendees of a conference for born-again Christians
At least 75 people, most of them members of the "God's Flock" Christian sect, died yesterday in a pre-dawn fire that ripped through a Philippine hotel, officials said. \nThe group from several rural provinces was staying at the budget, six-story Manor Hotel in Quezon City while attending a conference for born-again Christians in Manila. \nAt least 34 people were also injured in the blaze. \nMany of the victims, including children, died of suffocation in their rooms as they were overcome by thick fumes and unable to escape due to barred windows and a shortage of fire exits. \nPresident Gloria Arroyo visited a hospital where the survivors were being treated as well as the makeshift morgue where the bodies of the dead were being kept. \nThe fire, believed to have been caused by an electrical fault, started at 4:30am on the third floor of the hotel and spread quickly to several other floors, police said. \nMany of the 200-odd guests, including 169 God's Flock members attending the conference, were trapped in their rooms. \nAt the height of the three-hour blaze, scores of trapped guests were seen weeping and waving to firemen along the hotel's balcony, crying for help and shaking grilles and iron bars on their windows. \n"There were many people who were trapped and yearning for help but who could not be rescued," Johnny Yu, Metro Manila director for civil defense, said. \nFiremen had to train their hoses on desperate guests crowding along the balconies waiting for help, as the flames spread behind them. They used circular saws to cut the grilles before rescuing the victims using long ladders mounted on fire engines. \nThe bodies were later taken to a police camp in the suburb where they were lined up on the floor of a basketball court, waiting for weeping relatives to identify them. \nThe city's fire marshal, Ricardo Nemenze, was suspended soon after the blaze pending an investigation as Jose Lina, the interior and local government secretary, vowed to press charges if criminal neglect was established. Lina said his office would look into reports that the hotel was found only two months ago to have flouted the building code and was given 15 to 30 days to rectify any lack of facilities including safety measures. \nIt was the worst fire disaster to hit the country since a 1996 blaze in Ozone Disco, also in Quezon City, killed about 160 people.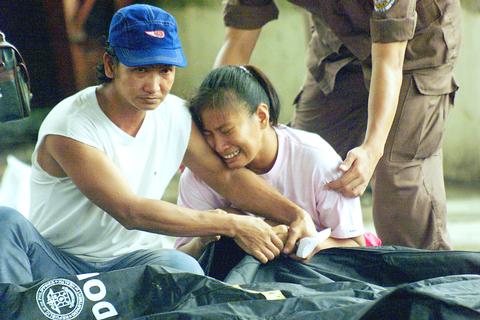 Relatives grieve over the body of a victim of a hotel fire in Quezon City after identifying the person in a makeshift morgue yesterday.
PHOTO: AP
Comments will be moderated. Keep comments relevant to the article. Remarks containing abusive and obscene language, personal attacks of any kind or promotion will be removed and the user banned. Final decision will be at the discretion of the Taipei Times.