Wahid brushes aside worries and vows to continue
CORRUPTION SCANDAL The Indonesian president remains defiant, even though the justice minister said prosecutors should go forward with their investigations
Besieged Indonesian President Abdurrahman Wahid, facing the worst crisis of his rocky rule, vowed yesterday to serve out his term despite a parliamentary censure that could trigger his eventual impeachment. \n"There is a question about whether I am going to resign. I will not resign until my term (ends in 2004) ...." Wahid told Muslim worshippers at a mosque in Jakarta. \nCalls for Wahid to quit or stand aside pending investigations mounted yesterday after parliament censured him over two multi-million-dollar graft scandals. \nNearly 2,000 student protesters demanding the frail Muslim cleric quit were camped out at a major Jakarta intersection late yesterday, causing traffic chaos. There were no clashes with police. \nAnd in a sign the Cabinet would not block further investigations, Justice Minister Yusril Ihza Mahendra said prosecutors should go ahead with parliament's order to probe Wahid over the scandals, worth a total of US$6.1 million. \nPolice have previously cleared Wahid of wrongdoing. \n"From a legal basis, because there has been a decision from parliament to continue the probe into the president, then it should begin," the Antara news agency quoted Mahendra as saying. \nThe head of the top legislative body, the People's Consultative Assembly (MPR), wants it to be convened immediately to consider sacking Wahid, local media reported. \nMPR speaker Amien Rais, a Wahid ally turned foe, said the normally slow process of calling a special session should be bypassed to avoid instability after the censure. \n"The bleeding must be stopped, otherwise it will get worse," the Observer newspaper quoted him as saying. \nRais' party was one of several that helped engineer Wahid's surprise rise to power 15 months ago but has since deserted him. \nParliament speaker Akbar Tandjung, another ex-ally, urged Wahid to step aside while authorities probe the scandals. He also heads the former ruling Golkar party, Indonesia's second largest. \nWahid has consistently refused to resign, saying he has the support of Vice President Megawati Sukarnoputri. Under the constitution, the daughter of founding President Sukarno would replace Wahid if he goes. \nFifteen months ago, largely through her own political ineptitude, she had to watch as the half-blind Wahid and an unlikely alliance of parties engineered his surprise win. \nAnalysts said Thursday's censure was a devastating blow to Wahid's legitimacy, although his political death could be slow and painful for the world's fourth most populous country. \nThey also warned the political tensions were scaring off investors and undermining a nascent economic recovery. \n"Gus Dur is finished, it's just a matter of process now," University of Indonesia politics lecturer Arbi Sanit said, using Wahid's nickname. "He's lost his political support." \nDewi Fortuna Anwar, a senior aide to Wahid's predecessor B.J. Habibie, said he must put the national interest first. \nThe censure clears the way for possible impeachment, but the formal process would take more than four months and requires at least one more formal parliamentary reprimand. \nThe complicated procedures, a lack of any credible alternative and fears a political coup could trigger a repeat of bloodshed that marked Suharto's ouster in 1998 mean Wahid is likely to survive for now, despite the censure. \nBut the setback means few now believe he can serve out his full term to 2004. Some analysts believe he will not survive beyond the next regular MPR session in August.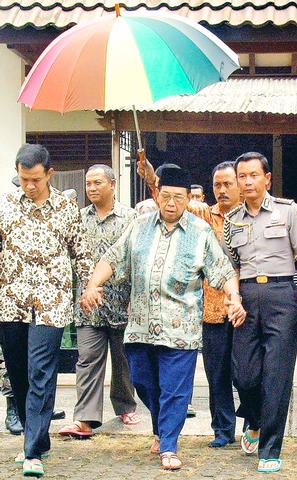 Aides protect Indonesian President Abdurrahman Wahid, center, from the sun with an umbrella as he leaves a Jakarta mosque following noon prayers yesterday.
PHOTO: AFP
Comments will be moderated. Keep comments relevant to the article. Remarks containing abusive and obscene language, personal attacks of any kind or promotion will be removed and the user banned. Final decision will be at the discretion of the Taipei Times.