Taiwan's `iron man' to return home to hospital
A Taiwanese sports legend is set to return to Taiwan tonight for urgent medical treatment after an e-mail his son sent to the Taipei Times eventually won him assistance from the government. \nOn Dec. 30, the Taipei Times received an e-mail from Cedric Yang, son of former decathlon champion Yang Chuan-kuang (楊傳廣), asking for assistance in obtaining the Taiwan government's help for his father. The e-mail said doctors had found a large tumor in the elder Yang's liver. \n"The UCLA Medical Center wants to admit him and place him on a waiting list for a liver transplant ... however, his doctor refuses to refer him to UCLA," the e-mail said, referring to the renowned Los Angeles hospital. \nWithout the doctor's referral, the insurance company would not cover the expenses. \nThe Taipei Times immediately forwarded the letter to its sister newspaper, the Liberty Times, which ran a story about Yang's plight on Jan. 1. Other Chinese-language media followed suit the next day. \nThe news drew the attention of the Cabinet-level National Council on Physical Fitness and Sports (體育委員會), which has contacted Yang and arranged a place for him at the Chang Gung Memorial Hospital in Kaohsiung. \nYang has been in a stable condition, but both Yang and his relatives wanted him to receive his treatment in Taiwan, said council vice chairman Cheng Chih-fu (鄭志富). \nCheng said the council is willing to help Yang until he completely recovers, noting that he has in the past won numerous honors for Taiwan in the international arena. \nRick Chu (朱立熙), editor in chief of the Taipei Times, said the decision to run the initial news story in a Chinese-language paper has proven effective. "I thought it would be more useful to run the story in the Liberty Times, which has a much larger circulation and local readership," Chu explained. \nYang, who is separated from his American wife, left for the US just before Christmas to visit his son in California. He fell sick there during the holiday. \nYang, known as the "Asian Iron Man" in international sports circles, was born to an Aboriginal Ami family in Taitung County in 1933. He was the first-ever Asian athlete to win an Olympic silver medal in the decathlon, which he secured at the 1960 Rome Olympics. \nIt was also the first-ever Olympic medal for Taiwan. \nYang went on to break the world decathlon record at the 1963 International Decathlon in San Antonio, Texas. After his retirement from competition, Yang continued to train young Taiwan athletes and served as a consultant to athletic organizations for many years. \nYang also dabbled briefly in politics and was elected to the legislature in 1983. \nYang has shifted his focus to religion and the occult in recent years, running a temple he established more than 20 years ago in Taitung and serving as a medium there. He has also been facing financial difficulties in recent years.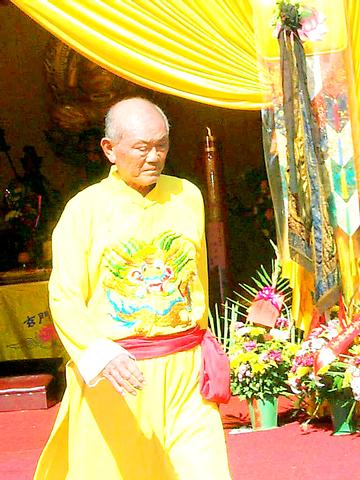 Former Taiwan decathlon champion Yang Chuan-kuang pictured in Taitung County last July.
TAIPEI TIMES FILE PHOTO
Comments will be moderated. Keep comments relevant to the article. Remarks containing abusive and obscene language, personal attacks of any kind or promotion will be removed and the user banned. Final decision will be at the discretion of the Taipei Times.