52 years to travel 6,000m
AT LONG LAST The first legal, direct sailing between Taiwan's front-line island of Kinmen and the facing Chinese city of Xiamen was finally successful yesterday
Government officials yesterday hailed the first voyage to China as an ice-breaking trip, expressing their hopes that the visit to Xiamen would be the beginning of a new era in cross-strait ties. \n"It has been too long," said Kinmen County Commissioner Chen Shui-tsai (陳水在). "Kinmen and Xiamen are just 6,000m apart but the journey took 52 years." \nA festive ceremony was held at Kinmen's Liaoluo Port early yesterday morning before a boat of nearly 190 individuals including government officials and leaders of local associations departed for Xiamen. Elementary students, dressed in colorful traditional silk outfits, performed a lion dance as media and officials watched. \nA dozen hot air balloons were released carrying into the air trailing long strips of red cloth on which messages were written. One of them read: "This ice-breaking journey is a cause for celebration." \nMainland Affairs Council Vice Chairman John Deng (鄧振中) expressed the government's hope that the trip would help facilitate closer ties between Taiwan and China. \n"We are very pleased to see this ship sail to Xiamen," Deng said. "We hope that this trip can create a positive, healthy atmosphere across the Strait." \nTaiwan and China's relations have been at a standstill ever since ex-president Lee Teng-hui (李登輝) first expressed the government's stance that relations between Taiwan and China were "state-to-state" in nature in July 1999. \nThe announcement chilled relations between Taiwan and China, to a low not seen since the 1996 missile crisis, when Beijing launched test missiles into the Taiwan Strait. \nUnder President Chen Shui-bian (陳水扁) the government has tried to tone down outright demands that China face up to the reality of Taiwan's sovereignty while at the same time working on Taiwan's internal lack of consensus over its identity. To sooth China, Chen has tried in many different ways to express Taiwan's goodwill and expressed hope that both sides could resolve their dispute peacefully. China, however, has yet to give up what it views as its right to use force against Taiwan. \nThe government has also said it would not bring up the "state-to-state" model of cross-strait relations as a sign of goodwill to China and instead has tried to focus on more substantive issues, which are less difficult to agree upon and free of political barbs. \nWhile the opening of Taiwan's front-line islands to China may be rich in symbolism, Beijing remains suspicious of Chen. \nChina is concerned that the opening of the small three links is just an attempt to delay the opening of direct links between both sides. \nDeng said that on the contrary, the opening of the small three links was an attempt to move towards opening up direct links. \n"We hope to use this to expand, facilitate or even expedite larger scale issues," Deng said.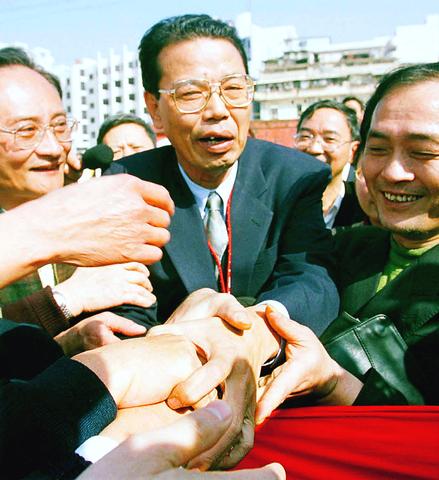 Kinmen County Commissioner Chen Shui-tsai grasps hands with mainland Chinese well-wishers on his arrival in Xiamen after making the first direct sailing across the Taiwan Strait for more than half a century from Kinmen yesterday.
PHOTO: REUTERS
Kinmen County Government officials prepare to depart on their historic voyage from Kinmen to Xiamen yesterday.
PHOTO: CHIANG YING-YING, TAIPEI TIMES
Comments will be moderated. Keep comments relevant to the article. Remarks containing abusive and obscene language, personal attacks of any kind or promotion will be removed and the user banned. Final decision will be at the discretion of the Taipei Times.