Candidates upbeat as election day dawns
DAY OF RECKONING Americans go to the ballot boxes today to choose a new president, with both Gore and Bush fighting for every vote up to the very last minute
Republican George W. Bush and Democrat Al Gore, locked in a virtual dead heat, raced across the country yesterday as they scrambled for last-minute votes ahead of today's presidential election.
Well aware the final outcome of the election may hang on a few thousand votes in half a dozen key states, the candidates and their running mates fanned out for the last day of the closest presidential race in 40 years, eager to energize voters in a country where voter turnout is historically low.
Given the closeness of the election, turnout will be crucial in determining who wins the White House -- a fact underscored by the dozens of televisions ads by interest groups stressing the importance of going to the polls today.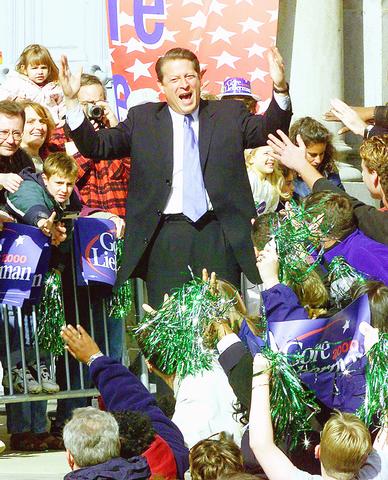 Democratic presidential candidate Al Gore raises his arms as he arrives at a rally at Memorial Hall in Fairmont Park during a campaign stop in Philadelphia on Sunday.
PHOTO: AFP
Despite the drama of the close race, some 100 million US voters are expected to sit out the election. Only around 50 percent of the electorate is likely to vote, challenging the 72-year-low of 49 percent set in 1996.
The latest Reuters/MSNBC tracking poll issued on Sunday found Bush, the governor of Texas, leading the vice president 47 to46 percent. Green Party candidate Ralph Nader continued to hurt Gore, polling 5 percent.
"I'm counting on you to turn out a huge vote next Tuesday," Bush told his biggest crowd of about 15,000 cheering supporters in Tampa, Florida, on Sunday.
With Gore leading in big states like California and New York, Bush has been working hard to shore up the vital 25 electoral votes at stake in Florida, a state headed by his brother Jeb Bush. The latest Reuters/MSNBC poll showed Gore's slim lead there had grown to three points from one.
Other polls showed Bush up to five points ahead nationally. The Texas governor has had a small but steady lead in virtually all published surveys released in the past week.
Separate surveys showed the two in a virtual dead heat in six battleground states -- Florida, Pennsylvania, Missouri, Washington, Wisconsin and Gore's home state of Tennessee.
These states carry a combined 92 votes in the Electoral College, where 270 are needed to win the presidency.
"Are you ready to win?" Gore asked a rowdy crowd in Milwaukee on Sunday. "With your help we are going to win."
"The race is tied, dead even," said Gore, who is trying to convince voters to opt for continuity after eight years of a booming American economy.
"In just two days the people of America will face a choice," Gore told a large crowd in Philadelphia. "Will we move America forward, or will we go back to the failed policies of the past?"
Bush, who argues the country needs a change after nearly a decade under a Democratic president, planned stops in Tennessee and Arkansas, the home of President Bill Clinton, as well as Wisconsin and Iowa. Then he planned to head to Austin to cast his own vote and await election results, which are not expected until late today or early tomorrow.
The Reuters/MSNBC poll showed Bush ahead by four points in Tennessee, and by two points in Wisconsin, another key battleground state.
Comments will be moderated. Keep comments relevant to the article. Remarks containing abusive and obscene language, personal attacks of any kind or promotion will be removed and the user banned. Final decision will be at the discretion of the Taipei Times.