Legislators `squeezing' banks: report
CONTROVERSY State-owned banks have been coming under political pressure from legislators to invest in their venture capital companies, reports claim
The legislature is quite accustomed to allegations of financial impropriety and corruption being leveled at its members. But yesterday it was humming with speculation at an intensity not seen for some time, owing to reports that legislators had been coercing state-owned banks to invest in their venture capital firms.
The China Times broke the story yesterday morning, and by the afternoon it had been picked up by most local media. It claimed that several legislators who owned venture capital firms that invested in promising Internet companies had been pressuring state-owned banks to invest in their firms. The carrot offered to the banks was that the lawmakers would push through legislation allowing Internet companies to be listed more quickly, which would result in windfall profits for the venture capital firms. The stick held out to the banks was that they would have their operating budgets adjusted or held up by the lawmakers if they failed to comply.
The reports generated fierce debate in the legislature, which ends its session today.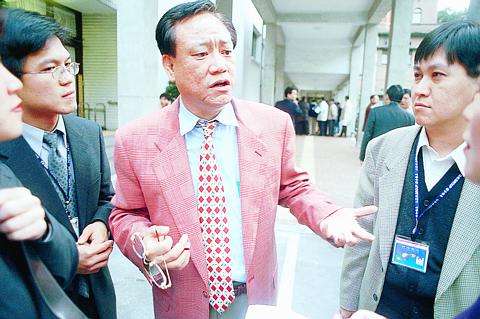 Surrounded by reporters, legislator Ho Chih-hui, center, denies allegations that he pressured banks to invest in his company.
PHOTO: CHEN CHENG-CHANG, TAIPEI TIMES
Lai Shyh-bao (賴士葆), a New Party legislator, said it was known that some legislators had been making good use of the KMT's drive to create a feel-good atmosphere before the presidential election by passing legislation that would cheer the business community, such as allowing Internet companies a fast track to stock market listings.
"It's true: there are state-owned banks which have been coming under pressure from legislators to invest in their venture capital companies," he said.
Lai said he had phoned several state-owned banks, including the Bank of Taiwan and Land Bank of Taiwan, which had confirmed the reports.
"There was one state-owned bank which refused to invest in the venture capital company and later on had a very difficult time getting its budget passed by the Legislative Yuan's Finance Committee," Lai said.
At present, venture capital companies can only buy stocks in companies that are privately held, and the most promising of these are considered to be those with strong growth plans based on Internet businesses.
"Legislators know that will change soon," said Lai, with these companies being able to list on the stock market. "Therefore, they have established these venture capital companies in advance of the listing, with capital from the state-owned banks, based on the provision that they will push through the necessary legislation allowing the Internet companies to get listed," he said.
"These firms stand to make returns on their investments of maybe 10 to 100 times."
Local media claimed yesterday that the total amount taken from the state-owned banks for investment in the venture capital firms was approximately NT$750 million.
The allegations caused red faces among finance ministry officials and turned some of the named legislators purple with rage.
Hsu Chen-ming (許振明), a professor of economics at National Taiwan University, pointed out that ideally there is nothing wrong with commercial banks investing in the venture capital companies. This is normal business behavior and banks would surely evaluate the associated risks. But, as Lai said, this may not be the case in reality and the finance ministry should come out strongly to clarify whether the state-owned banks had been coming under undue pressure. The ministry should simply say, "Yes is yes [banks are under pressure], and no is no [illegal venture capital investment is not allowed]," Lai said.
The finance ministry should "have broad shoulders," he said.
Vice Minister of Finance Yen Ching-chang (顏慶章) responded later by saying only that the ministry would "help the banks solve the problem."
Lo Ming-tsai (羅明才), one of the KMT legislators named in the China Times report, was not so soft-spoken, demanding that the newspaper provide evidence clarifying "when and how I put pressure on whom." Otherwise, he said, "I will sue the newspaper."
Lo is the son of Lo Fu-chu (羅福助), an independent lawmaker who has been a constant target of allegations by opposition legislators for involvement with organized crime.
Her Jyh-huei (何智輝), another named KMT legislator, confirmed that he did talk to a bank to explain his venture capital company's prospects, but that there was nothing improper in their discussions.
Meanwhile, the controversy has widened to include the Executive Yuan's Development Fund (開發基金) and the Sino Fund (中美基金), which are also said to have come under similar pressure to invest in the legislators' venture capital companies.
Premier Vincent Siew (蕭萬長) denied yesterday that this was the case. "The Executive Yuan is unaware of any pressure from legislators," he said.
As to whether the Development Fund is investing in venture capital firms, he said he believed that the finance ministry has followed legal procedures for the use of the fund.
According to a Development Fund manager, the fund now amounts to NT$60 billion to NT$70 billion, and less than 10 percent is invested in the venture capital companies.
As for the Sino Fund, Lai Chin-chi (賴清祺), director of the financial analysis department under the Council for Economic Planning and Development (經建會), said that the fund has only invested in China Steel (中鋼) and HanTech Venture Capital Corp (漢通創投公司).
Comments will be moderated. Keep comments relevant to the article. Remarks containing abusive and obscene language, personal attacks of any kind or promotion will be removed and the user banned. Final decision will be at the discretion of the Taipei Times.