Hsu scrapes just enough signatures together as TAIP candidate falls short
VOTE An independent presidential candidate has collected enough signatures to qualify for the election, even though his support rating remains low
Independent presidential hopeful Hsu Hsin-liang (3信良) announced yesterday he had garnered 348,000 endorsement signatures, more than enough to qualify to run in the March election.
Hsu and his running mate, Josephine Chu (|韌f良), appeared confident as they stood in front of stacks of signature form boxes that they sent to the Taipei branch of the Central Election Commission.
"I must thank these 348,000 people for their support, which has helped me pass the threshold and let me continue a campaign dominated by policy issues," said Hsu, who needed 224,000 signatures to qualify as a candidate.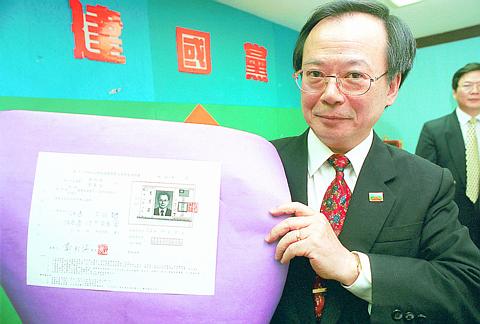 Taiwan Independence Party candidate Cheng Pang-cheng yesterday handed in just one copy of a signature document, signed by himself, to show his discontent with the signature system.
PHOTO: CHEN CHENG-CHANG, TAIPEI TIMES
Taiwan Independence Party (TAIP) candidate Cheng Pang-chen (鄭?鎮) was not as lucky as Hsu. The candidate was forced to end his bid for the presidency after collecting only 140,000 signatures by yesterday's deadline.
Hsu, whose support rate has registered at no more than 1 percent, said he has insisted on joining the presidential race despite his low rating in order to make a contribution to Taiwan's political development.
"Confronted with the new challenges and opportunities in the trend of globalization, Taiwan needs a presidential candidate with vision," Hsu said. "The resolution of cross-strait problems requires a leader who is wise enough to fight with his own convictions and courageous enough to face his own people's opposition."
Hsu charged that the other presidential candidates have never had any deep understanding of the impact and challenges that Taiwan faces in the 21st century.
"Either because they lack any vision or are anxious to win votes, they haven't got any clear policies or concepts. They have tried to please and trick voters by raising some shaky, irresponsible pol-icies," Hsu said.
Hsu said the greatest significance of his candidacy is to draw a clear picture of the path Taiwan will need to take in the future.
His running mate, Chu, said their campaign would issue their policy proposals immediately after election authorities officially announced their candidacy on Jan. 21.
With the signature drive now behind them, their campaign's next step would be to invite donations from supporters to raise NT$15 million by Jan. 31, Chu said.
Meanwhile, Cheng and his running mate, Huang Yu-yen (黃玉炎), apologized to supporters for failing to collect the required number of signatures and blamed election authorities for setting up what he called "unreasonable" requirements that deprive people of their political rights.
Cheng said that among his 140,000 signature forms, officials considered around 50 percent to be incomplete because they lacked the signers' personal seals.
Although the TAIP could have had seals made for the signers, the work would have taken a lot of time and cost some NT$2 million, Cheng said.
"It is unreasonable to spend the labor and money in the hope of getting back the NT$1 million deposit that we had paid to register for the drive," Cheng said.
According to election rules, the government gets to keep the deposit when the number of signatures obtained falls below 50 percent of the required number.
Comments will be moderated. Keep comments relevant to the article. Remarks containing abusive and obscene language, personal attacks of any kind or promotion will be removed and the user banned. Final decision will be at the discretion of the Taipei Times.