The silent awakening
As the Taiwan LGBTQ Pride Parade grows in size every year, more people — both inside and outside the community — are speaking out, although many are still held back by social stigmas
By Han Cheung / Staff reporter
Wed, Nov 15, 2017 - Page 13
Chen Wei-cheng (陳韋成) says that since he's not gay, there's even more reason for him to march in the Taiwan LGBTQ Pride Parade.
"If I were gay, I would have to consider whether I should come out to my family and friends before participating," he says. "Compared to them, I have less pressure on me. That's why there's even fewer reasons for me not to speak out."
Chen says his desire to fight for marriage equality intensified when his daughter was born.
"If society has not improved by the time she grows up and she turns out to be [lesbian], I would regret not fighting for her rights earlier," he says.
Video by Sofia Kuan
While people like Chen can easily be found at the parade, there's also a large silent majority in society — including the lesbian, gay, bisexual, transgender and queer (LGBTQ) community itself — that either feels apathetic about the issue or do not speak out for fear of revealing their sexual identity in public.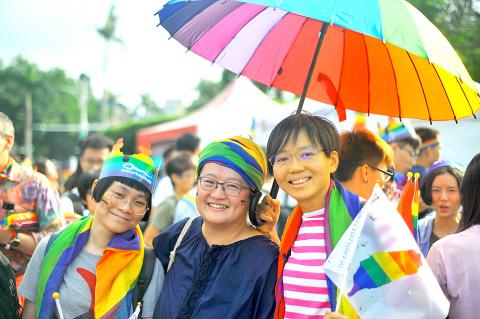 Wu Pei-ying, center, is a long time participant of the LGBTQ parade while Wang Yu-ching, right, is a first time participant who simply "never thought of attending."
Photo: Han Cheung
But this year's parade director Simon Tai (戴佑勳) says that he has noticed that more of the silent majority is willing to participate. For example, the Bondage, Discipline, Dominance & Submission and Sadomasochism (BDSM) element has grown from individual participants into marching in a formal group. Also evident is the increase in registered groups that do not directly relate to LGBTQ rights — such as the Trade Union of Electrical, Electronic and Information in Taiwan (台灣電子電機資訊產業公會).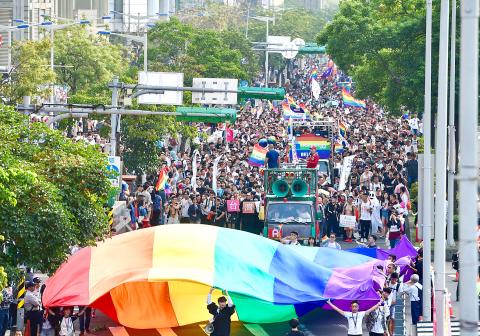 Rainbow flags are seen everywhere during the LGBTQ Pride Parade in Taipei on Oct. 28.
Photo: Han Cheung
At the same time, Tai says organizers try to be conservative with their participant estimates, fearing that it would cause an opposite effect.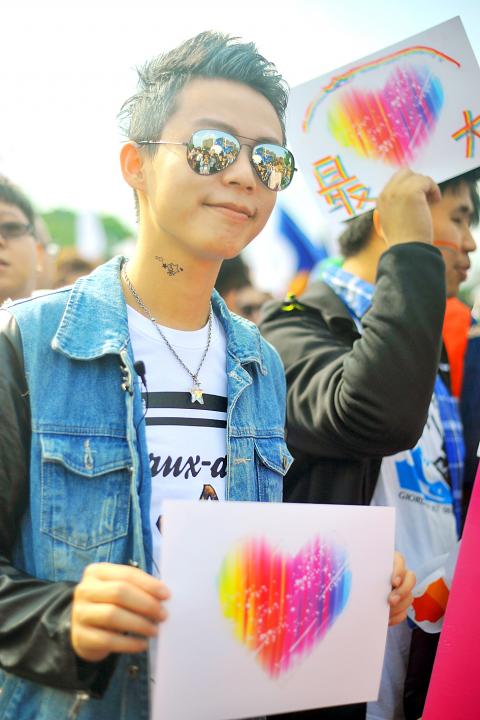 Tibao holds a sign at the Oct. 28 Taiwan LGBTQ Pride Parade in Taipei.
Photo: Han Cheung
"If the number is too high, it easily leads people to feel that the LGBTQ movement has achieved its goal," Tai says. "I also don't want our participants to get carried away too quickly."
HELD BACK BY STIGMA
Lee Hsin-fang (李欣芳) writes in the study, "Strategies and Process of the Taiwan Lesbian and Gay Movement" (台灣同志運動策略與過程之探討), that being able to march in the street as a group "doesn't mean that each individual can live their everyday lives without fear or hesitation."
This notion, says Tai, is the main reason why members of the LGBTQ community prefer to stay silent.
"In Western countries, if a public person comes out of the closet, it would be perceived as a courageous and positive act," Tai says. "But in Taiwan, going public and fighting for LGBTQ rights carries with it consequences. You'll have to bear the stigma that the entire society will place on you, whether in your private life or public."
Even with the landmark ruling on same-sex marriage in May, Tai says it doesn't mean that more people can come out. In fact, it cause even more pressure.
"People don't realize that even if the government allows same-sex couples to marry, there will be relatively few people who can get married without any worries," he says. "For example, once you're married, your national ID card will indicate that you're gay. Not everyone is able to face this amount of pressure yet."
Tai says that activists like him see coming out as a private issue and will not try to pressure others to attend public events.
"It's up to each individual to decide if they are prepared to handle being stigmatized by society," Tai says. "So we are understanding toward those who don't feel that they are ready."
Tai says he knows many LGBTQ members who are open about their sexuality and think that they are helping other people by living without fear.
"If one person lives without reservations, then slowly other people will catch on. You have to start from yourself," parade participant Wang Yu-ching (王郁清) says, noting that it's her first time marching. "I never really thought about marching … but once I thought about it, then I couldn't find any reason not to."
Her girlfriend Wu Pei-ying (吳佩穎) is more vocal. "This is the easiest thing you can do. It's easier than trying to explain LGBTQ rights to your friends. I feel if you support LGBTQ rights and you don't show up, you're being lazy."
Some take it a step further. Before the parade in 2011, the Feng Chia University (逢甲大學) counseling center newsletter printed an article: "Silence is also a form of violence."
Others take a softer tone.
"As long as you don't discriminate against us, I feel like that's enough support," parade participant Tibao (帝寶) says.
Ultimately, Tai says that participating as a LGBTQ community member goes beyond just fighting for equality.
"Each person that goes public is telling other LGBTQ members that they are not alone, that we can bear this weight as a group and try to change the way things are. It's also telling our heterosexual friends that there are homosexuals around you."
EVERYBODY'S BUSINESS
Hsu Wei-hsiang (許煒翔) and Wu Chung-chuan (吳忠全) were unaware that the LGBTQ parade was going on until they happened to pass by. They both say they support LGBTQ rights and think that people should respect LGBTQ people, but they have few gay friends and have not had an opportunity to do anything about the issue.
"I would join if someone invited me and I had the time," Wu says.
But when asked about other causes they cared about, both stated that they would be more willing to fight for environmental issues than LGBTQ rights.
As a sociology major in college, Tai says that people are generally drawn towards social causes that directly affect them. But in a way, LGBTQ rights do affect society as a whole as far as how people view sexuality, he says.
"Homosexuals are underprivileged because society has certain preconceptions against sexuality, homosexuality and sexual expression," Tai says. "If we can get rid of some of these biases, this not only benefits homosexuals but society as a whole."
The themes the parade chooses also affect the general public. This year's topic is sex education — and Tai links that to the fact that people still commonly link the gay community to HIV/AIDS.
"From discussion on Facebook, it seems that straight people often use condoms just to prevent pregnancy," Tai says. "They somehow don't think they need to prevent diseases as well. This shows that more sex and gender equity education are needed."
Ending discrimination also involves all of society as it affects how people view and treat people different from themselves, he adds.
UNRELATED GROUPS?
Another sign of the silent majority becoming more vocal is the inclusion of seemingly unrelated groups such as the aforementioned Trade Union of Electrical, Electronic and Information in Taiwan.
Tai says that Taiwan does not have the culture seen in many Western societies, where a corporation benefits when they publicly support LGBTQ rights.
Participating in the name of an organization also involves facing stigma as it may affect their business or relations with other groups. Registering with the parade as an organization means making a company's stance known to the public, especially since registration is not required.
Lin Ming-che (林名哲), secretary general of the union, says that as a body representing multiple trades, their focus is often on public issues, especially labor rights, instead of specific problems within a company or group.
"Someone brought up participating in the parade during an administrative meeting," he says. "Nobody was against it, and it seems our members generally accept the LGBTQ community and support same-sex marriage, especially among the younger generation."
Their only concern was whether any of their members would be against such a move.
Another factor was the ever-growing numbers of people attending the parade, which meant publicity.
"To be honest, we also wanted to make ourselves seen by the public," Lin says. "The Pride Parade is even bigger than the Labor Day Parade."
Tai says many corporations have individual LGBTQ groups within them, which have become more vocal and visible since the same-sex marriage debate intensified.
"It's a process," he says. "Both sides are slowly trying to figure out what the right time is for them to appear in public on behalf of the company."