Wheel of perseverance
Street performer Yang Shih-hao's mastery of an unusual acrobatic apparatus drew much attention during a recent tour in Europe, including a video that went viral on Facebook
By Han Cheung / Staff reporter
Tue, Oct 03, 2017 - Page 13
With four broken fingers, Yang Shih-hao (楊世豪) lay on the ground in agony for half an hour before his friend discovered him and called an ambulance.
Yang says he couldn't remember how many times he vomited and how many injuries he had sustained over that first year, but this was the most severe incident so far.
"For the first two years, I felt like the Cyr wheel was controlling me instead of the other way around," Yang says.
Land of the Dead
Video by Sofia Kuan; Waterfalls of Love by Muciojad
The 24-year-old now manipulates the acrobatic apparatus with ease. Yang calmly steps into the large metallic ring, grasping its rims as it starts spinning and rolling. Performing graceful, fluid moves using both hands and feet, it's hard to tell that the ring weighs 16kg.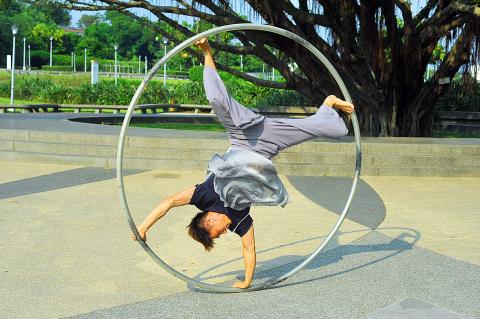 Yang Shih-hao practices his Cyr wheel at Taipei Floral Expo Park last month. He recently returned from a two month street performing tour of Europe.
Photo: Han Cheung, Taipei Times
Yang recently returned to Taiwan after touring Europe as both festival and street performer. A video of him improvising to Pyotr Tchaikovsky's Swan Lake at the Avignon Festival recently went viral on Facebook — garnering more than 13 million views and 280,000 shares.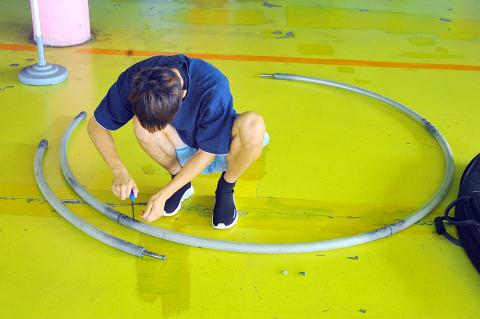 Yang Shih-hao practices his Cyr wheel at Taipei Floral Expo Park last month. He recently returned from a two month street performing tour of Europe.
Photo: Han Cheung, Taipei Times
"It was very hectic and noisy there, and suddenly there was this calm performance using such a large apparatus," Yang says. "I think it was this contrast that grabbed people's attention."
FROM HATS TO WHEELS
Re-invented and developed as a circus apparatus in 1996 by Cirque Eloize co-founder Daniel Cyr, the wheel is still an uncommon tool for street performers, Yang says, because it's hard to transport and master.
"Even in Europe, where there's a vibrant circus culture, it's rare to see Cyr wheel performances in public," Yang says.
During the recent trip, Yang was also invited to a Cyr wheel artist gathering, where he met all of his heroes in one go.
"Three years ago, I was practicing to their videos," he says. "I couldn't believe that they all showed up to that gathering."
As one of Taiwan's Cyr wheel pioneers, Yang had to learn how to use it on his own. Nobody taught him how to battle the dizziness, so he took motion sickness medicine and pushed through with sheer will. And nobody told him that he had to move his hand otherwise it would be crushed by the wheel — which of course eventually happened.
"I just thought it was fun," he says. "It's the sense of accomplishment that kept me going. When I managed to spin for more than 10 seconds, I was beyond excited. I kept telling myself, if the people in the video could do it, so could I. So I persevered."
A graduate of the National Taiwan College of Performing Arts, Yang originally specialized in hat juggling. The Cyr wheel was just a hobby. But when former Cirque du Soleil performer Chen Hsing-ho (陳星合) invited him to the Weiwuying Arts Festival last year, he asked Yang to bring his wheel and leave the hats at home.
"I said I'd try, but I was perplexed why he didn't want me to juggle hats," Yang says. "But when I finished the show, I felt like I saw a new possibility in myself, as if I were a different person. I realized that I should be embracing the many aspects of myself."
SLOW CIRCLES
Yang usually focuses on practicing before heading abroad to perform, but one can occasionally catch him at the street performance area in Xinyi District (信義) on weekends.
"In Taiwan, there's a slowly growing circus scene," he says. "But the difference is that in Europe, you can easily travel to other countries to perform. Here, your options are limited, plus our neighbors do not have much of a scene yet."
He prefers to remain a street performer as he doesn't want to be restricted by his troupe or employer, noting that his strong suit is his personal style. He also likes the intimacy of a surrounding crowd.
"Most Cyr wheel performers focus on power while mine is slow. It's actually harder to slow down. I'll play very soothing classical music in the background to create a relaxing experience. Audience members often tell me that it was like they just had a dream."
With an ROC flag on his Cyr wheel case, Yang always tells people where he's from after each performance.
"Many people actually know the difference between Taiwan and China," he says. "I don't need to explain it. But I always mention Taiwan because people ask me anyway."
As Yang's craft continues to mature, he hopes to take his personal style further. One idea is to find a way to combine hat juggling with Cyr wheeling. Another is to apply paint to the wheel so it leaves colorful rotation marks on the ground.
"It's kind of like performance art," he says. "But I don't try to convey anything or add any meaning to my art. I simply do it first, and I'll have a good story later."