The supermarket of pleasure
As Taiwanese society becomes more open to sex, a once clandestine porn and comic shop hopes to expand its market beyond nerdy guys to become the country's premium mall for adult toys
By Han Cheung / Staff Reporter
Wed, Sep 13, 2017 - Page 13
Mr. Tang (湯) has perfected the science of hiding his toys from his parents. The college student makes new purchases every three months or so, which he hides in an empty CPU case. If he had to recommend one toy, it would be the R20. Yes, the R20 that many local netizens have deemed a "dangerous product" that, once used, would make a man never want to touch a woman again.
"It's a ploy by the Japanese [manufacturers] to drive Taiwanese to extinction," wrote one of numerous reviewers on PTT, Taiwan's largest online bulletin board system.
Essentially an artificial, portable vagina, the R20 is the best selling product at Dream Paradise Toy (情趣夢天堂), located on the second floor of a Taipei building that houses jade shops. Formerly known as Digital Paradise (數位夢天堂), the shop is shedding its image as a somewhat clandestine video game, porn and rental marketplace, recently putting up new signage that makes clear its new goal of becoming the premium adult toy shop in Taiwan.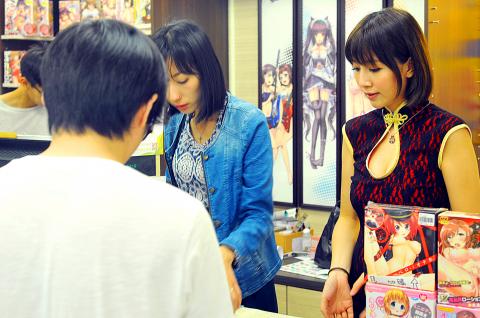 Annebabe, far right, a popular model among the zhainan community, is guest manager at Dream Paradise Toys for a day. She later auctioned off the qipao she is wearing.
Photo: Han Cheung, Taipei Times
"You hear Wowprime and you immediately think of steaks," store manager Lai Chi-hung (賴騏鴻) says. "We want people to hear our name and immediately think of adult toys."
'ZHAINAN' PARADISE
Located a stone's throw away from the electronics and technology mecca of Guanghua Digital Plaza, Lai says the store at this point mostly caters to zhainan (宅男), or nerdy guys immersed in comics, cartoons, computers and online games, who rarely leave their bedrooms.
Tang fits the description perfectly. A hobbyist computer builder who's never had a girlfriend, he usually visits Dream Paradise after shopping for parts at Guanghua. He says he spends most of his money on hentai — anime porn — comics, artificial vaginas and lube.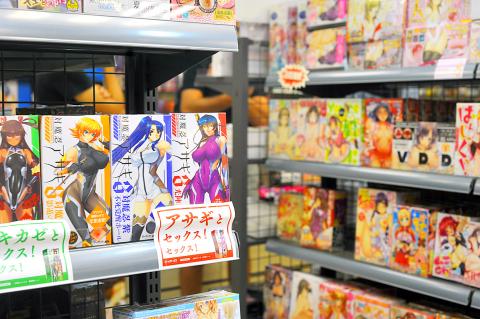 A sample of artificial vaginas modeled after anime characters.
Photo: Han Cheung, Taipei Times
"I was nervous the first time I visited, but really, it's normal to buy these things," he says. "If I had a girlfriend, I wouldn't — nah, I'd probably still come here. But these products only satisfy your sexual urges. I want to satisfy my desire for love too."
Lai and his marketing team is looking to open a female-only section with a separate entrance and are working on events that cater to couples. But for now, about 80 percent of the in-store customers are men, Lai say, adding that about 70 percent of the online customers are women.
"Women tend to be shy," he says. "They might come look at products, but they'll order them at home."
The demographic is evident as the stairwell leading up to the shop is plastered with displays of sex toys, Japanese porn stars and sexualized anime characters. Visitors are greeted by a life-size sex doll sitting on the counter with her legs spread wide open.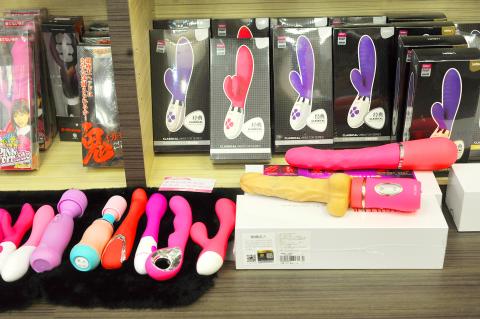 A selection of dildos on display at Dream Paradise. The store is hoping to attract more female customers.
Photo: Han Cheung, Taipei Times
Annebabe (安安), a popular "zhainan goddess" is working the cashier as guest store manager for the day, wearing an otherwise modest qipao dress that has an opening in front to reveal her cleavage.
It's the sheer variety of the products that cause visual overload. The R20 is what Lai would recommend to a first-timer, but there are several shelves completely dedicated to fake orifices with cross-sections of selected products on display.
The second-best selling product, Lai says, is the Mouth of Truth, an orifice that even contains teeth, a tongue and comes with lubricant that resembles saliva. There's something for every fetish — including a vagina that comes with slimy anime tentacles. Those who want olfactory stimulation can apply liquid scented like vaginal fluids, schoolgirls' sweat, foot odor and even menstrual blood.
"I once had a customer who purchased the liquid and immediately after buying it ripped it open and started sniffing it," Lai says. "That left a deep impression on me," he adds.
The best selling product for females is a self-heating, touch-sensitive dildo that automatically retracts and expands once inserted. It's impossible to cover the rest of the store, but think urethral stimulation tools, anus-stretching devices and sadomasochism gear.
OPEN ABOUT SEX
Ever since the signage change, staff have noticed an uptick in female customers — many who come with their significant others.
The store's transition is a testament to the changing attitudes toward sex in Taiwanese society. Up until about 20 years ago, vendors could still be prosecuted for public indecency for selling sex toys, with the landmark ruling coming in 1999 when a vendor was acquitted for selling a blow-up doll. Back then, Lai says, a dildo could be sold up to 10 times today's price.
"People have accepted this industry now," Lai says, adding that the advent of the Internet has made it almost impossible to keep sexual content hidden.
"I want to break the tradition of having to sneak around to buy sex toys. I don't want people to feel ashamed to be in here. I want them to feel like they're in Carrefour or Costco," he adds.
While Lai acknowledges that many of his employees do not dare to publicly reveal where they work, there does not seem to be shame in the store — it's brightly lit with neatly organized sections with detailed explanations for the products, a female employee is recommending a toy to two male customers, and everybody seems to be minding their own business. The billboard on the facade changes monthly according to current events, and the store hosts public events such as meet and greets with Japanese porn stars.
"I've become friends with many of my customers," Lai says. "If they have very specific desires, they are not ashamed to discuss it with me. They will share with me their thoughts on a certain product, and that makes it easier for me to recommend what to buy."
With such vibrant discussion, collecting artificial vaginas has become somewhat of a hobby that has gone way beyond simply satisfying one's needs.
"These things are reusable, so I'll still keep the old one unless it breaks," Tang says. "But I keep buying new ones in pursuit of new sensations."
Lai says he would like to treat the sex toy business as a cultural and creative industry.
"We want to start developing our own products," he says.
When asked if he would incorporate traditional Taiwanese elements such as the Eight Generals into sex toys, Lai pauses. He's thought about it, but he doesn't think Taiwanese society is ready, especially since much traditional culture involves religion.
Currently, their most popular in-house product is a custom life-sized sex doll based on a user-provided photograph with customizable body parameters.
Tang is considering buying one, but a doll is much harder to hide than a vagina.
"Some married men rent an apartment just for their dolls," Lai says. "That way he can try new things without having to cheat. But if the wife finds out, she might think he's crazy."