Movie Review: Boluomi
'Boluomi' is an ambitious and contemplative drama that focuses on Taiwan's oft-marginalized Southeast Asian immigrants, but it tries to tell two stories that don't really connect, leaving the narrative disjointed
Boluomi (菠蘿蜜) carries noble intentions in portraying the hardships of disenfranchised Southeast Asian migrants, but the resulting production is rather disjointed and overly bleak, with many parts not clearly explained. The main problem stems from directors Lau Kek Huat and Vera Chen (陳雪甄) trying to tell two stories that don't really connect.
The trailer bills the film as a simple love story between a Malaysian university student and Filipino migrant worker in Taiwan. It's understandable that the directors would strive for something more complex, but sometimes a leaner framework allows more room for character development and a deeper exploration into their lives as well as the people around them.
It's not often that Southeast Asian migrants, who make up a growing section of Taiwanese society, are featured as leads in a box office feature film. Once suffering in silence, they have in recent years become increasingly vocal in fighting for their rights and their plight has been widely reported on by both local and international media. But discrimination and mistrust by Taiwanese remains common, and any mainstream portrayal of them doing something besides toiling as caretakers or manual laborers should be lauded.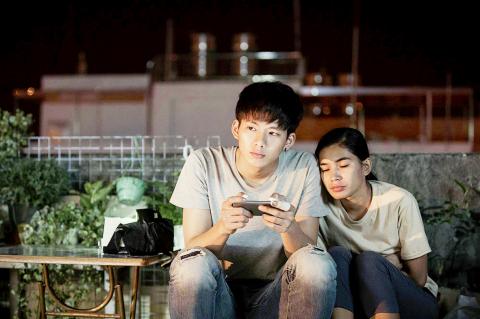 Wu Nian-hsuan, left, and Laila Ulao star in Buluomi.
Photo Courtesy of atmovies.com
If it were just a love story, it wouldn't be an average cheesy one anyway, as it features two foreigners of different socioeconomic classes who bond over their marginalization as they try their best to seek a better life in Taiwan. Yi-fan, the Malaysian student (Wu Nien-hsuan, 吳念軒), is openly discriminated for being Chinese in Malaysia, but in Taiwan he only hangs out with his Malaysian-Chinese buddy and professor and is in constant conflict with his Taiwanese dorm-mates and boss. Laila (Laila Ulao), on the other hand, mostly interacts with the Vietnamese workers in the massage parlour she works at as a cleaning lady.
The film doesn't hold back in showing how they are mistreated in Taiwanese society, painting a vastly different picture from the liberal and "friendly to foreigners" image that the country tries to propagate. It also is critical of racial issues in multi-ethnic Malaysia. The plight of Vietnamese brides in Taiwan who often end up as sex workers is also touched on, and really, that's enough material to work with. Not only would it make Taiwanese think twice about how things are going on in their own country, its international exposure at film festivals also offers insights to people wanting to understand better of the complexities beneath the surface in Asian societies.
But as mentioned earlier, there's an entirely independent storyline going on at the same time that cuts significantly in and out of the present-day narrative. Set in the 1950 and 60s, it depicts the turbulent childhood of Yi-fan's father as the son of ethnic Chinese communist guerrillas in the war-torn jungles of Malaysia. While it is an intriguing and worth telling piece of history that serves as an ode to Lau's family history, there's little to link it to the present day tale in a meaningful way, especially since the memories belong to Yi-fan's father and not himself.
It would make more sense if it showed Yi-fan's childhood, as that would shed much light on his adult character, but the timelines do not match up. That said, the directors didn't just cram the two timelines together carelessly, since the parallels and metaphors are clearly stated, including the consumption of the titular boluomi (jackfruit). But still, it feels like overload for the viewer. Instead of complementing each other, the timelines interrupt the flow of the narratives, each taking up too much space and leaving the audience wanting to know more on both ends.
The elements are all there for a good story and there are a few poignant moments, but the film lacks a strong driving narrative and eventually the audience gets weighed down by the sheer bleakness of the scenarios. Perhaps that is the stark reality for these migrants in real life, but it could also be done in a way that people don't leave the theater feeling immensely depressed.
Publication Notes
Film Notes
BOLUOMI菠蘿蜜
DIRECTED BY: Lau Kek Huat and Vera Chen (陳雪甄)
STARRING: Wu Nian-hsuan (吳念軒) as Yi-fan, Laila Ulao as Laila
LANGUAGES: Taiwanese, Mandarin, Malay, Vietnamese and Tagalog with English and Chinese subtitle
RUNNING TIME: 108 Minutes
TAIWAN RELEASE: In theaters
Comments will be moderated. Keep comments relevant to the article. Remarks containing abusive and obscene language, personal attacks of any kind or promotion will be removed and the user banned. Final decision will be at the discretion of the Taipei Times.