Uprooting fake news in Taiwan
Disinformation thrives on Taiwan's poor media environment, experts say
Taiwan's land is fertile ground for fruits and vegetables — as well as rumors about them.
In recent years, plants have been the subject of fake news ranging from the relatively innocuous — bogus health claims that saw entire villages drying daisies for a tonic to cure diabetes — to the politically inflammatory — false reports that local farmers had been forced to throw away tonnes of produce left unsold because of slowing exports to China under a Democratic Progressive Party (DPP) administration.
The spread of disinformation has reached greater peaks with the advent of new technologies for information and communication (NTICs). But the practice of using lies and deceit to gain power is as old as politics itself, attendees at the first Taiwan International Journalism Conference organized by Reporters Without Borders (RSF) said last Friday.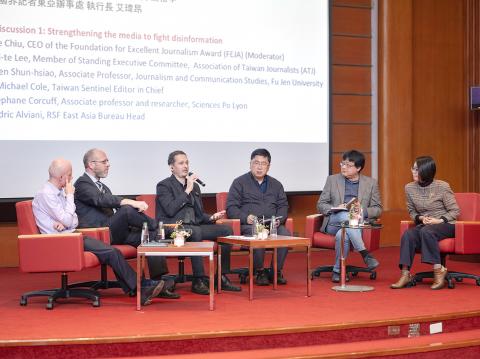 From left, Stephane Corcruff, associate professor at Sciences Po Lyon; J. Michael Cole, policy analyst and journalist; Cedric Alviani, Reporters Without Borders East Asia bureau head; Chen Shun-hsiao, associate professor at Fu Jen Catholic University; Lee Chih-te, Association of Taiwan Journalists executive committee member; and Eve Chiu, Foundation for Excellent Journalism Award chief executive, speak at the first Taiwan International Journalism Conference last Friday.
Photo courtesy of Naomi Campbell
Themed "Disinformation: Time for Solutions," the one-day conference attracted media professionals and concerned citizens alike. Skirting clear of an expose of the individuals and organizations mongering fake news in Taiwan, it instead focused on China's strategic aims and discussed ideas to tackle this age-old problem, against the context of the country's particular media and political environment.
Two years ago, Taiwan became home to the first Asia bureau of RSF, a Paris-based non-profit, non-government organization that advocates for freedom of information and freedom of the press. At the conference, it became clear that these democratic underpinnings contained the seeds of both resilience and susceptibility to disinformation.
CHINESE WHISPERS
Anyone currently in Taiwan has the privilege of being a first-hand witness to a "bloody war" of disinformation in the lead up to the presidential and legislative elections on Jan. 11, Executive Yuan spokesperson Kolas Yotaka told the audience last Friday.
While China has learned from disinformation tactics used by Russia (and before that, the Soviet Union), its ambitions to annex Taiwan, shared language and cultural features and ability to dangle economic incentives have contributed to a "more refined" strategy that uses a "vast array of vectors," said J. Michael Cole, a policy analyst, journalist and former deputy news editor at the Taipei Times.
Chinese disinformation in Taiwan has come a long way since the radio propaganda of Voice of the Strait, originally launched by the People's Liberation Army in 1958. Today, leveraging state mouthpieces but also social media, cyber armies, content farms and artificial intelligence, China's tactics have grown in sophistication.
Stephane Corcuff, associate professor of politics at Sciences Po Lyon, identified disinformation as a foundational element of China's "sharp power." Distinct from hard power and soft power, this described "an approach to international affairs that typically involves efforts at censorship and the use of manipulation to degrade the integrity of independent institutions" and "has the effect of limiting free expression and distorting the political environment," according to the Washington-based National Endowment for Democracy, which coined the term.
Disinformation served to "Balkanize" or divide the country, Cole said, by exploiting existing polarizations and co-opting stakeholders more amenable to China's positions. Hence, it worked most effectively when used not to brainwash the public, but to entrench existing views and sow confusion.
'OUR SOIL IS SPOILT'
"To me, the most serious problem is that our soil," or media environment, "is spoilt," said Lee Chih-te (李志德), executive committee member of the Association of Taiwan Journalists (台灣新聞記者協會).
For many media practitioners present, a key question was how far the country's media environment was conducive to legitimate journalism. Speakers made reference to the damning conditions in many local media outlets: poor fact-checking, overworked and under-trained reporters and pressures from management that went against journalism ethics.
An immediate solution is improved fact-checking by media outlets, which is now often performed by vigilante grassroot groups.
Chen Shun-hsiao (陳順孝), associate professor of journalism and communication studies at Fu Jen Catholic University, highlighted Watchout (沃草), a civil society group that performs real-time fact-checks of claims made by presidential candidates in their debates.
However, fake news continues to disseminate even after being debunked. And while media literacy is an essential response to the proliferation of fake news, it can take years, even generations, to effect change, while the threat of disinformation is immediate.
In search of more innovative and effective solutions, RSF hopes to give media consumers additional guidance through media certification, as part of its experimental Journalism Trust Initiative (JTI) developed in partnership with media organizations, Google and Facebook.
Consisting of 18 standards ranging from ownership and sources of revenue to the editorial process, the JTI is a form of industry self-regulation to help readers identify media outlets that have sound journalism practices.
Alviani added that media outlets that received the certification could receive a boost in the algorithms of social media platforms and search engines, elevating their visibility above sources of fake news.
One of the more positive developments in Taiwan has been the blooming of a multitude of independent, home-grown media outlets without the party baggage of mainstream and traditional media. However, as news consumption (and advertising dollars) moves online and onto social media, the sheer financial viability of legitimate journalism has also been cast into doubt.
Taiwan has partially succeeded in creating a sustainable business environment for journalism through subscription models — like that introduced by Apple Daily (蘋果日報) earlier this year — and independent models that relied on crowdfunding and donations — like The Reporter (報導者) — said Eve Chiu (邱家宜), chief executive of the Foundation for Excellent Journalism Award (卓越新聞獎基金會).
At the same time, media outlets cannot afford to price good-quality journalism out of reach of their readers. Speakers correspondingly called for public media institutions to play a greater role in nurturing legitimate journalism, such as by incubating and collaborating with independent media outlets that show signs of promise.
PUBLIC ROLE
Asked whether the government's recently proposed anti-infiltration law to combat Chinese interference in Taiwan was a form of coercion and suppression of freedom of information and the press, speakers sounded a note of confidence in the government's response.
"From the global point of view, Taiwan is really one of the [countries most] menaced" by disinformation warfare, Corcruff said, "if not the most... so it is normal that the state is called to make a proper, immediate and very strong response."
Looking to the continuing popular protest movement in Hong Kong, Lee said that the roots of suppression did not lie in a single piece of legislation, but in a system of political, economic and social conditions that did not meet the needs of the people.
Taiwan will have to adapt to meet new challenges such as more advanced artificial intelligence technology and the possibility of China allowing tech giants within its "Great Firewall." Just as important for Taiwan's response will be having a people and a government sensitive to Chinese disinformation.
"The vagaries of Taiwan's politics always creates a possibility that parties and officials will be elected who do not regard the threat of Chinese disinformation... as a major threat to Taiwan's democracy," Cole said.
Comments will be moderated. Keep comments relevant to the article. Remarks containing abusive and obscene language, personal attacks of any kind or promotion will be removed and the user banned. Final decision will be at the discretion of the Taipei Times.