Highways and Byways: Roaming in Ruisui
An e-scooter trip around Hualien's Ruisui Township brings visitors to Old Railway Bicycle Trail, Hutou Mountain and its many paths and plenty of hot springs, the iron-rich water visible everywhere
Hongye Creek (紅葉溪) was too high to cross on foot, let alone by e-scooter. I'd checked the weather forecast before setting out for this part of Hualien County. Standing by the stream, I realized I should have also looked up precipitation data for the past few days.
I'd hoped to get some way up Ruisui Forest Road (瑞穗林道), but clearly that wasn't going to happen. This backcountry route, which I'd noticed during a session of wistful map-poring, climbs into the hills inland of the hot-springs resort of Hongye (紅葉).
I'm not especially experienced or adept at riding on rough roads, and I thought that, even if I couldn't ride very far along Ruisui Forest Road, I could always hike part of it. According to the Forestry Bureau's Web site, the road is 37km long and reaches the edge of Yuli Wildlife Refuge (玉里野生動物保護區).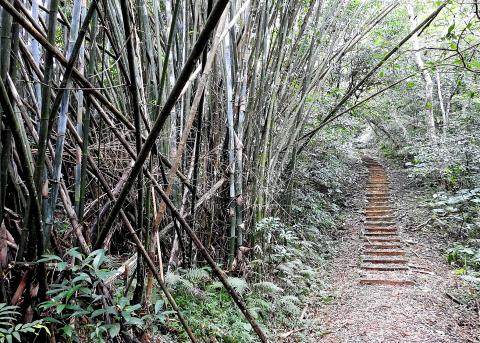 Hutou Mountain Trail in Hualien County features lots of steps but also plenty of shade.
Photo: Steven Crook
BIRDS, TADPOLES AND STONES
After pushing the e-scooter I'd rented in Ruisui onto the muddy verge, I set off along the creek's east bank. Ignoring the fitful drizzle, swallows zipped over the water like divebombers. By comparison, the egrets moved languorously.
I hadn't walked more than 10 meters before I was stopped by the sight of one of the thickest patches of tadpoles I've ever seen. I've no idea how many there were, but where the water was finger-deep, in clusters bigger than a bento box, they huddled so tightly I couldn't see the gravel below. A few meters up the river there was another tadpole population. Then another, and another.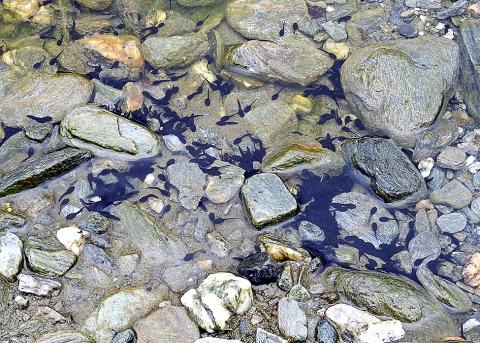 Tadpoles writhe in the shallows of Hongye Creek.
Photo: Steven Crook
A few minutes later, a different natural phenomenon grabbed my attention. The creekbed's rocks and cobbles presented four distinct colors. Most were ash or dim gray, but among them were marble-like whites, rusty and tawny browns, as well as jade and sea greens. The final category intrigued me, and not just for aesthetic reasons. As the crow flies, Hongye Creek is almost 50km south of Baibao Creek (白鮑溪), which was once a nephrite source of global importance. Nephrite is one of the two types of jade.
When I got home I did some online research, and discovered that the green stones I'd been looking at weren't nephrite but probably serpentinite. There are commercial serpentine-extraction sites near Hongye Creek, and some people scour the river for "bamboo-leaf stones" (竹葉石), chunks of greenish schist characterized by interlacing blue crystals.
Like many streams in Taiwan's hills, Hongye Creek is divided by a cascade of concrete weirs, presumably built to reduce the amount of sediment being washed down from the mountains. I walked as far as the first of these, then backtracked to where I'd noticed a trail hacked through some very long grass.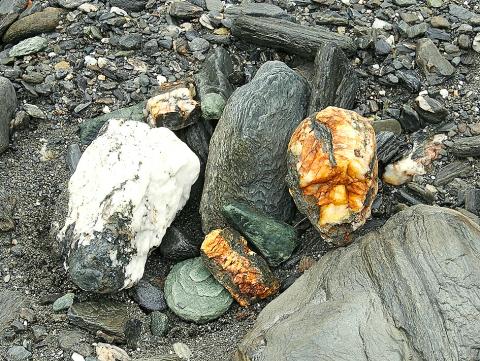 The rock debris around Hongye Creek shows striking variety.
Photo: Steven Crook
The path, which was littered with big chunks of serpentinite, led me upstream for about a kilometer. If the creek belonged to birds and tadpoles, the adjacent scrub belonged to butterflies and other insects. Where the path ended, what I thought might be a fish ladder turned out to the remains of a breached weir. I decided to turn back, but not because tangled rebar was spoiling the view. It was now raining, and there was a lot of Ruisui Township (瑞穗鄉) I had yet to see.
HUTOU MOUNTAIN TRAIL
I rode past Hongye Elementary School (紅葉國小), turned onto Siangbei Road (祥北路), and very soon came to one of the entrances of Hutou Mountain Trail (虎頭山步道). This network of three hiking routes (total length 1.98km) doesn't go anywhere near the top of Hutou Mountain, the altitude of which is 1,747m. In fact, no part of it is more than 365m above sea level. That said, the paths are steep enough to give you a good workout.
Continuing north on Siangbei Road, I scootered past a few homestays, and saw farmers working in their fields. One of the more unusual crops around here is roselle, a type of Hibiscus. The flowers can be used to make teas and jams.
At the end of Siangbei Road, I joined the Old Railway Bicycle Trail. When the railroad was elevated and shifted slightly to the east a few years back, the authorities tarmacked the original route's ballast most, but not all, of the way from Ruisui TRA Station (瑞穗火車站) and Fuyuan TRA Station (富源火車站).
Between the 1930s and the late 20th century, some of Ruisui's farmers grew tobacco. A few of their old curing sheds still stand, and these buildings are quite distinctive. Each has a gable roof in the center of which there's a squat ventilation tower. One I looked at closely had walls of concrete and wood; the roof was covered with tar paper.
The afternoon was turning gloomy, and I had no desire to be stranded by a dead battery. However, I calculated I'd be able to detour to one more sight before calling it a day: Hegang Catholic Church (鶴岡聖若望天主堂) very near the 83km marker on Road 193. Built in 1963 — and very much of that era in terms of appearance — it reminded me of a small-town movie theater. But it was locked, and there was no one around, so I didn't get to see the interior.
According to the rental shop boss, the normal range of that particular e-scooter is 50km. As I followed Road 193 southward into central Ruisui, the odometer showed I'd covered slightly more than that. The only criticism I'd make of the vehicle is its size. I'm slightly taller than average, and I found the seat too low compared to the footboard. The next time I go clean-and-green, I'll look for a larger model.
Steven Crook has been writing about travel, culture, and business in Taiwan since 1996. He is the co-author of A Culinary History of Taipei: Beyond Pork and Ponlai, and author of Taiwan: The Bradt Travel Guide, the third edition of which has just been published.
Publication Notes
IF YOU GO
GETTING THERE
At least 22 trains to/from Hualien City stop at Ruisui TRA Station (瑞穗火車站) each day. Among them, more than a dozen go to/from Taipei. Three businesses near the station rent out e-scooters and bicycles; expect to pay NT$500 per day for one of the former. Buses which stop in central Ruisui include the #1135, which connects the town with Yuli (玉里), the #1137 linking Guangfu (光復) with Fuli (富里) and the #1142 Guangfu-Yuli service.
Comments will be moderated. Keep comments relevant to the article. Remarks containing abusive and obscene language, personal attacks of any kind or promotion will be removed and the user banned. Final decision will be at the discretion of the Taipei Times.