Home away from home
Young entrepreneurs are breathing new life into Taiwan's quintessential homestay experience
On a recent weekend trip to Yilan, I spent a night at Border Hill (邊境之丘), a spacious bed-and-breakfast set flush against the forests of Baishihjiao (白石腳).
To get there, we had driven down the coast and made unlikely turns into a narrow country lane, asphalt giving way to pebbles and grass. The red-brick manor housed just three rooms, outfitted with antique furniture. From facade to interior, it seemed like a transplant from the English countryside.
Over tea and scones, we learned that the owner was an art professor who had studied in the UK, which explained the English influences — more personal history, less exoticism. He ran the inn with his brother and maintained a painter's studio and family residence next door.
Guests are served tea from the central hearth at Sunden Sundu, a homestay in Yilan.
Photo courtesy of Dear B&B
Border Hill and its quiet surroundings were an ideal way to unplug from city life. Yet ironically, we'd never have made it there if not for Dear B&B (dearbnb.com), an online curator in Chinese, Japanese and Enlgish of exquisite minsu (民宿), or homestays, from around the country.
With thoughtful design, a strong sense of individuality and air of exclusivity, Taiwan's homestays have grown a world apart from their earliest incarnations as spare rooms in retirees' homes. For years, weak marketing and a lack of English resources has kept the best of these homestays under the radar of international tourists — but no longer.
A COMMON DREAM
Border Hill in Yilan, where the author stayed for a weekend.
Photo courtesy of Dear B&B
"The main thing was that we felt Taiwan's travel accommodation was just too wonderful," says Michelle Wen (溫名秀), who co-founded Dear B&B in 2012 with partner Rae Lin (林睿瑀).
For the widely-traveled duo, who share backgrounds in marketing, the starting point was the realization, reached through their own travels, that Taiwan offers world-class travel accommodation but lacks name recognition.
"When you leave your hometown, you start looking back on it," Wen says. "When I was traveling, I formed this impression that I was always introducing myself as coming from Taiwan, explaining that Taiwan isn't a part of China."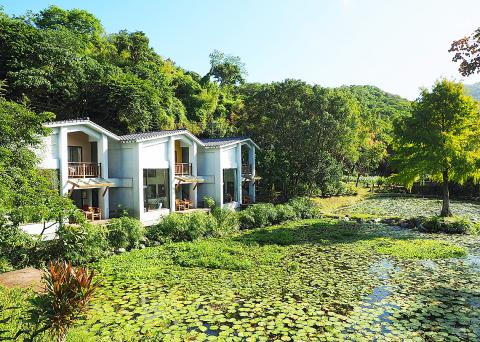 Houhu Garden and Resort in Hualien was purpose-built by its owners, who also live on the property with their young children.
Photo courtesy of Dear B&B
While the idea of putting up in a local's home has become common practice through Airbnb, Wen and Lin say that what sets Taiwan's homestays apart from that of other countries is the generosity of the owners. For many, the job of running a homestay is an aspiration, not just a way to capitalize on a spare room.
"This is a lifelong dream for many of them," Wen says. "Everyone feels that they must give the best to their visitors, so for example in many of the beautiful coastal properties, you will see the owners stay in the warehouse or the smallest rooms, while giving the biggest rooms to the visitors."
In fact, many of Taiwan's best homestays are now better described as family-run boutique hotels. Many now take the form of purpose-built estates, with hefty investments into commissioning architects and designers. The results are comparable with international hotel and resort chains, but retain a personal touch.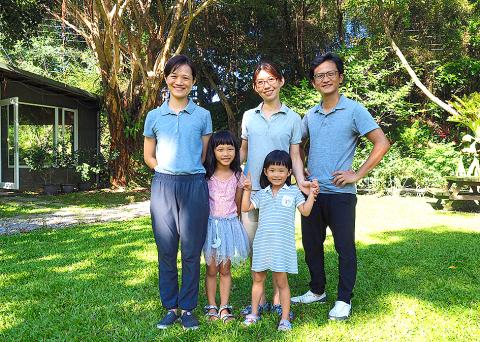 Houhu Garden and Resort in Hualien was purpose-built by its owners, who also live on the property with their young children.
Photo courtesy of Dear B&B
To illustrate, Lin highlights Houhu Garden and Resort (後湖水月) in Hualien, embedded in hills overlooking the Pacific Ocean. The property was developed by a retired journalist, who bought and converted the marshland into his family home and four holiday villas, surrounded by lush greenery and water lily ponds.
But things weren't always this way.
AUTHENTIC ABODES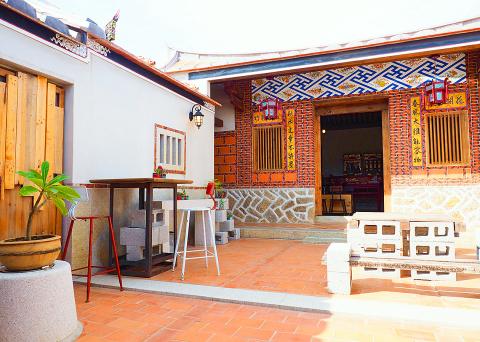 Kinba Guest House on Kinmen is converted from a Qing-era mansion.
Photo courtesy of Dear B&B
Homestays have been a fixture of local tourism for some 20 years, since labor law amendments in 2001 set a limit on working hours and freed up days for domestic travel. They were a quick way to meet rising demand for travel accommodation, as well as a source of supplementary income for retirees and other houseowners.
As domestic tourism developed, rudimentary spare rooms gradually gave way to a focus on themed and luxury properties, modeled after the likes of fairytale castles and the blue-and-white seaside properties of Santorini.
The preference for a more unaffected style of accommodation, true to the local character of the surroundings, is relatively new. Lin and Wen say that this coincides with a shift toward independent, outbound travel — enabled by cheaper international flights and online resources — which has shaped locals' views of travel accommodation as a way to experience culture at the grassroots level.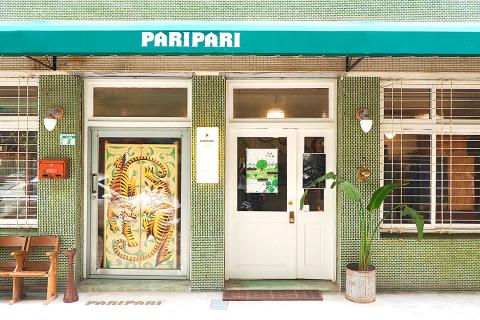 Paripari is a refurbished mid-century guesthouse in Tainan.
Photo courtesy of Dear B&B
Though luxury remains within reach, it is no longer traded off for authentic connections to the land and community. That was my experience earlier this year, when I used Dear B&B to arrange a stay at Luluwan (魯魯灣), a humble two-storey, two-bedroom house in the Aboriginal settlement of Rinari (禮納里) in Pingtung, whose owner also turned out Rukai cuisine with a modern twist.
Some of the homestays are loving restorations of traditional architecture, such as Kinba Guest House (金八古厝) in Kinmen, converted from a Qing-era mansion and run by two young locals. Others unexpectedly meld elements from different cultures, like Sunden Sundu (山田山宿) in Yilan, where guests gather to drink tea around a centerpiece hearth designed by its Tibetan owner.
To Lin and Wen, the humanistic values of such dwellings are diluted in the dry, directory-style Web sites and hotel aggregators on which many homestay operators still rely. There, "good and bad" establishments alike are thrown into the mix, and there is little to help discerning consumers make a choice.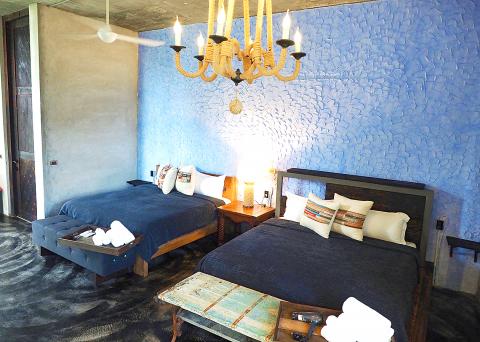 Rooms at Shepherd of the Sea, a guesthouse in Taitung, are decorated to the owners' tastes.
Photo courtesy of Dear B&B
"You can't see what their story is, why [the owners] want to do this, what their personal motivations are," Wen says. "We felt it was a pity, and that someone should help them tell their story."
This also explains why Dear B&B at times reads like a literary magazine, with atmospheric retellings of the homestay owners' biographies and their passion for design and hospitality.
Beyond individual motivations, Lin and Wen also link the current flourishing of homestay ownership as a vocation to a willingness to trade off financial comfort to fulfil aspirations.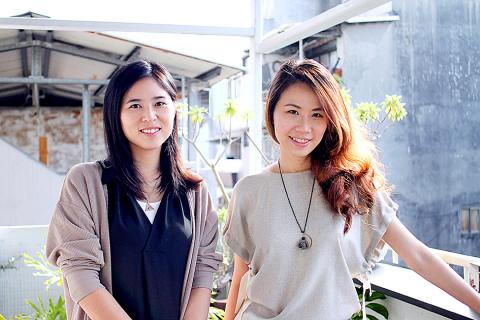 Rae Lin, left, and Minchelle Wen are co-founders of Dear B&B, a Web site bringing Taiwan's homestays to international visitors.
Photo: Davina Tham, Taipei Times
"I think it has something to do with the Taiwanese character," Lin says. "We are happy to take on challenges, to take risks and have dreams."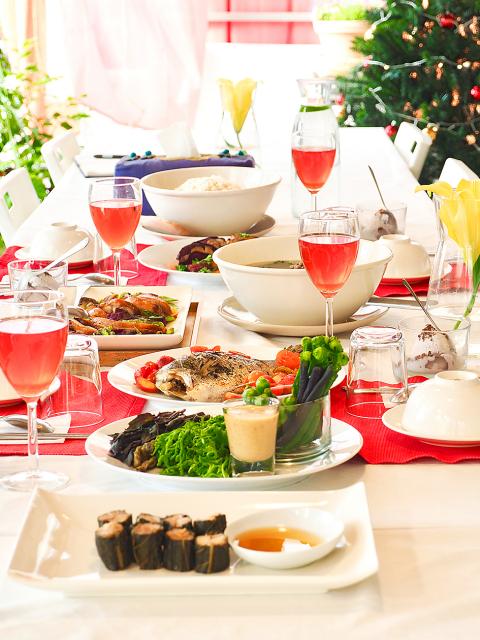 At Luluwan in Pingtung, visitors can learn about and taste Rukai cuisine made by the guest house's chef-owner.
Photo courtesy of Dear B&B
Comments will be moderated. Keep comments relevant to the article. Remarks containing abusive and obscene language, personal attacks of any kind or promotion will be removed and the user banned. Final decision will be at the discretion of the Taipei Times.