Feasting on the past
Read between the lines of Taiwan's culinary heritage at the Chinese Dietary Culture Library
When Chiang Kai-shek (蔣介石) embarked on his fourth term as president on May 20, 1966, guests at his inauguration dinner were served regional specialties from Beijing, Shanghai, Sichuan and Guangdong, as well as a traditional crispy rice and shrimp stir-fry intriguingly translated as "Bombing Moscow."
The theme for the celebration was "China Night." Chiang's inauguration speech had revolved entirely around his "sacred duty" of "emancipating our compatriots from slavery" and "the evil deeds of the Chinese Communists."
But even if you'd tuned out during that sermon, you would have gleaned its message from the dinner menu, printed on a map depicting China and Taiwan as one territory, as if to assert Chiang's authority over all the land on the page.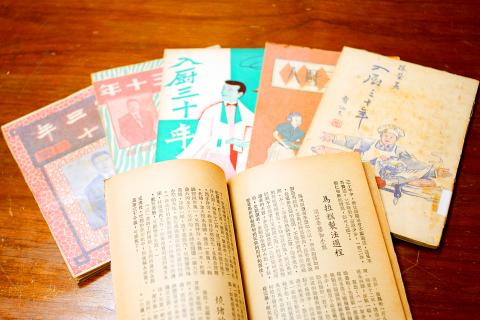 First-edition copies of classic Cantonese cookbooks by Hong Kong chef Chen Rong. The opened version contains a recipe for Chinese steamed cake.
Photo: Davina Tham, Taipei Times
Exactly 50 years later, when President Tsai Ing-wen (蔡英文) was sworn in on May 20, 2016, the menu resembled something different: a farm directory, listing towns, estates and even individual farmers in Taiwan who had provided the local ingredients. A dish called "Formosa Spring," brought together green bamboo shoots from New Taipei City and Tainan, Miaoli black-feathered chickens and Kaohsiung peaches.
"We must express our gratitude to this land for nurturing us and to the people for placing their trust in us," Tsai said in her address earlier that day. The menu was again a sign of the times, emphasizing the bounties of Taiwan's own land and a concern for traceability after the food safety scandals of previous years.
State banquet menus are among the more unusual artifacts in the collection of the Chinese Dietary Culture Library (中華飲食文化圖書館), tucked away in the basement of an office building in Taipei's Zhongshan District (中山). The library, which is free and open to the public, is a little-known trove of specialized texts about Chinese cuisine, where restaurant chefs and cultural historians alike find inspiration.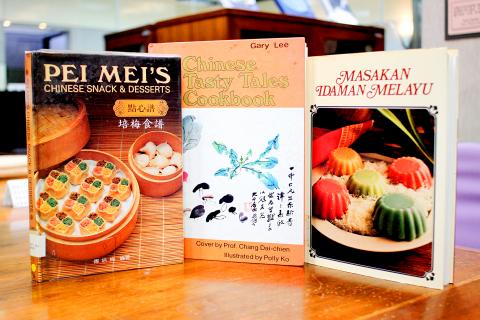 World cookbooks are part of the collection at the Chinese Dietary Culture Library.
Photo: Davina Tham, Taipei Times
TAIWAN'S CULINARY HISTORY
Legacy sells, and many an eatery now trades in culinary heritage with claims of guzaowei (古早味), a phrase that connotes tradition and authenticity, often appearing on signboards and menus. While popular understanding stops at the geographical origins of a dish, food history asks how that dish came to be as it is today, says Tseng Pin-tsang (曾品滄), an associate research fellow and deputy director at Academia Sinica.
"What's important are the connections that the food has to our lives and the people here," Tseng adds. "How was it eaten and used? How did it change and become a product of their life experiences and emotions?"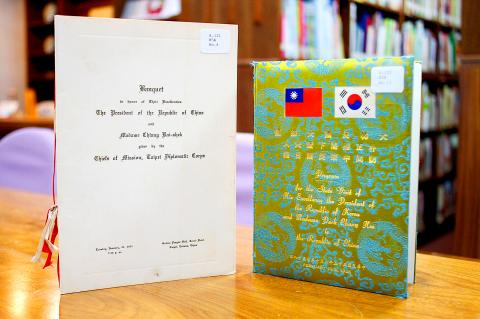 Right: The menu for a state banquet in 1966 for South Korean president Park Chung-hee. Left: The menu for a 1961 banquet by the diplomatic corps for then-president Chiang Kai-shek.
Photo: Davina Tham, Taipei Times
Food history remains a relatively new field of study in Taiwan, with few practitioners, no systematic approach and many challenges in finding sources, Tseng says. Fieldwork to collect oral histories from first-person sources is often a race against time.
But the field is growing, as food history is one of the most incisive ways of understanding the nation's past. Culinary habits have long been at the intersection of developments in politics, popular culture, science and trade.
An example that Tseng cites is bando (辦桌), or open-air banquet celebrations commonly held in the countryside. Bando's popularity peaked in the 1960s and 1970s, when it became a symbol of "ethnic group synthesis" that crossed bensheng (本省) and waisheng (外省) lines, the former referring to those who moved to Taiwan before 1949 and the latter referring to those who moved to Taiwan with the Chinese Nationalist Party (KMT) after 1949.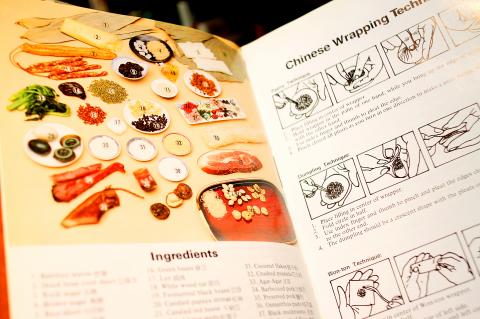 A cookbook written by an overseas Chinese describes how to wrap dumplings.
Photo: Davina Tham, Taipei Times
"We want to understand anew the significance that food has in our lives, from production to consumption," Tseng says.
KEEPING UP WITH THE TIMES
The fact that few young people nowdays have eaten at a bando feast is indicative of the other mission of Taiwan's food historians — to preserve as much as they can of the country's culinary heritage before it dies out. Once preserved in writing, the Chinese Dietary Culture Library is one conduit of their work to the public.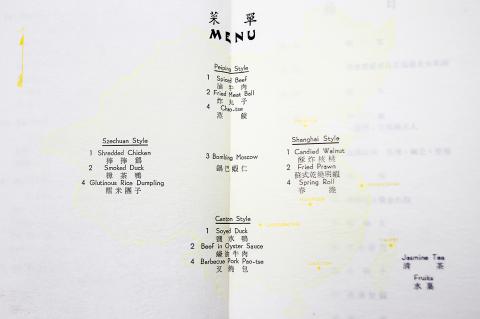 Chiang Kai-shek's presidential inauguration dinner menu in 1966 was printed on a map of China and Taiwan.
Photo: Davina Tham, Taipei Times
The seeds of the library were first planted when, as a young man, George Wong (翁肇喜) used to frequent old bookshops in Tokyo. There, he once chanced upon an antique compendium of Chinese imperial cuisine and rituals.
The sorry state of that book, unread and coated in dust, made such an impression that Wong, who went on to found the retail and insurance giant Mercuries & Associates, decided to make room for a collection of Chinese culinary writing when the company's new offices were built in the late 1980s.
The library has amassed over the past three decades more than 29,000 books on food and drink. The publications range from recipe collections to anthropological studies, from graduate theses to gourmet manga.
There are more than 1,300 rare and antique books, making up about five percent of the collection. The oldest is Dongui Bogam (東醫寶鑑), a classic manual of traditional Korean medicine compiled by the Joseon Dynasty court physician Heo Jun, which was first published in 1613.
World cuisines, predominantly in Japanese and English, are also amply represented in the multilingual collection. But the main focus is firmly on Chinese culinary heritage, whether cookbooks by Fu Pei-mei (傅培梅) — who became a household name in Taiwan with her television cooking show that aired for four decades — or records of Qing Dynasty imperial meals.
Apart from culinary and history researchers, a continued source of readership are the local chefs who look to traditional ingredients, techniques and recipes for inspiration. They include young chefs like RAW's Alain Huang (黃以倫), who started using the library when he was still in cooking school, and still makes regular visits.
Despite the wealth of knowledge in these pages, visitor numbers have expectedly been hurt by the Internet and the abundance of information online, says Lee Cheng-yu (李承宇), director of the Foundation of Chinese Dietary Culture (中華飲食文化基金會) that operates the library. Staff are in the process of digitizing the collection, including its rare books and some 100,000 news clippings about food and drink published since 1988.
Even for Lee, there remain surprises to be discovered in the shelves. One recent visitor from Hong Kong pointed out that the library owned a first-edition copy of a set of 14 cookbooks by masterchef Chen Jung (陳榮), whose guides are considered foundational for Cantonese chefs even today.
And Tseng believes that food history has one advantage above all.
"[Food history] has one unique characteristic compared to other fields of history, which is that it is about something that is in all our lives," Tseng says.
■ Chinese Dietary Culture Library (中華飲食文化圖書館), B1, 145, Jianguo N Rd Sec 2, Taipei City (台北市建國北路二段145號B1). Open Mondays to Fridays, 9am to 5pm, break from 12pm to 1pm. On the Net (English and Chinese): www.fcdc.org.tw.
Comments will be moderated. Keep comments relevant to the article. Remarks containing abusive and obscene language, personal attacks of any kind or promotion will be removed and the user banned. Final decision will be at the discretion of the Taipei Times.