Highways & Byways: Kaohsiung's changing waterfront
Once a polluted backwater, Taiwan's southern industrial city has benefited from a number of beautification projects
Since the turn of the century, Kaohsiung has been benefiting from a comprehensive makeover, and no one argues it isn't needed. For most of the postwar period, this notoriously industrial city offered its residents economic opportunities, but not much quality of life.
According to a paper presented to the 4th International Conference of the International Forum on Urbanism, held in Amsterdam in 2009, Chung Chen-kun (鍾振坤), a Taiwanese scholar at Delft University of Technology in the Netherlands, Kaohsiung's problems were in large part a consequence of government policy. The success of the city's export processing zones led to the establishment of additional industrial parks. Residential areas developed around each industrial zone, but these neighborhoods lacked public spaces. What's more, many streets were crowded by what he calls "informal economic activities."
Because the waterfront's quays and warehouses were declared off-limits by a paranoid authoritarian government, the relationship between Kaohsiung's civilian population and the port which underpinned the city's prosperity was weak. When I first visited Kaohsiung in the early 1990s, checkpoints manned by soldiers controled access to the docks. High walls stopped passers-by (and communist spies) from seeing all but the masts of the ships moored within.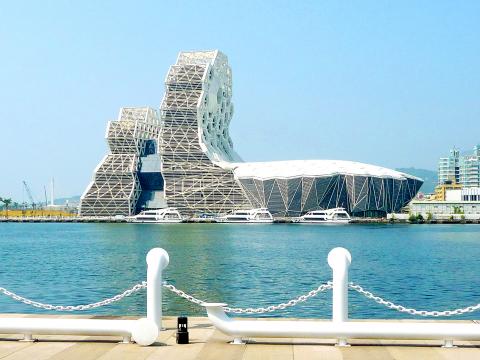 The exterior of Kaohsiung Maritime Cultural & Pop Music Center's main concert hall is almost complete.
Photo: Steven Crook
Some modern container vessels have drafts of 16m, double the water depth at the old berths in Gushan (鼓山), Yancheng (鹽埕) and Lingya (苓雅) districts. To handle these huge ships, intercontinental container terminals have been constructed in the districts of Cianjhen (前鎮) and Siaogang (小港).
As the harbor's center of gravity shifted southeast-ward, an enticing amount of land became available. I've been reading about the "Asia New Bay Area" (亞洲新灣區), Kaohsiung City Government's ambitious plan to redevelop this stretch of waterfront, for years. But before last week, I'd never taken a close look at the new landmarks. Some of them are complete, others are still taking shape.
I considered hiring a bicycle from a rental business beside Sizihwan Metro Station (西子灣站). In the end I opted to walk, first to Gushan Ferry Dock (鼓山輪渡), then east along the waterfront toward Kaohsiung Exhibition Center (高雄展覽館).
Some people think this arrangement of old anchors between KW2 and Banana Pier resembles a spider.
Photo: Steven Crook
Gushan Ferry Dock is where tourists board the boat to Cijin Island (旗津島). Wanting to stay on the "mainland," I worked my way through a densely packed and impoverished-looking neighborhood to Gushan Fishing Port (鼓山魚港). I didn't see anything there I haven't seen before at bigger and livelier fishing ports, so my camera stayed in my bag.
Skirting the small naval base, I spotted a ship I've seen before but never traveled on. The Tai Hua (台華輪) is a roll-on/roll-off ferry which connects Kaohsiung with Magong (馬公) in Penghu County. It's now 30 years old and could do with a fresh lick of paint.
A quartet of government buildings stands just back from the water's edge on Jiesing 1st Street (捷興一街), and behind them there are remnants of the railway line which used to link the dockside to the rest of Taiwan's rail network. The official building I'm most curious about is the Kaohsiung-Pingtung Regional Center of the Ministry of Health and Welfare's Centers for Disease Control, (疾病管制署高屏區管制中心高雄港辦事處). It wouldn't surprise me if the staff have some good stories about scrambling into action when ships from distant lands arrive carrying sick crewmen or passengers.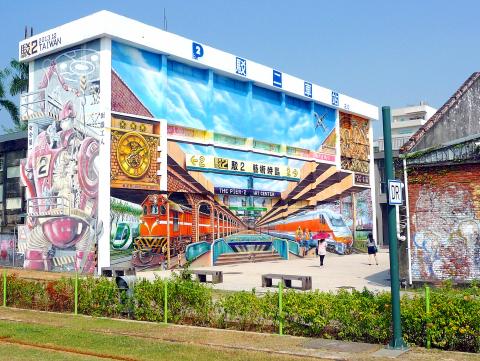 The waterfront neighborhood now includes several murals, of which this is perhaps the finest.
Photo: Steven Crook
Continuing east, I entered KW2 (棧貳庫KW2). Parts of this repurposed warehouse date from 1914. After World War II, concrete was used to replace original brickwork that had been damaged by air raids. From 2017 to last year, it was given a new roof, and internally remodeled in a way that retains a good bit of its old character while adding user-friendly features like modern bathrooms. The elevator — all new public facilities in Taiwan are required to ensure barrier-free access for the disabled — is tastefully encased in salvaged iron sheets.
Every corner of KW2 is occupied by a shop or an F&B business. As a tourist attraction, it's far superior to the adjacent Banana Pier (香蕉碼頭海景宴會館), which for some time has focused on hosting weddings and other banquet events.
I tramped past Kaohsiung Harbor Museum (高雄港港史館) at 3 Penglai Road (蓬萊路). The museum occupies a colonial-period two-floor building but is currently closed. No announcements have been made regarding renovation or reopening.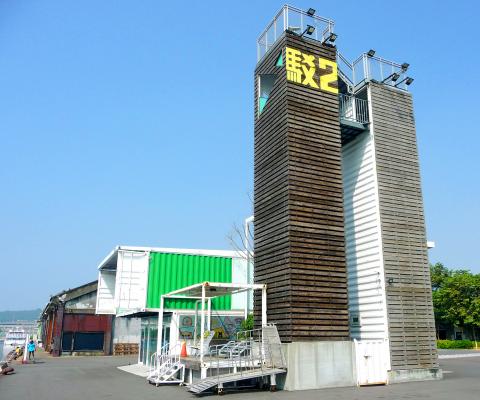 Pier-2 Tower was built using recycled cargo containers.
Photo: Steven Crook
Land reclamation during Japanese rule created a peninsula of land here where cruise ships now tie up; there were two on the day of my walkabout. The authorities have much improved the landscape here by adding a long stretch of garden with small trees and its own waterway. There are even patches of sand where children can play.
The former warehouses and railway workshops reinvented as Pier-2 Art Center (駁二藝術特區) are famous enough, so I won't say much about them. Just before Dayi Pier-2 Station (駁二大義站) on the Kaohsiung Light Rail (also known as the Green Line), I stopped to look at an interesting example of "cargotecture," the stacking and modification of intermodal shipping containers so they can be upcycled into durable buildings.
Pier-2 Tower (駁二塔) consists of a dozen containers, including two placed on their ends. One part is a shop selling cartoon-themed souvenirs. Another is an observatory which was closed when I passed by on a midweek morning. It may not seem much for NT$7 million, but unlike a conventional building it can be reassembled elsewhere if the land is needed.
Chen Chung-ho Memorial Hall in Kaohsiung's Lingya District is a few hundred meters from the waterfront.
Photo: Steven Crook
A key element of the Asia New Bay Area, Kaohsiung Maritime Cultural & Pop Music Center (高雄海洋文化及流行音樂中心), is under construction on both sides of the mouth of Love River (愛河). To the west there's the boot-shaped multi-story main concert hall, which will seat 5,000 people indoors and up to 12,000 people outside.
The main structure on the eastern side — which I reached by using the old railway bridge, now a pedestrian/bicycle crossing point — has a roof which looks like it was inspired by bubble wrap. But when I followed the Light Rail along Haibian Road (海邊路), I came to a set of six new buildings far more pleasing to the eye. It isn't obvious from street level, but each is hexagonal and no two are precisely the same. These are small-scale venues, and not just for music. Last year, they hosted a 37-nation e-sports event.
Having had enough modernity, I headed away from the water to see a relic from when Kaohsiung first boomed. Chen Jhong-he Memorial Hall (陳中和紀念館) honors business magnate Chen Chung-ho (陳中和, 1853-1930), who made his fortune selling sugar to Japan, and importing cloth and petroleum to Taiwan. He had this two-floor mansion built in 1920, and externally it remains in fairly good condition. If you want to see inside, your only chance is on the second Saturday of each month, between 10am and 4:30pm. Admission is free.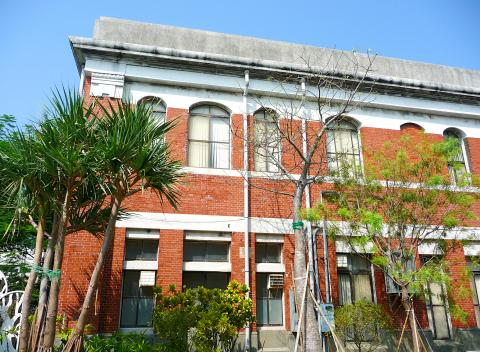 The currently closed Kaohsiung Harbor Museum.
Photo: Steven Crook
Steven Crook has been writing about travel, culture, and business in Taiwan since 1996. He is the co-author of A Culinary History of Taipei: Beyond Pork and Ponlai, and author of Taiwan: The Bradt Travel Guide, the third edition of which has just been published.
Comments will be moderated. Keep comments relevant to the article. Remarks containing abusive and obscene language, personal attacks of any kind or promotion will be removed and the user banned. Final decision will be at the discretion of the Taipei Times.