Highways and Byways: Deities, mosquitoes and flying sand
Three historic and architecturally fascinating temples and a rustic stretch of coastline makes a lazy roadtrip along Yunlin County's coast worthwhile
If you drive into Yujing (玉井) in Tainan, you'll see a large sculpture which venerates the town's fabulous mangoes. Beside the bridge that leads into central Jiasian (甲仙) in Kaohsiung, there's an enormous taro. But when I got to Wengang (蚊港, "mosquito harbor"), I was a little disappointed not to find a mosquito icon, 300 times bigger than in real life, lurking by the main road like a monster from a 1950s science-fiction movie.
This village covers an oblong of dry land south of Sinhuwei Creek (新虎尾溪) in Yunlin County's Taisi Township (台西). Historians aren't sure if the name implies that the mosquitoes here were worse than elsewhere, or if it somehow evolved from a previous toponym applied to this place, Wanggang (魍港).
I've found various translations of wang (魍), including "demon," "elf" and "kobold." Given the choice between malicious sprites and bothersome insects, early Han settlers — who wouldn't have understood the link between mosquitoes and malaria — possibly preferred to take their chances with the bloodsucking bugs.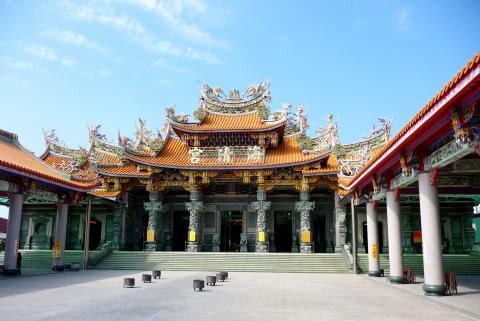 Looking at the front of Haicing Temple.
Photo: Steven Crook
I knew the day was going to be a bit unusual. Rather than explore by myself and at my own speed, for a change I was traveling with a friend, who I picked up at Yunlin High-Speed Railway Station on the outskirts of Huwei (虎尾).
We proceeded to visit three somewhat famous temples, two villages with intriguing names and a stretch of coastline that, depending on your mood, you might describe as bleak, or as delightfully uncrowded.
The first place of worship on our tour was Gongfan Temple (拱範宮) in the very center of Mailiao (麥寮), which isn't a big town. The temple — sometimes described as one of Yunlin County's four great halls of worship — is said to have been founded in 1685 nearer the coast at a place called Haifenggang (海豐港). After the temple and the settlement were destroyed by floods in 1742, the effigy of Matsu, the sea goddess, and her followers retreated to the temple's current site at the eastern end of Jhongjheng Road (中正路).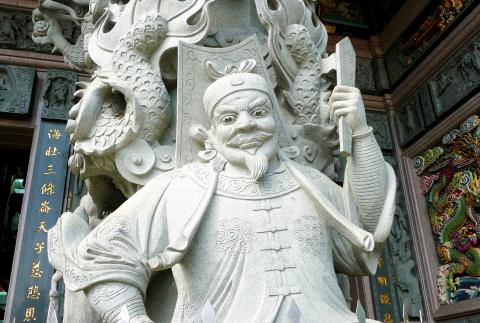 A carved stone column at Haicing Temple.
Photo: Steven Crook
The temple's interior mixes the obviously old and the much newer. There's a rectangular stone censer said to date from the reign of the Qing Dynasty's Kangxi Emperor, which ended in 1722. If you look up, you'll see wood-carvings of men dressed in Western three-piece suits, albeit of a style that went out of fashion before 1945.
The side chambers feature a great deal of ornate woodwork. Much of it hasn't been painted, but presumably it will be, because a few rectangles of original painted woodwork (in good condition but for some peeling) have been inserted in the new screens. Leaving wood bare, so as to display the natural color and grain, would contravene the "less is never more" ethos of shrine decoration in Taiwan.
Next up was Wutiaogang Ansi Temple (五條港安西府), 6km southwest of Wengang and another of the county's "big four." Compared with Gongfan Temple, which is hemmed in by shops, Ansi Temple has space to sprawl, and it's taken advantage of this. It's impressive, but to me it lacked the intimacy and warmth of Gongfan Temple.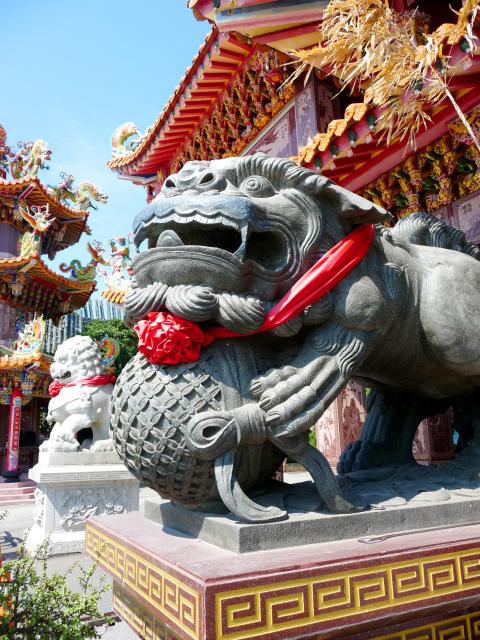 A guardian lion outside Wutiaogang Ansi Temple in Yunlin County.
Photo: Steven Crook
The principal deities venerated here are a trio of wangye (王爺) spirits: Zhang, Lord of a Thousand Years (張府千歲); Li, Lord of a Thousand Years (李府千歲); and Mo, Lord of a Thousand Years (莫府千歲). Unlike many centers of the wangye cult, Ansi Temple doesn't have a boat-burning tradition.
We then drove several kilometers south on Highway 17, passing a spot where, on a windy day years ago, I'd stopped to buy coffee. That time, as soon as I got out of my car, I noticed how gritty the air was. A minute or two down the road, a sign told me the name of this place, and it could not have been more apt: Feisha (飛沙, "flying sand").
Our final religious destination is the most obviously prosperous, and in architectural terms the most unusual. When Haicing Temple (海清宮) in the quiet coastal village of Santiaolun (三條崙) was rebuilt between 1993 and 1998, neither concrete nor nails were used. Some of the wooden columns are 16m in length, giving the structure a height greater than that of most three-story buildings.
The interior of Haicing Temple in Yunlin County is richly decorated with gold foil.
Photo: Steven Crook
The temple, which was founded in 1738 or 1796 (accounts differ), is dedicated to Justice Bao (包青天). A judge in the Song Dynasty, about 1,000 years ago, Bao was renowned for his sense of right and wrong. He didn't hesitate to send one of his uncles to jail, and he wasn't afraid of punishing members of important families.
Bao is worshiped by members of Taiwan's judiciary and police force, and the current iteration of Haicing Temple is certainly a worthy monument to the man and his ideals. There aren't many religious buildings in Taiwan which match this one for detail and lustrous magnificence.
The temple is less than 300m from the sea, and we decided to take a look at this part of the Taiwan Strait. Like almost every beach on Taiwan's western side, the sand is dark gray due to shale washed down from the Central Mountain Range.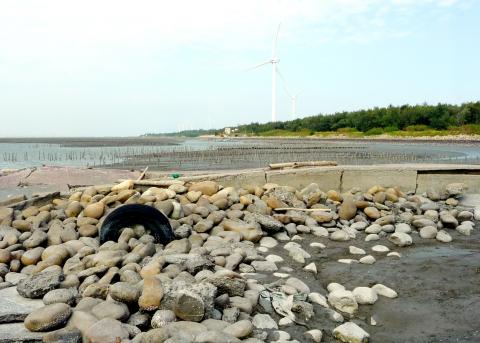 The coast at Santiaolun in Yunlin County is dotted with wind turbines and littered with broken oyster-raising infrastructure.
Photo: Steven Crook
Apart from the wind turbines to the north and south, the only signs of economic activity were the remnants of oyster beds. I've not been able to find out why oyster-farming ceased here. It's not part of a national park. It's unlikely that the sea became too warm due to climate change; oysters are still raised even further south. Pollution, perhaps?
I pointed out the splintered bamboo platforms to my friend. They seemed to sum up this part of Yunlin: Cultural riches and some beauty, but even for the locals, no strong reason to stick around.
Steven Crook has been writing about travel, culture, and business in Taiwan since 1996. He is the co-author of A Culinary History of Taipei: Beyond Pork and Ponlai, and author of Taiwan: The Bradt Travel Guide, the third edition of which has just been published.
Comments will be moderated. Keep comments relevant to the article. Remarks containing abusive and obscene language, personal attacks of any kind or promotion will be removed and the user banned. Final decision will be at the discretion of the Taipei Times.