Rolling into Jasper
The three-day journey from Toronto to Jasper offers stunning views of Canada's scenery
Chiyoko Shimizu could barely contain her excitement. Sitting on the edge of her seat in the dome car, she gazed at the 3-D panorama outside with wonderment. Passengers rushed to capture the moment on cameras and smartphones.
We were on The Canadian — the VIA Rail passenger train that's been called Canada's answer to the Orient Express — heading west towards Jasper National Park.
With the town of Jasper about an hour away, we were at the gateway to the glory of the Canadian Rockies.

VIA Rail passenger train travels through the mountains of Alberta and British Columbia.
Photo: Stephen A. Nelson
Our journey began at Toronto's Union Station. With its Beaux Arts design — including neoclassical columns and high, vaulted ceilings — the station felt like being in a giant temple dedicated to Canada.
Once I arrived at the departure area, the VIA crew instantly made me feel welcome. It was much better than an airport.
Travelers will admire the sleek "silver bullet" design of The Canadian's 1950s-vintage railway carriages.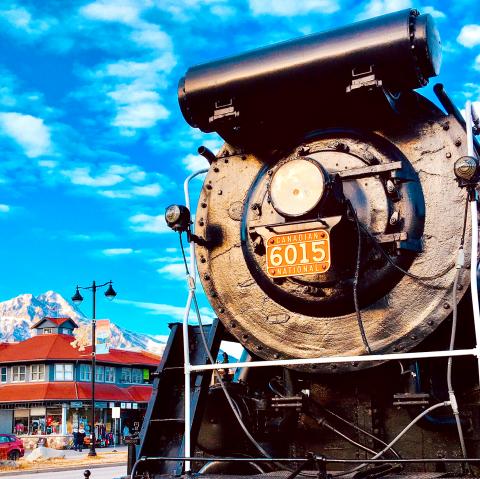 Vintage steam engine 6015 is on display near the Jasper Heritage Railway Station.
Photo: Stephen A. Nelson
And once on board, you really notice the difference between this and air travel. No rushing, no pushing, no shoving — no one desperately trying to stuff his oversized bags into the overhead compartment.
SLOW TRAIN COMING
We were late getting to Jasper because VIA Rail's passenger trains must share the railway tracks with freight trains from other railway companies. And the VIA trains always get sidetracked — especially between Edmonton and Vancouver.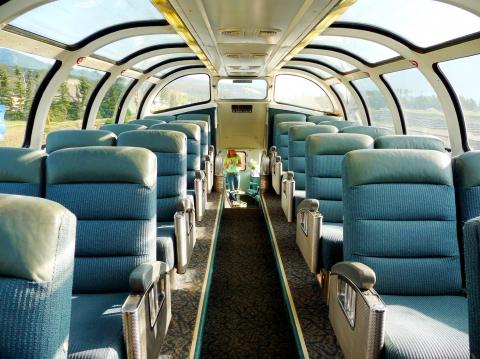 A view of the upper deck in The Canadian's lounge/observation car.
Photo: Stephen A. Nelson
I've traveled on The Canadian a few times, including two cross-country trips. One time was eastbound from Jasper to Toronto — with a three-day layover in Winnipeg, Manitoba.
The train from Jasper to Winnipeg left almost on time — but was about six hours late arriving in Winnipeg. My train from Winnipeg to Toronto left more than eight hours late — and arrived in Toronto about eight hours late.
These days, VIA Rail actually includes a caveat on its own Web site. It warns travelers about the possibility of "significant delays." It also advises passengers to not make plans for connecting transportation.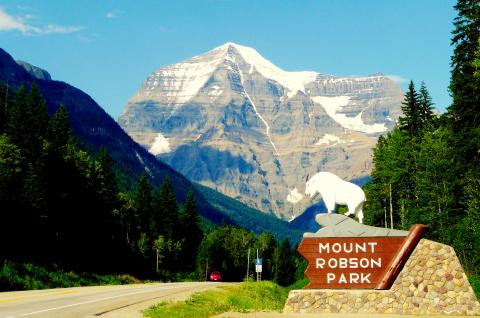 Mount Robson — about 90 km west of the town of Jasper — is the highest mountain in the Canadian Rockies.
Photo: Stephen A. Nelson
ECONOMY, SLEEPER, PRESTIGE
The Economy compartments are not unlike the inter-city passenger trains in Taiwan, while those traveling in the upscale Prestige class were treated to a champagne reception in the Park car — the vintage lounge/observation car at the back of the train.
Passengers like me, in Sleeper Plus class, checked in to our accommodations and then checked out the observation cars. That's when I met Chiyoko — an English teacher from Japan who was heading out to Alberta.
Chiyoko told me that she had come to Canada just to travel across the country by train and see the Rockies.
Those in Economy Class leaned back in their seats and tried to sleep, and those in Sleeper Plus Class found their way to their cabins or berths to their fold-down bunk beds.
Wealthy passengers in the Prestige Class retired to much larger rooms, with king-sized beds and soft mattresses.
Canada is a huge country — about 278 times the size of Taiwan. The trip from Toronto to Jasper takes about three days and covers 3,600km.
STUNNING LANDSCAPES
After a good night's sleep, we awoke to find we were far away from the concrete jungles of Toronto and rolling our way through the cobalt lakes and lush forests of northern Ontario.
In the days to come, we would traverse the rocky Canadian Shield and cross the vast, open prairies.
In autumn the blue flax and yellow canola of summer give way to the golden bales of hay, bundled like shredded wheat cereal and sugar-frosted with snow. In winter, it's like traveling through a Christmas card.
After the Prairies, turquoise rivers, sapphire lakes and opal peaks of the Canadian Rockies came into view — the scenes that Chiyoko and so many others had come for.
Passengers in Sleeper Plus Class and Prestige Class were absolutely pampered for breakfast, with art-deco stylings and silver table settings in the Renaissance Dining Cars.
Food options ranged from the healthy (porridge with raspberries, blueberries and strawberries) to the hearty (Florentine Feta Cheese omelettes). Little jars of gourmet jams and marmalade for your toast. Bottomless cups of gourmet coffee or tea.
Offerings at other meals were very Canadian. British Columbia salmon for fish lovers. Roast lamb or prime rib beef for meat lovers. There were always vegetarian options. And exquisite cakes, tortes and ice cream for dessert.
One of the great things about rail travel is that you get to meet a variety of people from many different places. I noticed a number of Chinese, Taiwanese and Japanese passengers — families and solo travelers — traveling in Sleeper Plus Class.
ARRIVAL
Before the sun set behind the blue Rockies, we had time for a short walking tour of Jasper. The next day, we would part ways. Chiyoko would be taking the Icefields Parkway to Banff National Park. Then I'd be continuing my rail journey, across the great divide to Vancouver.
Along the way, I would see some of the most spectacular scenery — including the imperial Mount Robson.
But there — on a magical evening in Jasper National Park — the light lingered on the mountains and made them look like a painting.
Chiyoko looked around, took a deep breath and said out loud what everyone was thinking: "It's like a dream!"
IF YOU GO ...
All prices are in Canadian dollars (CAD). All services on VIA Rail trains are bilingual — English and French.
GETTING ON BOARD
VIA Rail runs The Canadian between Toronto and Jasper (and then to Vancouver) twice a week. For Taiwanese travelers, it might be best to ask your travel agent about booking. But considerable discounts are available when you book online, especially in fall and winter:
Economy Class starts at CAD$367. Sleeper Plus Class starts at CAD$978. Prestige Class (Luxury Cabin for two) starts at CAD$7,014.
Toll-free Tel: 1-888-VIA-RAIL (1-888-842-7245)
For complete information of booking, rooms, prices and meals, visit: www.viarail.ca
WHERE TO STAY
Jasper
The Gingerbread House
801 Patricia Street, Jasper
This amazing bed and breakfast in a heritage house is constantly rated as one of the best B&Bs in Jasper. It's suitable for couples but is also great for singles traveling alone.
Rates: CAD$300 per night (for four adults) or CAD$150 per couple per night.
Phone: +1 780-852-4743
www.thegingerbreadhouse.ca
HI (Hostelling |International) Jasper
708 Sleepy Hollow Road, Jasper
Jasper's brand new hostel is an amazing facility that has everything you would want at at hostel.
Rates: Dorm rooms start at CAD$37.22 per night. Private rooms start at CAD$100
Phone: +1 587-870-2395
hihostels.ca/en/destinations/alberta/hi-jasper
Toronto
Making Waves Boatel
539 Queen's Quay West, Toronto.
Rated as one of the best boat hotels in the world. Hosts Ted and Diane offer completely comfortable cabins and high-class hospitality. Located in the heart of Toronto's waterfront, close to Union Station.
Online rates start at CAD$219
Phone: +1 647-403-2764
www.boatel.ca
Clinton and Bloor B&B
390 Clinton Street, Toronto
Conveniently located close to the subway but away from the traffic chaos of the city core. The rooms are comfortable, clean and cosy.
Proprietor Albert Tan speaks Mandarin.
Online rates start at CAD$209
Phone +1 416-538-0417
www.clintonandbloor.com
Hotel X by Library Hotel Collection
111 Princes' Boulevard, Toronto
The Hotel X features stunning views of Lake Ontario. Free shuttle to downtown Toronto, including train station.
Online rates start at CAD$284.
phone:+1 855-943-9300
hotelxtoronto.com
Hotel Le Germain Maple Leaf Square
75 Bremner Blvd, Toronto
The Hotel is located in downtown Toronto — just a stone's throw from Union Station. Staff are helpful and rooms are excellent.
Online rates start at CAD$249.
phone: +1 844-508-3385
Alt Hotel Toronto Airport
6080 Viscount Rd, Mississauga
Comfortable. Modern. Convenient. Virtually across the street from Toronto's Pearson International Airport. Easy access to the airport by free commuter train or free shuttle car.
Phone: +1 905-362-4337
www.althotels.com/en/torontoairport
Winnipeg:
Fort Garry Hotel
222 Broadway, Winnipeg, Manitoba
Located in the heart of downtown Winnipeg, the Fort Garry is very close to the train station and many of Winnipeg's attractions. It's a classic chateau-style hotel.
Online rates start at CAD$172.
Phone: +1-204- 942-8251
www.fortgarryhotel.com
Comments will be moderated. Keep comments relevant to the article. Remarks containing abusive and obscene language, personal attacks of any kind or promotion will be removed and the user banned. Final decision will be at the discretion of the Taipei Times.