Penning the migrant experience
The sixth Taiwan Literature Awards for Migrants took place in Alishan on Sunday, with eight Southeast Asian winners sharing personal stories or tales about less fortunate compatriots
Married to a Taiwanese man she met and fell in love with back home, Pham Hong Nhung learned about the more common type of Vietnamese bride through a conversation she overheard in a park. It inspired her short story, Mua Vo, or "Buying a wife."
"They discussed how much their husband paid [to marry them], and how their families think that they're enjoying their comfortable lives in Taiwan," Pham says. "But in reality, they have to take care of their children and parents-in-law, they work to pay off their husband's debts and they often get physically abused as well."
Filipino factory worker Melinda Babaran's tale, Kapirasong Papel ("A piece of paper") draws from the time she overheard a colleague yelling through the phone at her cheating husband back home. And Etik Purwani, a Indonesian caregiver, depicted in Elegi Ambarwati the plight of undocumented migrant workers she knew in Hong Kong that fled horrific working conditions.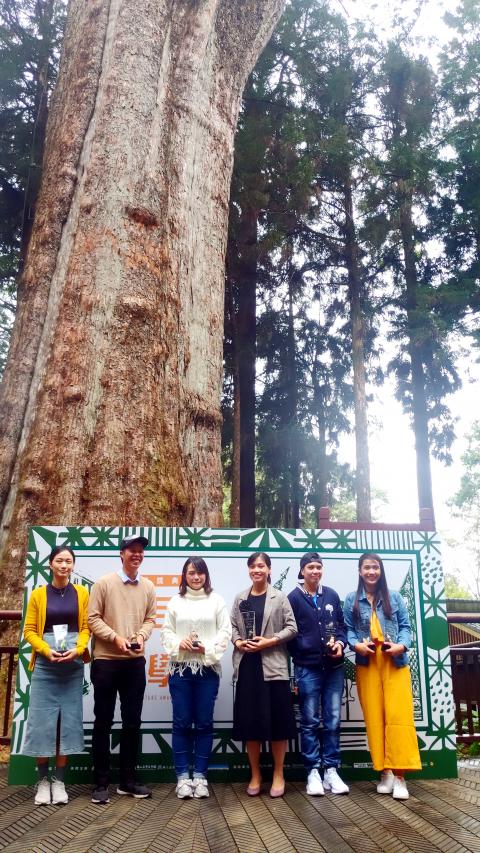 Six of the eight winners of this year's Taiwan Literature Awards for Migrants pose for a photo in front of the Sacred Tree in Alishan. From left, Pham Hong Nhung, Nguyen Nhat Huy, Suweena, Tran Thi Hue, Melinda Babaran and Sheena Flor Tamayo.
Photo: Han Cheung, Taipei Times
Many of this year's winning authors for the Taiwan Literature Award for Migrants wrote about stories that they heard about from their less fortunate compatriots. Now in its sixth year, the awards ceremony was held on Sunday in front of the Sacred Tree in the Alishan National Scenic Area. This year saw a record-high 680 submissions, with eight wordsmiths coming out on top — six living in Taiwan, one in Macau and one in Japan. The winners, who hail from Vietnam, Indonesia, the Philippines and Thailand, took home cash prizes of between NT$20,000 and NT$100,000.
"Writing can't change the situation. But I choose to tell people [these stories] so they can understand the migrants' situation," says Purwani, who writes on her phone while her employer is napping. "I hope that one day migrant workers everywhere in this world can get better treatment … because we're all human."
OVERHEARD TALES
Prior to taking his current post, Forestry Bureau Director-General Lin Hwa-ching (林華慶) served as deputy director of the National Taiwan Museum, where the award was held in the past few years. Earlier this year, Lin reached out to award founder Chang Cheng (張正), hoping that he could use his connections in the Southeast Asian community to dissuade them from working for illegal Taiwanese loggers, who target the protected Taiwan cypress.
"We realized that many of them don't know how serious of a crime this is," Lin says. "Chang agreed to help ... and by the end of our conversation, it was also decided that this year's literature award would be held where the Taiwan cypress is abundant."
First prize winner Tran Thi Hue also wrote about a Vietnamese bride in her heartbreaking tale, Nam Ay, Hoa Mai Noi ("That year, the plum blossom bloomed"), which depicts a woman's relationship with her mother after she was "returned" home due to mental illness from the abuse she suffered from her husband. She left her one-year-old daughter behind in Taiwan. Tran is another fortunate bride — she married her longtime Taiwanese coworker in Vietnam and moved to Taiwan with him four years ago. She started writing the story two days before the deadline from a tale she heard many years ago. Tran wanted to give it a happy ending, but decided to follow the tragic original.
"I wanted the readers to understand, to feel [what I felt]. I hope that people care more about us new immigrants, so that this kind of story won't happen again," she says.
Babaran, on the other hand, gave her tale a twist — she turned the protagonist into a male migrant worker in Taiwan whose wife cheated on him back home.
"I'm often asked why I changed it to the male point of view," she says. "We know that men … are usually the reason there are broken homes. But in my life I am lucky to have known two faithful men who loved their wives until their very last breath: my father and my uncle. This story is for them."
LIGHT AND DARKNESS
Nguyen Nhat Huy, a PhD candidate at National Chiao Tung University, composed his harrowing tale Chay Tron ("Running away"), about a Vietnamese caregiver on the run after stabbing her abusive employer who had tried to rape her.
"After I came here, I learned about the many injustices toward migrants here," he says. "This is a cautionary tale. Often times we don't pay attention to the gray areas that are not as apparent in life. The story I tell is between light and darkness. Even if we are in the darkness, we should light a lamp of clarity for ourselves."
Like last year, one of the winning submissions came from prison. Nguyen Van Nam ran away from the factory he worked at after realizing that after deductions, he was left with less than NT$4,000 per month. After working all sorts of odd jobs, he killed someone in a drunken brawl. In jail, he learned Chinese and became a voracious reader, completing his tale Nhung Chiech Binh Vo Noi Dao Ngoc ("The broken bottle on the beautiful island").
Sheena Flor Tamayo, who works in Macau, was surprised to be back in Taiwan after visiting to celebrate her birthday last year. She took two trophies for Ang Cinderella ng Macau ("The Cinderella of Macau"), which, unlike the other stories, is a whimsical and humorous depiction of her not-so-glamorous life through 10 rooms she cleans at a hotel.
Relentlessly cheerful, Tamayo provides a positive message for her readers: "Let's modify the meaning of happily ever after," she says. "It's not about having a powerful godmother, or a beautiful dress just to be invited and accepted in society, or having a prince charming who will give you a better life and make you a queen … Someday, we will be a queen of our own success."
Comments will be moderated. Keep comments relevant to the article. Remarks containing abusive and obscene language, personal attacks of any kind or promotion will be removed and the user banned. Final decision will be at the discretion of the Taipei Times.