Restaurant review: ULV Restaurant and Bar
In 2004, 12 visionary chefs from seven countries in Northern Europe came together to sign the Nordic Kitchen manifesto. The document expressed their commitment to pure, fresh, simple and ethical foods combining "the best in Nordic cookery and culinary traditions with impulses from abroad."
That manifesto spawned a style of cooking called New Nordic, which has become a revolutionary force in 21st-century cooking, and one of the most important cultural exports from Northern Europe in modern times, right up there with the Swedish band ABBA.
Before New Nordic, the popular imagination of Scandinavian food involved either reheated meatballs from IKEA's canteen, or bearded men in Viking helmets guzzling ale and tearing into bone-in steaks.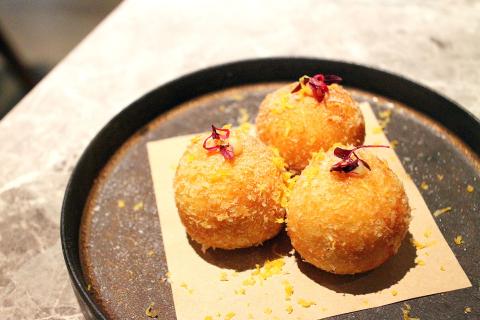 Crispy chicken-and-cream cheese balls with salted egg yolk shavings and shio koji.
Photo: Davina Tham, Taipei Times
Now, it means wild ingredients foraged from forest, field and sea; preservation techniques like pickling and smoking, at first born of necessity but now creatively applied to transform flavors and textures; and deep knowledge of the local climate, environment and producers.
The reverence for this style of cuisine, amplified by food media and Netflix chef specials, has by now made the mere mention of Nordic or Scandinavian influences a kind of shorthand for cooking done with integrity and good taste.
The Mecca of this modern religion is undoubtedly Noma in Copenhagen, led by Danish chef Rene Redzepi, one of the original signees of the manifesto. And if you're a believer, that makes The Noma Guide to Fermentation, Redzepi's latest book published last year, food gospel.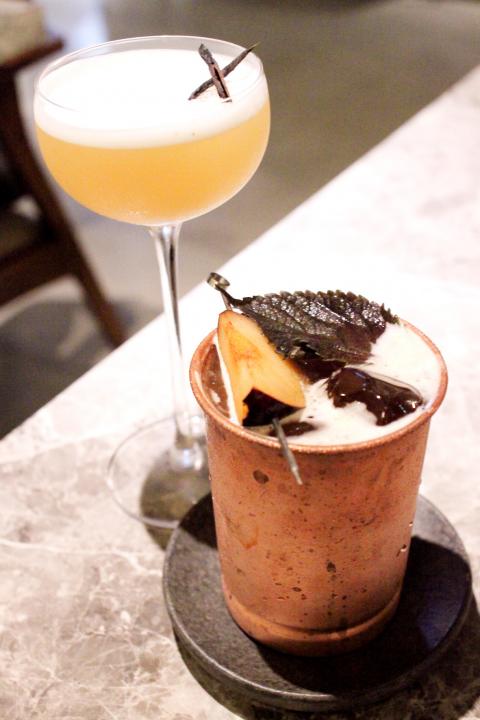 Drinks at ULV range from jasmine kombucha, left, to a cocktail of whisky, fermented plum and oolong apple vinegar, right.
Photo: Davina Tham, Taipei Times
Redzepi has described fermentation as the "main pillar" of cooking at Noma. At ULV Restaurant and Bar in Daan District (大安), it is the literal centerpiece of the restaurant.
Upon entering the minimalist interior, diners are greeted by a towering shelf filled with large glass jars. From afar, the display resembles specimens floating in formaldehyde. Up close, they turn out to contain a range of kombucha and fermented or pickled produce, including cabbage, bamboo shoots and calabash, and even a jar of dried and pressed hibiscus flowers.
Chef and founder Sid Hsin (辛易東) opened ULV in April this year, after training in the Taipei kitchens of L'Atelier de Joel Robuchon and S Hotel's HYG Restaurant. ULV joins other restaurants in the city that blend modern Nordic cuisine and other European influences, such as MUME and JE Kitchen.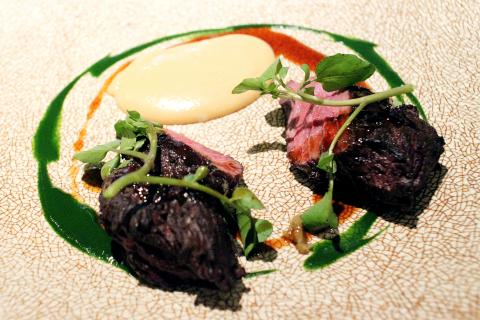 Australian wagyu hanger steak is paired with a fermented soy bean and potato puree.
Photo: Davina Tham, Taipei Times
It seems to be under the radar still. I had no trouble securing a same-day dinner reservation during peak hour on a Sunday evening; on another Saturday night after 9pm, when the kitchen transitions from dinner service to bar bites, my table were the only customers. This was surprising to me, given the bistro's downtown location and how on-point it is with current trends toward natural foods and cooking methods.
DEGUSTATION
To sample as much as possible on my first visit to ULV, I order the chef's degustation menu (NT$1,880). This is calibrated to the seasons and will be revamped for autumn at the end of October. I also tack on a few a la carte offerings to round out the meal for my party of two.
Sourdough-crusted crispy pork belly is topped with artichoke puree and a fresh herb salad.
Photo: Davina Tham, Taipei Times
The degustation starts with an amuse-bouche of an open-faced monaka shell, a thin mochi wafer about the size of an NT$50 coin, filled with egg salad and tiny cured fish eggs. The single bite prompts a Proustian moment — the flavorless monaka triggers strong flashbacks of communion wafers from my youth. I can't say that's a desirable quality in a food.
An a la carte appetizer of three deep-fried crispy chicken meatballs (NT$180) arrives with a dusting of grated salted egg yolk and small dollops of mayonnaise with shio koji, a Japanese seasoning of salted and inoculated rice. The filling of chicken breast and cream cheese is tasty, but seems out of step with the avowed Nordic influences. It also reminds me of chicken salad, making these first two courses essentially dressed-up egg and chicken sandwich fillings.
Things pick up with the charcoal-grilled squid from the degustation. The flesh is perfectly cooked — kissed by smoke from the grill, tender with the appropriate amount of resistance, and in the middle, retaining just a touch of the creaminess of raw squid. Pickled kombu intensifies the dish's seaworthiness, and extends the Japanese influences from the previous two courses.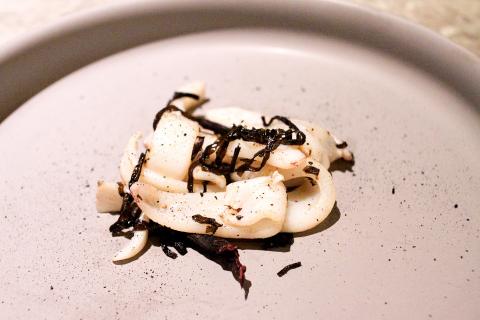 Charcoal-grilled squid is served with kombu strips and scallion.
Photo: Davina Tham, Taipei Times
Two more a la carte plates arrive. A forest of charred broccoli and green beans (NT$280) looks intimidatingly plain and vegetal, until smeared with the baba ghanoush that bears a cumin kick. Deep-fried, sourdough-encrusted slabs of pork belly (NT$290) taste sinfully porky but not greasy, especially cut through with a fresh herb salad.
The degustation gets back on track with mushroom "barlotto," a risotto-style dish made with barley instead of rice. I've never met a risotto I liked, but the chewy barley grains and deep savoriness defy my expectations. The cooking successfully draws out umami and acidity from the fermented mushrooms and, I presume, aged Italian cheese.
This is followed by a mysteriously tangy chicken broth with a cloud-like quenelle of sea bass mousse — that is, a fishball. Then the main course of Australian wagyu hanger steak arrives, alongside swooshes of fermented soy bean and potato puree. Though beautifully pink in the middle, this lean cut of beef is a tad too aggressively salted, making me miss the fattiness of other, more marbled cuts.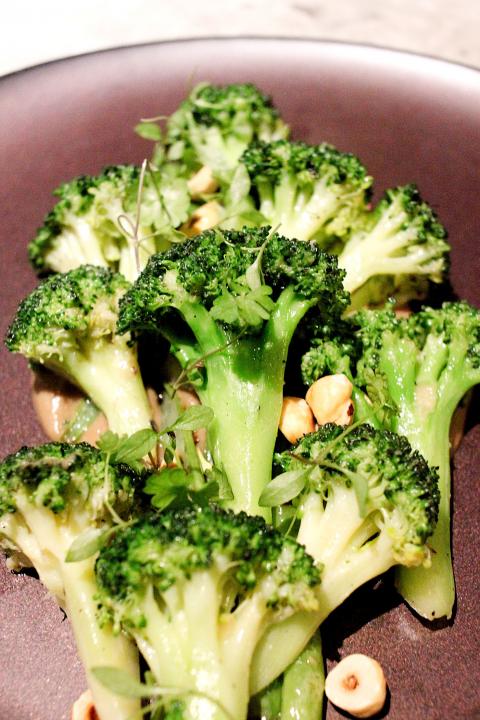 Charred broccoli and green beans are served on a layer of baba ghanoush.
Photo: Davina Tham, Taipei Times
Throughout the meal, I've been kept joyfully hydrated by a jasmine kombucha with pineapple and charred scallion. It's one of three non-alcoholic kombucha drinks (all NT$280) featuring intriguing ingredients. For a near-teetotaler like me, the discovery of a bar where I can have a virgin drink put together with this much thought and care is almost vindictive.
But the real revelation, as far as I'm concerned, is that the alcoholic cocktails are actually delicious. Flavor combinations are inspired: a whisky cocktail with fermented plum, oolong apple vinegar and lemon (NT$380), or gin with fermented white grape and Chartreuse (NT$350). Kombucha and vinegar elevate hard liquor to a place that even I, a total lightweight with a sweet-and-sour tooth, can appreciate.
Dessert, however, could do with much more imagination. Creme brulee from the degustation is flawlessly executed, but boring. The other option — chocolate cake with dark chocolate mousse and fermented blueberry (NT$350), off the a la carte menu — sounds only slightly more adventurous.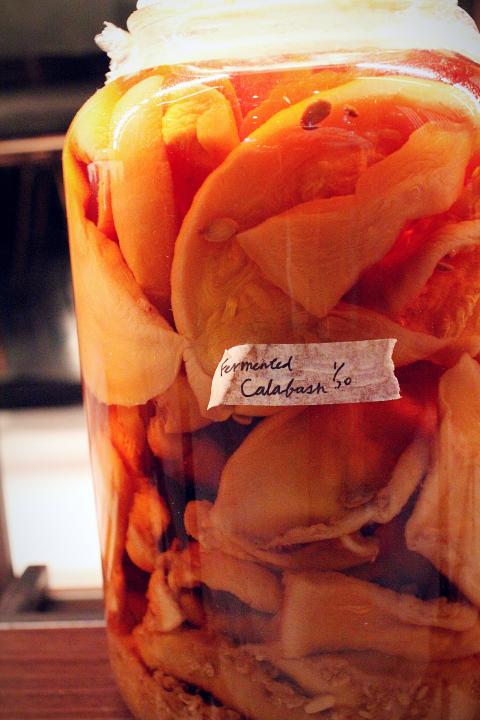 The centerpiece of ULV Restaurant and Bar is a shelf with glass containers of fermenting fruits and vegetables, like this jar of calabash.
Photo: Davina Tham, Taipei Times
My only real brush with the Nordics to date was a layover at Keflavik International Airport seven years ago. I can't say that ULV has brought me any closer to the Nordic fjords and conifer forests. I'd hoped to be taken to wilder places with the fermented ingredients.
So ULV is not yet soul-stirringly good. But it feels earnest, and is occasionally great. And though pricey for Taipei, I find it more meaningful to compare with restaurants of a similar standard in other capital cities in Asia — whereupon ULV actually comes away looking quite good. If nothing else, I know I'll be back for more of those cocktails.
Publication Notes
ULV RESTAURANT AND BAR
Address: 18, Lane 160, Dunhua S Rd Sec 1, Taipei City (台北市敦化南路一段160巷18號)
Telephone: (02) 8771-0828
Open: Daily, 12pm to 3pm and 6pm to midnight, until 1am on Fridays and Saturdays
Average meal: NT$1,900
Details: Minimum charge of NT$600 per person before 9pm; 10 percent service charge; credit cards accepted; menu in Chinese and English
On the net: facebook.com/ulvrestaurantandbar/
Comments will be moderated. Keep comments relevant to the article. Remarks containing abusive and obscene language, personal attacks of any kind or promotion will be removed and the user banned. Final decision will be at the discretion of the Taipei Times.