Come together, right now
Hongkongers, Uighurs and Tibetans unite with Taiwanese as they face a common 'protagonist' of repression
Last week, Tony Sze (施承兆) was in the thick of it. Rubber bullets. Tear gas. Water cannons. Police everywhere.
Living in New York, the 24-year-old from Hong Kong decided to return to his birthplace, if just briefly, to join his friends in protesting over a now-withdrawn extradition bill. Those demonstrations have grown into a broader demand for democracy in the former British colony.
"It means a lot to the people when they realize that we have support from all over the world," Sze said.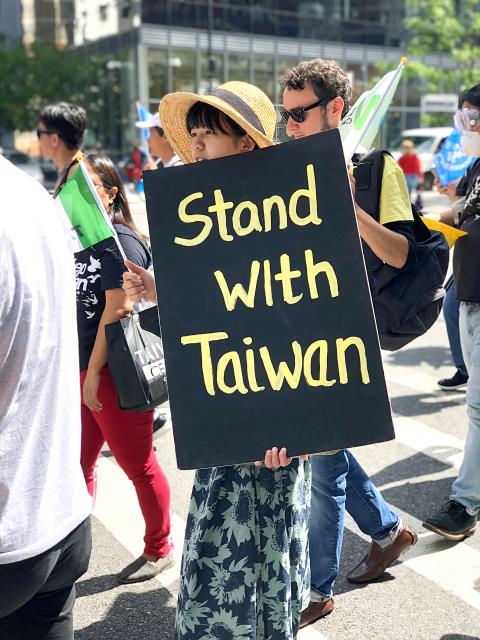 This year's UN For Taiwan/Keep Taiwan Free rally in New York City on Saturday emphasized unity among groups targeted by the Chinese Communist Party.
Photo: Chris Fuchs
That support stretches to overseas Taiwanese and Taiwanese Americans, who this past weekend staged their annual UN For Taiwan/Keep Taiwan Free rally in New York City.
Held for more than two decades, the event has evolved from a call for Taiwan's participation in the UN to an intergenerational march incorporating an array of groups targeted by China's government.
Sze, along with Sandra and Ann Shum, were among some of the first-time attendees with roots in Hong Kong who said standing in solidarity was important.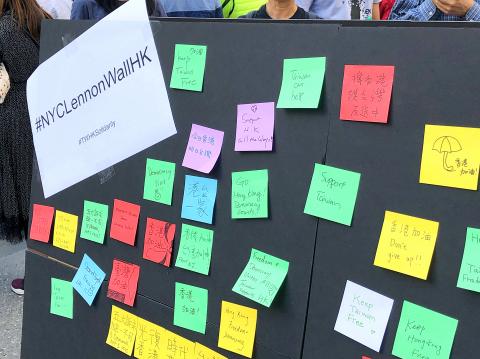 Rally-goers leave messages of support for Taiwan and Hong Kong on a portable Lennon Wall as part of the annual UN For Taiwan/Keep Taiwan Free rally in Manhattan on Saturday.
Photo: Chris Fuchs
"The protagonist in this is the Chinese Communist Party," Sandra Shum said. "All of us — the Uighurs, the Tibetans, Hong Kong, Taiwan — [are] linked to that because they're suppressing their democracy."
HONG KONG
Hong Kong has garnered the lion's share of international attention lately, as images and videos showing protests that regularly devolve into scenes of violence dominate headlines.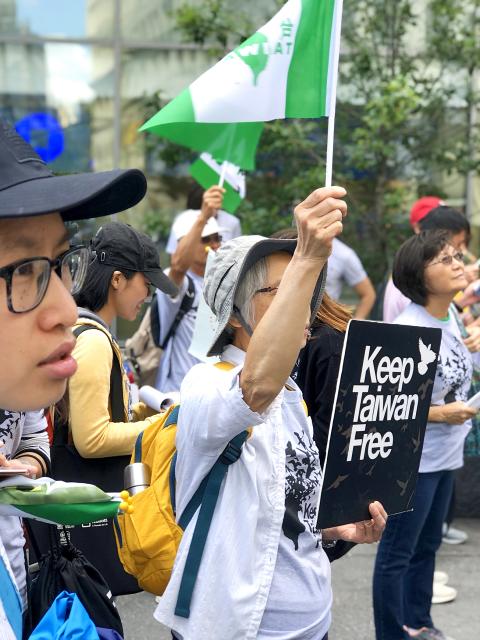 This year's UN For Taiwan/Keep Taiwan Free rally in New York City on Saturday emphasized unity among groups targeted by the Chinese Communist Party.
Photo: Chris Fuchs
Pro-democracy protesters who've been hitting the streets for months with their list of five demands, which included withdrawal of the extradition bill, accuse the Hong Kong police of using excessive force. Police officials have dismissed that claim.
Hong Kong riot police have deployed rubber bullets, tear gas and pepper spray to disperse crowds, while protesters have hurled bricks, blocked roads and defaced property.
Asked whether he was worried about being allowed back into the US after demonstrating, Sze said: "There was no time to think about anything. It's basically like a warzone."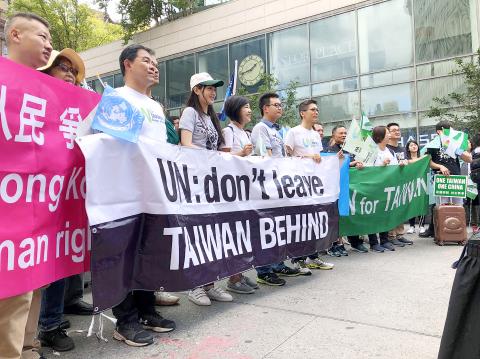 Marchers hit the streets of Manhattan on Saturday for the annual UN For Taiwan/Keep Taiwan Free rally.
Photo: Chris Fuchs
Even as Hong Kong leader Carrie Lam (林鄭月娥) withdrew the controversial legislation, which would permit criminals to be sent to China to stand trial under its legal system, activists have vowed to push on amid fears of further eroding rights, saying the move was too little, too late.
"The things that we're doing abroad is pretty much to support the people in Hong Kong and tell them they're not alone," Frances Hui (許穎婷), an organizer in Boston who spoke at Saturday's UN For Taiwan/Keep Taiwan Free rally, said in an interview.
"We're very glad that different communities, including the Taiwanese community, are in solidarity with Hong Kong people," Hui added.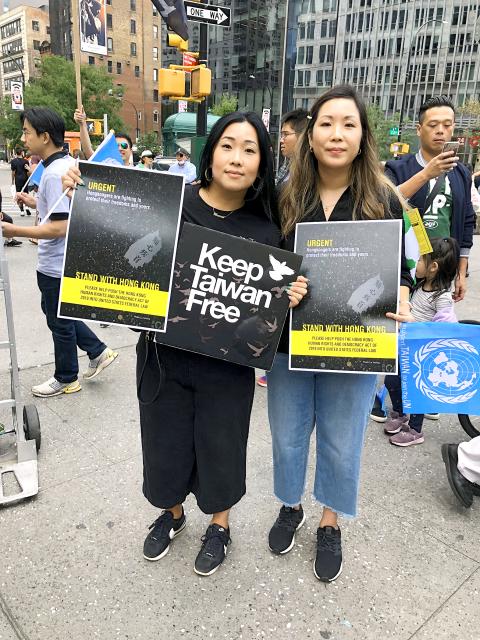 Ann, left, and sister, Sandra Shum, whose family is from Hong Kong, on Saturday attend the UN For Taiwan/Keep Taiwan Free rally in New York City.
Photo: Chris Fuchs
At Saturday's rally, which ended behind New York Police Department barricades across from the Chinese Consulate on 42nd Street, Taiwan-native Carol Yeh (葉桂如) worked the crowd looking for people to sign a petition. It asked members of the US Congress to consider co-sponsoring the Hong Kong Human Rights and Democracy Act.
The bill, among other things, calls for the secretary of state to certify Hong Kong's autonomy from mainland China in order for it to continue enjoying special trade and economic benefits under the US-Hong Kong Policy Act of 1992.
It would also require the US president to identify those responsible for abducting Hong Kong booksellers and journalists, and make clear that visas should not be denied just because applicants participated in nonviolent pro-democracy protests.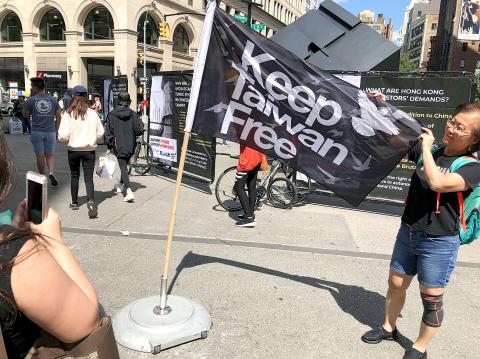 A woman unfurls a Keep Taiwan Free Flag at this year's UN For Taiwan/Keep Taiwan Free rally in New York City on Saturday.
Photo: Chris Fuchs
The legislation was reintroduced in the House in June by Republican US Representative Christopher Smith, with a parallel version in the Senate by Republican Marco Rubio. The House bill already has 21 co-sponsors from both parties, the Senate version nine.
"I think you have to work together to support each other so that you can have more power," Yeh said.
TIBET AND THE UIGHURS
Meanwhile, as Hong Kong tackles its biggest political crisis in decades, Tibet and Xinjiang in northwestern China, home to the Uighurs, continue to face what advocates describe as systematic repression and abuse at the hands of China's government.
Tibetans and Uighurs, as well as their supporters, were among those who attended the rally this weekend.
"China does not deserve to be on the [UN] Security Council," Tenzin Dorjee of the Tibet Action Institute told the crowd.
"China is a country that threatens the security of Taiwan," Dorjee said. "It violates the security of Hong Kong. It completely destroyed the security of Uighurs and Tibetans many years ago."
Like last year, UN For Taiwan/Keep Taiwan Free rally organizers rolled out an ad campaign with large billboards towed by bikes in parts of Manhattan to raise awareness of these issues.
In addition to Beijing's treatment of Taiwan and the ongoing protests in Hong Kong, the ads highlighted the jailing of Tibetan language activist Tashi Wangchuk and China's alleged detention of Uighurs and Turkic peoples.
Tibetans have long claimed religious and political oppression at the hands of China, which has denied the allegations. Chinese forces invaded Tibet in 1950, turning it into an autonomous region of China.
Last year, Wangchuk was handed a five-year prison sentence for inciting separatism after appearing in a documentary video that The New York Times produced. In it, he discusses in Mandarin his fears of Tibetan culture being extinguished as the Chinese government allegedly blocks the teaching of the Tibetan language.
China has also been accused of incarcerating Muslim Uighurs in so-called "re-education camps," in what activists say is an effort to get them to renounce their religion and pledge their loyalty to the Chinese government.
US Secretary of State Mike Pompeo said recently that the US plans to use the upcoming UN General Assembly to urge other countries to call China out for its treatment of Uighurs, according to Reuters.
Beijing has denied that it imprisons Chinese Muslims in what one US Defense Department official had called "concentration camps."
MOVING FORWARD
The world no doubt is different than it was when overseas Taiwanese activists first took to the streets of New York more than two decades ago to make their case for Taiwan's inclusion in the UN.
Many of them now in their 70s and 80s, that generation continues to show up in earnest at the UN For Taiwan/Keep Taiwan Free rally, hoping they'll see the day their homeland will get back the UN seat given away to China in 1971.
"Taiwan has a lot of know-how, talent [and] knowledge" to help the international community, said 78-year-old Livingstone Kuo (郭嘉仁), who was born in Taiwan and today lives in the New York City borough of Queens.
Taiwan's government has asked its diplomatic allies to voice support for the island nation during the general debate this month, according to a news release from the Ministry of Foreign Affairs.
Its allies' permanent representatives to the UN are also expected to submit a joint letter to Secretary-General Antonio Guterres, calling on him to resolve Taiwan's exclusion from the body "based on the principles of fairness, justice and inclusiveness," the statement reads.
While the UN General Assembly is underway, Taiwan's government plans to host events in New York addressing such topics as climate change, universal health coverage and youth empowerment. These meetings, it said, will help other nations better understand Taiwan's contributions in those areas.
Taiwanese American George Tang, one of the speakers at Saturday's rally and a student at Yale, told the crowd that the assembled groups need to remain vigilant in the face of China's persecution.
"We're ... out here today because China's aggression is stronger than ever," he added. "Don't be afraid of speaking up. Be afraid of what will happen when we don't."
Comments will be moderated. Keep comments relevant to the article. Remarks containing abusive and obscene language, personal attacks of any kind or promotion will be removed and the user banned. Final decision will be at the discretion of the Taipei Times.