Highways and Byways: Finding history in Kaohsiung's residential sprawl
The area around Kaohsiung's Gushan TRA station features wetlands, an abandoned theater, crematorium and a century-old brick kiln
I'm a big fan of Taiwan's conventional rail system. In terms of reliability and reasonable fares, it's far better than the network in the south of England, which is where I grew up. In recent years, Taiwan Railways Administration (TRA) has opened several new stations, and rebuilt and reopened some long-closed ones, in the suburbs of major cities.
Kaohsiung's Gushan District (鼓山) has been a major beneficiary of this trend. It now has three TRA stops, all of them underground: Neiwei (內惟), Museum of Fine Arts (美術館), and Gushan. The last, located where a street-level station of the same name functioned between 1929 and 2008, was the starting point last week of a short mission to visit some nearby historic sites.
During the 1895-1945 period of Japanese colonization, Gushan was known as Tamachi, and this toponym lingers on at a couple of places. One is Tamachi Saiba, a 1933 structure that's believed to be the only colonial-era funeral parlor still in existence.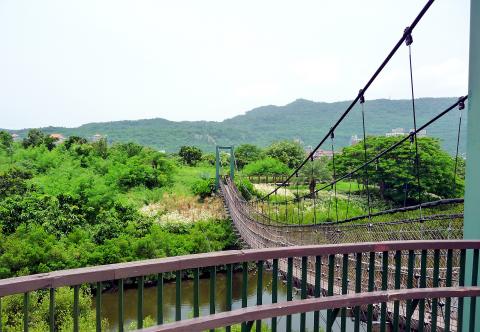 Looking across Jhongdu Wetlands Park toward Shoushan.
Photo: Steven Crook
When I began my research, I wasn't familiar with the third character in the building's name. One online Japanese dictionary translates it as "religious purification." The definition provided by a Chinese-language Web resource is long-winded but not dissimilar: "to show one's piety before offering sacrifices and other ceremonies... by abstaining from meat and alcohol, bathing oneself and clearing one's mind of distracting thoughts."
Tamachi Saiba is just a few minutes' walk southwest of the station at 244 Gushan 2nd Road (鼓山二路), and encircled by a high fence. But when I noticed a sealed-up old well between two fairly modern buildings on Lane 246, Gushan 2nd Road, I stumbled across a way into the grounds of the old funeral parlor.
The building covers as much land as four standard Taiwanese houses. It hosted funeral services until about 1960, after which it formed part of Gushan Second Market (鼓山第二市場). In 2016, the city government decided to relocate the market, demolish the structure, and clear the site for redevelopment.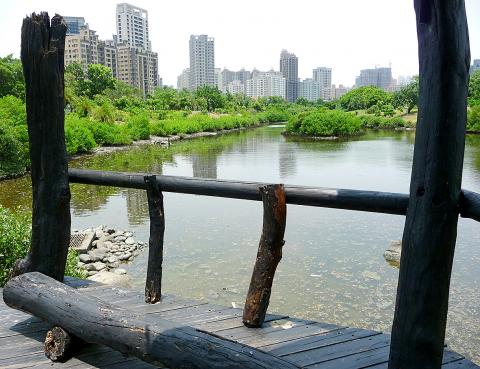 Jhongdu's wetlands are just across the Love River from one of Kaohsiung's most densely populated neighborhoods.
Photo: Steven Crook
After the building's original role was rediscovered, the authorities changed tack. A renovation program has been initiated, but little work has been done so far. Most of the tile-covered concrete benches that were installed for butchers and fishmongers have been removed, but in other respects the building looks much as it did when the market moved out.
Motifs and features common on 1930s buildings in Taiwan are visible, but only just. Grime, mold and haphazard additions — I was surprised to find a crumbling partition made of bamboo wattle and mud daub — cover much of the structure, inside and out. Despite these unsightly accretions, by the time I'd finished exploring, my mind seemed to be empty of "distracting thoughts." Intriguing old buildings have that effect on me.
Unlike some other cities, Kaohsiung doesn't have a famous city-god shrine. I stumbled across the Wenwu Chenghuang Temple (文武城隍廟) at 223-3 Gushan 2nd Road purely by chance. It's a tiny hall of worship, squeezed between even tinier blue-collar homes at the bottom of the hill. It appears to have been founded in 1945. Like other city-god temples, offerings of tea are placed before the main effigy, and a formal placard reads: "You've come at long last" (爾來了).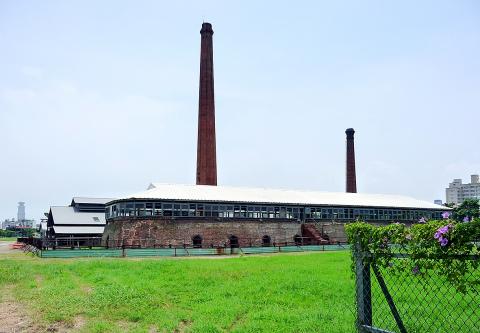 The two smokestacks of the former Jhongdu brickworks; the 85 Sky Tower, Kaohsiung's tallest building, is just visible on the bottom left.
Photo: Steven Crook
The Buddhist complex called Yuan Heng Temple (元亨寺) looms above this part of Kaohsiung, but I've always been more interested in the favela-like neighborhood that covers the hillside here. Some of the houses are single-story; others have three or four floors. Many are brick, but a few are clapboard.
Unlike more modern and more affluent residential areas, where the palette is typically restricted to gray, cream, and white, there's a surprising amount of color. One homeowner has painted his modest abode blue; another has chosen green. The front door and window frames of one house are pink. There's an eye-catching yellow-orange shack nearby.
I made my way to one of the bridges across the Love River (愛河), turned north on the other side of the waterway, and then walked through part of Sanmin District (三民) to Jhongdu Public Market (中都市場) at 14 Jhongdu Street (中都街).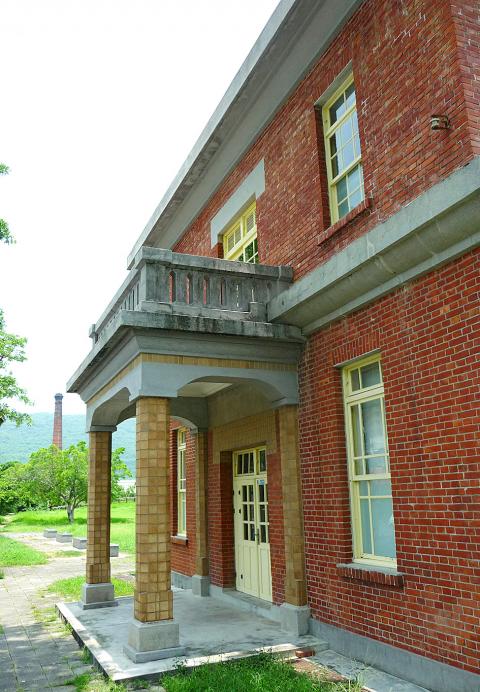 The 106-year-old Red-Brick Office Building, part of the Former Jhongdu Tangrong Brick Kiln, has been perfectly restored, but isn't currently open to the public.
Photo: Steven Crook
The dual-purpose market/movie theater building here was completed in 1966. The blueprints were drawn up by architect Hsiao Fo-chu (蕭佛助, 1900-1984), who's best remembered for designing a total of seven movie theaters in Greater Kaohsiung around the same time.
No films have been shown in the theater at 14 Jhongdu Street for a very long time. Storms have seriously damaged the roof; the second floor and everything above is off limits to the public. But if you walk through the market below, you'll notice how the ceiling slopes from one end to another, reflecting the raked floor of the theater above. To the right of the entrance to the market, partly hidden behind one vendor's baggage, you'll find the window through which movie tickets were sold.
Some of the people who watched films here during the theater's heyday would have been employed at what's now called the Former Jhongdu Tangrong Brick Kiln (中都唐榮磚窯廠). The kiln was established in 1899 and closed down in 1985. According to some sources, at one point after World War II, this site accounted for 70 percent of Taiwan's brick production. Given the weight and bulk of bricks, and the number of brickworks I've seen in other parts of the island, I wonder if that's correct.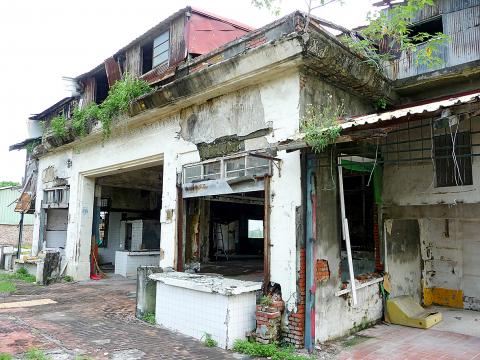 Beneath the post-war additions and modifications stands a Japanese colonial period funeral parlor.
Photo: Steven Crook
This industrial site sprawls over an area of 2.27 hectares, most of which is covered by long grass. A security guard stopped me from getting close to the infrastructure, which includes two smokestacks. However, I was free to wander north across the grounds toward a place that exemplifies Kaohsiung's transformation from heavy-industry hellhole to livable metropolis.
The 12.6 hectares of Jhongdu Wetlands Park (中都愛河濕地公園) includes mangrove swamps, a series of ponds connected to the Love River, and a wide range of tree and plant species. In the cool season, it could be a good place for birdwatching, but for the stray dogs that afflict this and so many other natural places in Taiwan. But the sun was blazing, so I worked out the shortest route to the nearest railway station (Museum of Fine Arts) and once again took advantage of inexpensive, reliable public transportation.
Steven Crook has been writing about travel, culture, and business in Taiwan since 1996. He is the co-author of A Culinary History of Taipei: Beyond Pork and Ponlai, and author of Taiwan: The Bradt Travel Guide, the third edition of which has just been published.
Publication Notes
IF YOU GO
GETTING THERE
Two or three northbound and a similar number of southbound local trains per hour stop at Gushan and Museum of Fine Arts stations. Travel time from Gushan to Kaohsiung Main Station is never more than five minutes.
Comments will be moderated. Keep comments relevant to the article. Remarks containing abusive and obscene language, personal attacks of any kind or promotion will be removed and the user banned. Final decision will be at the discretion of the Taipei Times.