Rockman rocks Taipei
Voodoo Station combines elements from VTuber, virtual reality and video game live-streaming technology into a wacky, interactive variety show that explores isolation and loneliness in the age of social media
To participate in The Rockman Show, you don't have to know what a "live and interactive mixed-reality broadcast featuring 3D virtual-reality characters" means, nor do you need any high-tech equipment — all you need is your phone.
The 45-minute pilot broadcast of The Rockman Show that went live on Facebook last month is surprisingly straightforward despite all the technology involved.
The star of the show is the eponymous mopey, lonely rock giant whose only friend was a balloon that flew away. Viewers follow Rockman's journey as he confronts his insecurities and makes friends, in a world where people suffer social isolation despite being constantly connected on social media.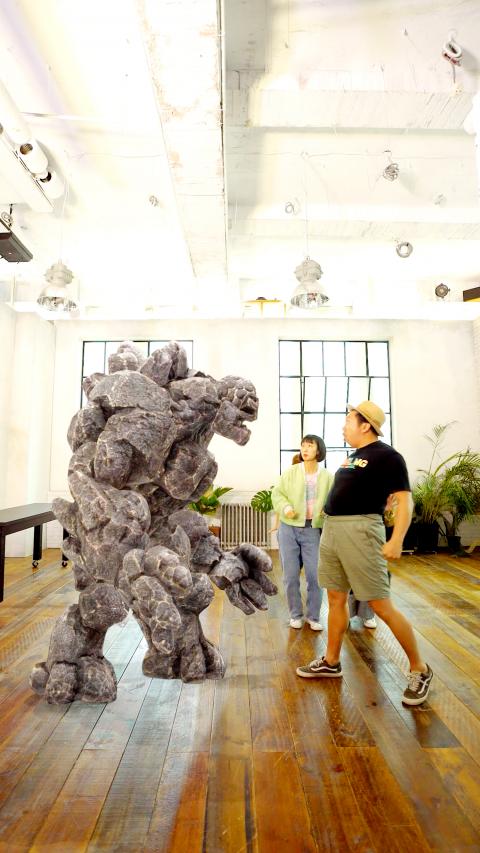 Rockman explores Taipei in screenshots from the Facebook live broadcast of The Rockman Show last month.
Photo courtesy of Voodoo Station
Animated by an actor in a motion capture suit, Rockman goes through a series of wacky video game-style adventures in Taipei, while interacting with live cast members and the audience via live comments.
By the end of the pilot, the stream had nearly 4,000 views from 20 cities, almost 100 shares and 800 comments, which were coming in every few seconds.
The video is the debut act for Voodoo Station, a Taipei-based project that is the brainchild of American digital producer Michael Dolan and digital creative director Albert Lan (藍志浩). The pair have collaborated for the past seven years on a number of high-profile digital campaigns, but this time they're client-free, using their expertise in generating buzz to put on a show that draws elements from different Internet and technology trends.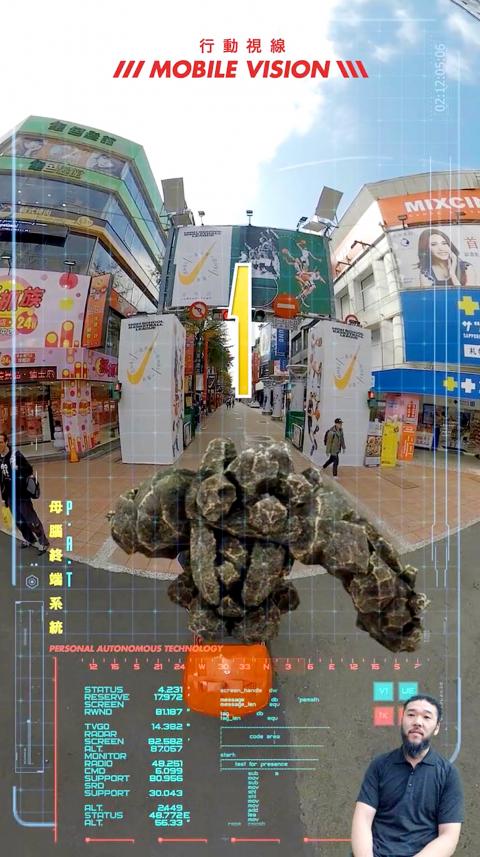 Rockman explores Taipei in screenshots from the Facebook live broadcast of The Rockman Show last month.
Photo courtesy of Voodoo Station
"We want to take video game design and translate it to entertainment and filter it all down to something to talk about the human condition," Dolan says.
Voodoo Station has been nominated for best in show at July's SIGGRAPH computer graphics conference in Los Angeles, and the team is coming up with a new interactive presentation for the event as their follow-up project.
VIRTUAL AVATARS
One of the trends behind The Rockman Show is the virtual YouTuber, or VTuber — online entertainers who are represented by a computer-generated avatar, often operated using motion capture technology.
So far, the VTuber scene mostly consists of cutesy or sexualized anime girls, limited to the Asian market. Some keep their act PG and star in advertising campaigns, but others cash in on satisfying the fantasies of anime fetishists. Current technology allows anyone with a mobile phone to be a VTuber.
"Want to be a YouTuber but don't have confidence in your face? Make a virtual character and become a VTuber!" reads the title of a video by the Liberty Times (the Taipei Times' sister newspaper) in November last year.
The function of VTubers has been growing. While running for New Taipei City mayor last year, for example, Premier Su Tseng-chang (蘇貞昌) introduced campaign character Su Hsiao-mei (蘇小妹), a pink-haired little girl who explained Su's policies, asked for donations and answered questions. The concept was hence already well-known here by the time Dolan and Lan began brainstorming for their project.
Creating another anime character wouldn't appeal to global audiences. So, Rockman was born — hard on the outside, soft and vulnerable on the inside, contrasting with the glamorous facade that Internet influencers present on social media.
"Reality is hard, and it's sometimes sad and confusing," Dolan says. "Why are we afraid of that? Let's start the conversation around entertainment and get people's defenses down."
LIVE-STREAM THERAPY
The pair also looked at the fast-rising phenomenon of people live-streaming themselves playing video games, predominantly through the service Twitch, which averages 2.2 million daily broadcasters and 15 million daily viewers.
"[We were watching those streams and] every once in a while, real emotions and vulnerability come out," Dolan says. "The kids talk about being teased at school. About thinking of hurting themselves. There's something happening here; it's like group therapy."
Lan says that while people still see gaming as a niche market, it has become more mainstream through mobile phone games such as Candy Crush and FarmVille. And the advertising market is huge.
"We want to push that even further for people who never play games but want to experience gaming culture," he says. "It's a passive experience in a television show format, but all the technology and interactivity is from gaming."
Dolan and Lan wanted a format that would break from the mostly niche content of Twitch and VTubing, hoping to come up with something that would satisfy an audience as diverse as Lan's five-year-old son and Dolan's disabled older brother.
They sought to combine a Sesame Street-esque cadence with Saturday Night Live humor that fits the Twitch gaming aesthetic, while focusing on universal themes like loneliness and self-esteem in the Internet age. And they chose mixed reality as a middle ground, combining virtual reality with real-life elements.
The cast features local talent such as fashion trendsetter Judy Chou (周筱帆) and Internet singer-songwriter Mandy Lai (賴柔甫), who have significant social media followings.
The stream also heavily features Taipei's landmarks. A catwalk fight is staged in front of Chiang Kai-shek Memorial Hall and a scooter ride moves through Dadaocheng (大稻埕). The same can be done in other cities as well, since Dolan and Lan have built a network of creators across the globe in their previous commercial ventures.
A live operator controls various elements in the show, making it rain and thunder or summoning a group of dancing monkeys that seemed to delight the audience, but greatly annoyed Rockman.
Eventually, Dolan and Lan hope the broadcast will evolve into a platform where people can create their own characters and produce their own content. But that's still a long ways away. For now, they have to think of the next character that they'll be developing.
Comments will be moderated. Keep comments relevant to the article. Remarks containing abusive and obscene language, personal attacks of any kind or promotion will be removed and the user banned. Final decision will be at the discretion of the Taipei Times.