Highways and Byways: Gricing in the northwest
Lumbering along on a train throughout rural Taiwan is a great way to pass the time — and there are some great destinations to visit too
When it's blazing hot and I'm lazy, I can happily spend the greater part of the day on public transportation. Sitting on the air-conditioned side of a window, the blue sky of summer looks even better.
I've always preferred trains to buses. On the former, I feel closer to the scenery I'm observing, whereas buses are often hemmed in by cars and motorcycles. I've never been a trainspotter, but I am a something of a gricer. According to one dictionary, those who grice, "collect objects or visit places connected with trains and railways."
I feel a little regretful that I never got to ride on the Linkou Branch Line (林口線). Built to transport coal to a power station — which still operates, and has in fact recently been expanded — this 18.4-km-long railroad ran north from Taoyuan Taiwan Rail Administration Station to the coast. It handled freight traffic between 1968 and 2012. For the final seven years of that period, passenger trains used the line to carry students to school and commuters to their offices. There were never more than two passenger services in each direction per day, none on holidays and tickets were never required.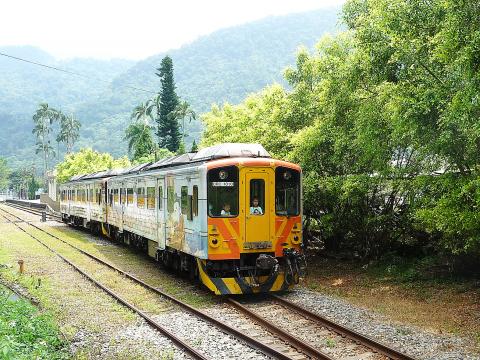 A train about to leave Neiwan Railway Station in the hills of Hsinchu County.
Photo: Steven Crook
Taiwan's northwest continues to be an especially good region for gricing, and not only because here the main north-south railroad splits into the Mountain Line (山線) and the Coastal Line (海線). The former serves Miaoli and Taichung. The latter crosses river estuaries and connects townships dominated by electricity-producing wind turbines.
If you've time for just one stop along the Coastal Line, make it either Baishatun (白沙屯) or Sinpu (新埔).
A large village rather than a proper town, Baishatun is a quaint mixture of blue-collar households and long-abandoned abodes. Many of the latter were built using traditional materials such as mud bricks and bamboo. However, the true significance of this place derives from its main place of worship, Gongtian Temple (拱天宮). The shrine isn't especially large or richly decorated, but the annual pilgrimage it holds to honor the sea goddess Matsu (媽祖) has become one of Taiwan's best-known religious festivals.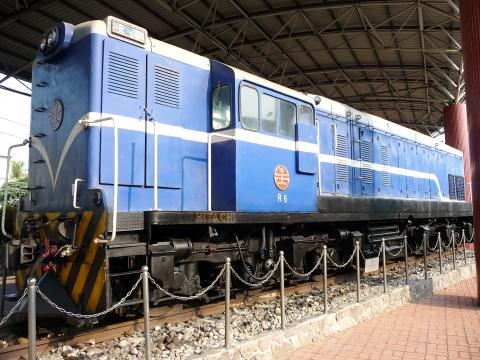 Among the locomotives preserved in the Miaoli Railway Museum is this early 1960s diesel-electric manufactured in Japan and used as a shunter until the 1990s.
Photo: Steven Crook
But for the tiles on its roof, the characterful station building at Sinpu is almost entirely wood, and has stood here since 1922. Travelers who want to stretch their legs can walk 400m south to Choumao Garden (秋茂園; open 8 am to 5 pm daily; admission free).
Established in the 1970s and named for founder Huang Chou-mao (黃秋茂), a Taiwanese businessman who'd made his fortune in Japan, this is a park with a theme, yet certainly not a conventional theme park. The statues and tableaux inside were inspired by Chinese history and legend. You'll find Sun Yat-sen (孫逸仙) and Confucius. Ming Dynasty loyalist Cheng Cheng-kung (鄭成功, also known as Koxinga), the leader who threw the Dutch out of Taiwan in the 17th century, is also here — as are the principal characters of Journey to the West (西游記), a story I first encountered when the 1970s Japanese TV adaptation was dubbed into English and shown on British TV under the title Monkey.
Traveling recently on the Mountain Line, the gricer inside me ordered a stop at Miaoli so I could take a look at the Miaoli Railway Museum (苗栗鐵道文物展示館; open 8 am to 5 pm daily; admission free). Leaving Miaoli TRA Station by the west exit and walking south, I reached the open-air museum in less than five minutes.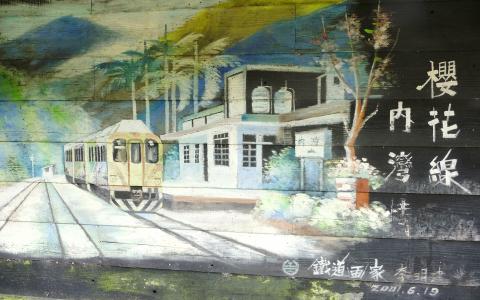 A railway-themed mural at Neiwan's Japanese-era police station.
Photo: Steven Crook
The 10 locomotives preserved here were manufactured between 1913 and 1970. There are also five passenger or staff cars and a flatcar that entered service on the Alishan Forest Railway in 1913. It was used until 1973, and only retired then because logging operations in the Alishan area ceased altogether.
The mightiest-looking of the museum's engines is the steam-powered DT561, which was built in the US in 1920 based on a Japanese design. (Production was outsourced to an American company because the Japanese licensor lacked the capacity to meet demand.) CT152 is the only survivor of 43 steam locomotives of its type that were shipped to Taiwan from Japan during the colonial era. It pulled both freight and passenger trains along the north-south railroad for 59 years before electrification of the line made it redundant.
Taiwan's sugar industry used to operate its own extensive rail network, and the oddest vehicle in the museum is a gasoline-powered railcar built in 1962 for patrol work. About the size of a seven-seater van, it looks very flimsy alongside the DT561 and CT152.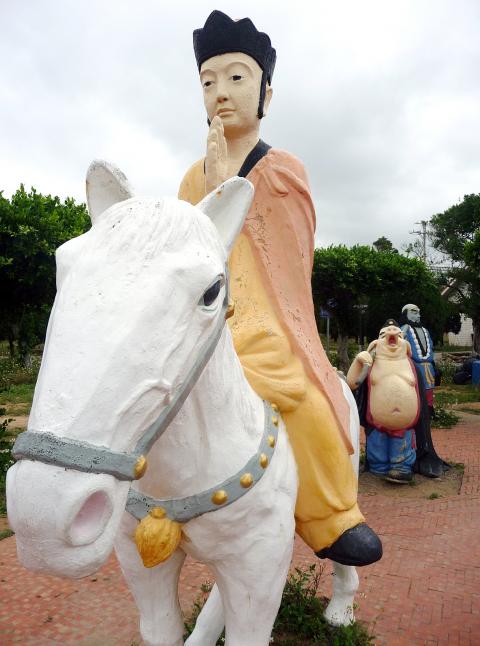 Among the scenes recreated at Choumao Garden in Miaoli County is one from Journey to the West.
Photo: Steven Crook
Hsinchu County in the northwest has one of Taiwan's oldest branch railways, as well as one of its newest. The Neiwan Line (內灣線) in Hsinchu County was originally a narrow-gauge railroad, built in 1934 so the interior's resources of timber and coal could be better exploited. This 27.9km-long branch line was upgraded to regular gauge in 1951, then closed for modernization between 2007 and 2011. During the hiatus, additional commuter stations were built, as was a short spur to Hsinchu High-Speed Railway Station. The new stretch of track is known as the Liujia Line (六家線).
The Neiwan Line gets crowded on weekends and holidays, but midweek it's a good option for a relaxing excursion. In my opinion, there's little point in getting off the train before the final station at Neiwan (內灣). This little riverside town is 258m above sea level, and while the surrounding scenery isn't breathtaking, it's certainly pleasant.
From the town center, I like to head to the other side of the Youluo River (油羅溪) and find some solitude — but I'd expect true gricers to first get a few photos of trains as they leave or arrive. The best and safest place to do this, I've found, is from the steps which lead up to the old police station. The police outpost was built in 1938. Unlike many remnants of the Japanese colonial period, it appears not to have been renovated since then.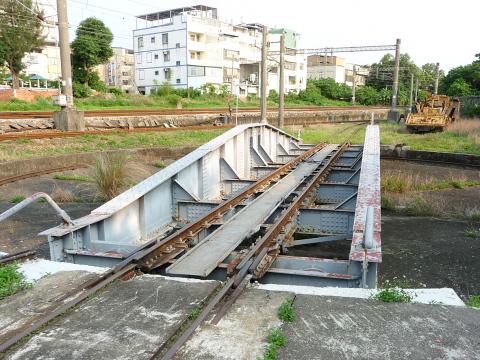 The railway turntable just outside the Miaoli Railway Museum.
Photo: Steven Crook
Camphor and timber production drew settlers to the Neiwan area more than a century ago, and I've learned a bit about this era by visiting the Neiwan Forest Industry Exhibition Hall (林務局內灣林業展示館) at 25 Datong Road (大同路). The hall is open from 9am to 5pm, Wednesday to Sunday; admission is free. The black-and-white photos of life in the hills a few generations back are truly engrossing — and the gricer in me was pleased to see trains in a few of them.
Steven Crook has been writing about travel, culture, and business in Taiwan since 1996. Having recently co-authored A Culinary History of Taipei: Beyond Pork and Ponlai, he is now updating Taiwan: The Bradt Travel Guide.
Comments will be moderated. Keep comments relevant to the article. Remarks containing abusive and obscene language, personal attacks of any kind or promotion will be removed and the user banned. Final decision will be at the discretion of the Taipei Times.