The family at the end of the rainbow
Jovi Wu and Mindy Chiu are a same-sex couple bringing up their daughter with love, courage and empathy
Jovi Wu (吳少喬), 38, and her daughter Miao (苗), 6, have been fixtures at demonstrations for LGBT rights, but once, they found themselves face-to-face with a protester from the anti-LGBT Family Guardian Coalition (護家盟). Like Wu, the protester was a mother who had brought her child along, a boy just a year older than Miao.
The woman took one look at them and pulled her son away, shrieking, "Don't look at dirty things!"
Never one to take an insult lying down, Wu hurled back, "And if your own child turns out to be gay, what are you going to do?"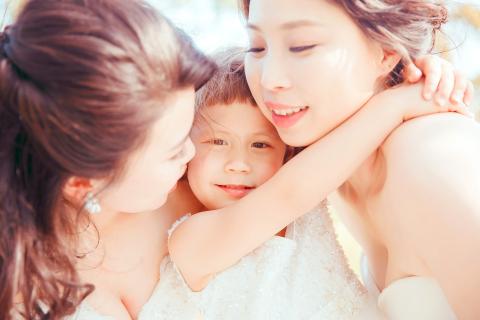 Jovi Wu, right, and Mindy Chiu are parents to six-year-old Miao, who was conceived through in vitro fertilization.
Photo courtesy of Jovi Wu
"I'll give him poison everyday until he dies," the woman said.
Homophobic platitudes abound at anti-LGBT demonstrations. But the ease with which the woman had talked about taking her child's life profoundly appalled and angered Wu. At best, she had traded him in for a cheap rhetorical flourish. At worst, she was being serious.
For Wu, those words were all the more jarring given her own arduous journey to become a mother.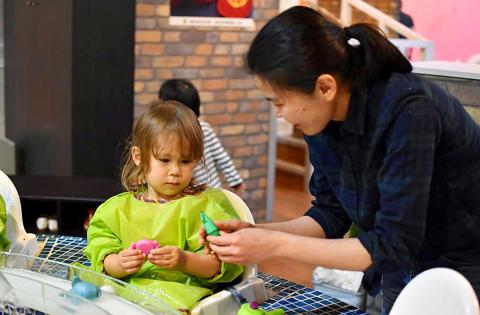 Mindy Chiu shares a motherly bond with daughter Miao.
Photo courtesy of Jovi Wu
PROTECT THE FAMILY
Wu is in a committed relationship with a woman and refers to her partner, Mindy Chiu (邱明玓), 36, as her wife. They raise Miao as a family of three in Taoyuan.
Last Saturday, the organizers of Miaoli's first LGBT pride parade, which takes place on May 11, invited Wu and Chiu, both Miaoli natives, back to their hometown to share their experiences of raising a same-sex family.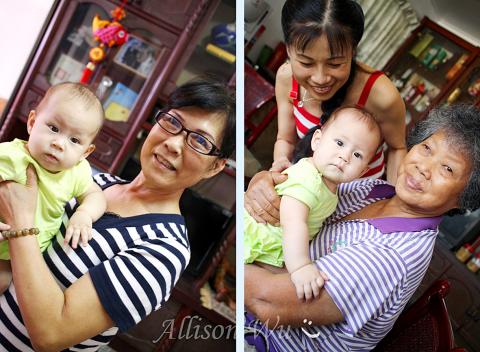 Left: Miao is doted on by the aunt of Jovi Wu. Right: Miao is held by her grandmother as Jovi Wu looks on.
Photos courtesy of Jovi Wu
In the cozy interior of an independent bookstore, Wu speaks candidly about her life. The intimate surroundings and friendly audience are a long way from the violence and loneliness of her childhood.
Wu was brought up in a household terrorized by an alcoholic and abusive father. She describes how he used to barge in when she was in the shower and beat her until she lost consciousness, only awakening from the chill on her skin, covered not in bathwater, but blood. The trauma is so visceral that she still shakes uncontrollably whenever she has to drive past the road signs leading to her old family home.
Wu's mother had her at the age of 17. When Wu was a toddler, with two younger brothers, her mother left the children behind to escape her husband's abuse. For the longest time, Wu used to resent her mother for the choices she had made — for having children with a violent man, for not protecting them from his beatings and finally for abandoning them.
Wu's first inkling that she might be attracted to women came when she was 10 or 11, when she glimpsed a female classmate walking by and almost hallucinated rainbow-colored bubbles around the girl.
"I thought to myself, am I having a stroke?" Wu quips.
When Wu was planning to marry her first wife, she extended an invitation to her estranged mother.
"I didn't actually expect her to come. But my mother's boyfriend told her: if you aren't there, then you will lose your daughter for good," Wu recalls.
That was the start of a reconciliation, which deepened when Wu herself had a child and began to understand how overwhelming it must have been for her young mother, then barely an adult herself, to singlehandedly be responsible for three young children and an abusive husband. Wu now maintains a relationship with her mother, who is a doting grandmother to Miao.
When Wu and her ex-wife decided to have a child, they went to Thailand for in vitro fertilization. For the pregnancy cocktail, they used Wu's ex-wife's egg — to avoid a gene for a hereditary spinal disease that Wu carries — and donor sperm from a Caucasian donor — given the extremely limited supply of Asian donor sperm and physical traits, such as height, that they wanted her to have.
They got pregnant on their first try, with twins, but one fetus was miscarried. Wu describes pregnancy as the quietest, most peaceful time of her life. In retrospect, it was the calm before the storm of Miao's birth.
Miao was born premature, on a wintry January day. Unable to breathe on her own, she was immediately transferred to the neonatal intensive care unit (NICU) in another hospital, before her parents could even hold her. Wu herself experienced complications in her caesarian section and could not be discharged.
This left Wu's ex-wife to follow their daughter to the NICU. But because of legal discrimination, she could not make any medical decisions for the baby and was not allowed into the NICU to be with her daughter.
As same-sex marriage is not yet legally recognized in Taiwan, same-sex couples do not jointly share parental rights and responsibility over a child. The legal bond only exists between the child and a single parent — either the biological mother or father (in the case of in vitro fertilization or surrogacy) or one adoptive parent.
This meant that only Wu, then bedridden and drifting in and out of consciousness, was able to give consent to the life-saving procedures that Miao needed.
"I just felt, what would have happened if I hadn't woken up the next day? We only had that one day's grace before she had to undergo two surgeries," Wu says, tearing.
Wu remained in great pain a day after the birth, but an even more desperate desire to see her daughter brought her out of her hospital bed. With only 20 minutes left in visiting hours, she was stopped at the entrance of the NICU and told she could not enter in a wheelchair.
With agonizingly slow steps, she walked into the NICU, only to face a stack of documents that she, as the child's only legally-recognized parent, had to sign her consent to before she could spend time with her daughter.
Wu and her ex-wife eventually separated over clashes in personality and with each other's families. Chiu, whom Wu reconnected with about three-and-a-half years ago, is Wu's first girlfriend.
When someone commends Wu and Chiu for their bravery in going down this difficult path, Wu deflects.
"I don't think it's bravery. For LGBT people, we don't really have any other choice if we want to go on living," she says. "When we first decided to start a family it was a very simple dream, we just felt that we wanted to have a person whom we could wholeheartedly love and give to."
HAPPINESS OF FUTURE GENERATIONS
On May 24, same-sex marriage will be legalized following the Judicial Yuan's 2017 interpretation, which found that the Civil Code's definition of marriage as between a man and a woman is unconstitutional.
Under the Cabinet's proposed draft marriage equality bill, which has passed its second reading in the Legislative Yuan, a person in a same-sex marriage will be able to adopt the biological child of their partner.
This benefits couples that conceive through in vitro fertilization, whereby the child is biologically related to one parent. An immediate priority for Wu and Chiu when May 24 comes around is to register their marriage and start the process for Chiu to adopt Miao.
But adoption rights are still not on par with that of married mixed-sex couples, who can jointly adopt and share parental rights and responsibility over a child that has no biological relation to either parent.
Another inequality that remains is the lack of any legal relationship, like a parent-in-law, between the families of same-sex marriage partners. If there's a child in the picture, this means that the child's non-biological grandparents and other relatives will not be legally recognized as family.
There are more than 300 same-sex families in Taiwan, with another 20 pregnancies or adoptions expected to bear fruit this year. In Miaoli alone, there are six such families. These figures are estimates based on updates from informal LGBT family support networks to Taiwan LGBT Family Rights Advocacy (台灣同志家庭權益促進會).
Executive secretary Li Hsuan-ping (黎璿萍) says that children of same-sex couples may not experience blatant discrimination, but are likely to encounter ignorance about their unconventional family structure.
"Our imagination of LGBT people is limited to singles, such as LGBT youth, or same-sex couples who want to get married," but when it comes to same-sex families, Li says, "we don't really understand it."
Wu and Chiu have not yet had to deal with homophobia in Miao's school, an environment that they chose carefully. Their mixed-sex couple friends think nothing of leaving their own children with them for a day of babysitting.
But this does not exempt them from their daily encounters where same-sex parents and their children come out, over and over again, to acquaintances and strangers.
With chestnut hair several shades lighter than most Taiwanese, Miao is noticeably of mixed ethnicity. She may not know how to multiply yet, but she can explain simply and matter-of-factly why her hair is brown and why she has two mothers. She's already gone over it with her kindergarten classmates.
For diverse families, community is important. Taiwan LGBT Family Rights Advocacy is an essential resource for same-sex families, providing comprehensive information on pregnancy and adoption options, LGBT-friendly obstetricians and how to deal with the gaps in their legal rights and protections.
Many same-sex families also establish their own informal networks. Wu is in a group with at least 100 other families. She sought them out because teenage children of same-sex parents have told her that they wish they had known other children of same-sex families when they were younger, because they would have felt less alone.
Today, Miao is a precocious child with bright, mischievous eyes and a frown that wrinkles when she suspects an adult isn't telling her the whole truth. She likes make-up, sequins and Ariel the mermaid princess.
Recently, Miao has also taken a liking to a boy in her class. When Wu teased her daughter for liking a boy and "being heterosexual," Miao responded in all seriousness that she liked him as a person, and not because he was male.
Miao's reply seemed like a culmination of the loving, diverse and gender-equal environment in which Wu and Chiu have sought to raise her. She wishes that more parents could hear such a response from their children.
These parenting values are "not about the possibility that your child might be gay, but about how no matter how your child turns out, you should love and accept them," Wu says.
Comments will be moderated. Keep comments relevant to the article. Remarks containing abusive and obscene language, personal attacks of any kind or promotion will be removed and the user banned. Final decision will be at the discretion of the Taipei Times.