Can men be feminists?
After a group of women boycotted the Taipei Women's March over the inclusion of male performers, three local feminist groups give their take on the role of men in the gender equality movement
When more than 100 supporters braved the rain to march for women's rights and gender equality at the third annual Women's March in Taipei on March 9, there was little to suggest that a confrontation over the role of men at the march had been unfolding on social media.
In the days prior, several women had taken to the Women's March Facebook page to express confusion and outrage at the organizers' decision to feature male performers at the march, which celebrates International Women's Day, and the perceived prominence of the men's names in event publicity.
"It makes absolutely no sense that there are any male performers when a Women's Day March should specifically center and showcase women," wrote user Rachel McPhail.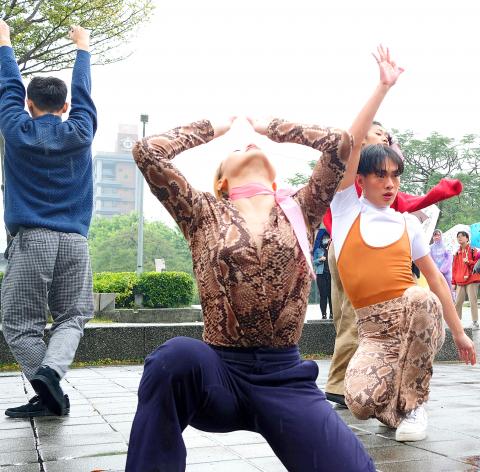 At the Women's March in Taipei on March 9, mixed-sex dance troupe Allure performs lyrical choreography in the rain.
Photo: Davina Tham, Taipei Times
"When you give those spots to men you rob a woman of being able to have her voice heard or her skills shown. Isn't that part of what this is all about? So disappointing!" added user Catherine Daigle.
The controversy was a rare public display of a rift between women in the feminist movement.
OPPOSING VIEWS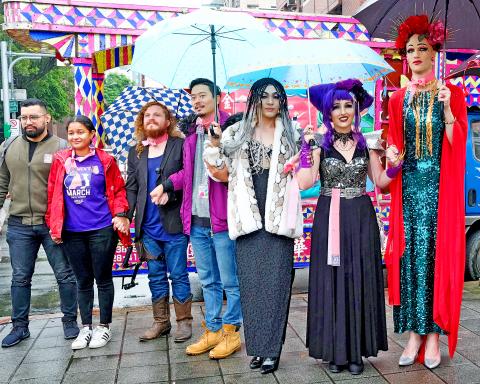 At the Women's March in Taipei on March 9, drag artists Taipei Popcorn (far right, in red shawl), Lady Anjelica MacDeath (second from right) and Feilibing IceQueen (third from right, in white coat) make an appearance.
Photo: Davina Tham, Taipei Times
Though the majority of performers and speakers were female, that did not assuage the critics who objected in principle to any man being given a platform at the Women's March.
Jaclynn Joyce, who also made comments about male participation on the Women's March Facebook page, tells me that while she believes men can be allies to women, International Women's Day is one occasion "where men should just step back and let women lead the conversation."
"It is disrespectful and patronizing for men to have a voice at an event that highlights what women go through when it comes to systematic sex-based oppression," she adds.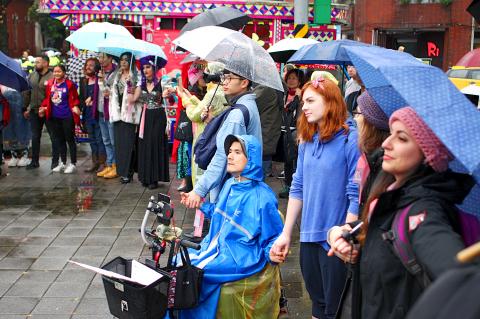 At the Women's March in Taipei on March 9, marchers hold hands for a moment to remember victims of sexual abuse, domestic violence and intimate partner violence.
Photo: Davina Tham, Taipei Times
Daigle and McPhail didn't respond to questions from the Taipei Times.
While Joyce and others confined their misgivings about male participation to the single occasion of the Women's March, the response of the organizers points to a broader commitment by various groups in the homegrown feminist movement to reach out to men.
Women's March organizers defended their decision on the grounds that the majority of the speakers and performers were female, and that their intention was to create an inclusive environment, "especially considering that in Taiwan there are certain stereotypes regarding 'who should support women's rights.'"
"Far too often the responsibility for gender equality falls on women's shoulders when men should be held equally accountable for bridging that divide. When we reserve a spot for a male it is not at the expense of a woman, but as a deliberate decision to highlight the role both sexes play in achieving parity," the organizers said in response to Joyce's criticisms.
Crystal Liu (劉小妤), founder of the Women's March chapter in Taipei, says that organizers invited many female artists to perform but found it difficult to secure appearances, with the lack of remuneration being a possible factor. Members of the LGBTQ community, including the featured drag queens, were forthcoming and "instantly" agreed to support the march.
For the record, Taipei's pride parade, which attracted close to 140,000 participants last year, does not limit its stage to LGBTQ-identifying performers. Applications are open to "all who identify with the ideals of the parade alliance."
Liu says that she can understand the thinking behind objections to feature male appearances at the Women's March. But even if time and resources were unlimited, she would still include at least one male performer in the march line-up.
For Liu, a Taiwanese national who moved to Taipei in 2017 after growing up in Shanghai and studying in the US, the Women's March is a collective action that requires a localized approach.
"The situation in Taiwan now is that we have to be able to break out of the echo chamber," Liu says, using the term tongwenceng (同溫層), which literally means "same stratosphere."
WHY IT MATTERS
Solidarity matters for any movement trying to effect social change on a mass scale. And for the Women's March in Taipei, a celebration of half the population with participants currently hovering above 100, every individual counts.
As a result of the clash of views over male performers, close to a dozen women who would otherwise have supported the march decided not to attend.
Joyce was one of them. "I didn't get the impression that women were being prioritized and I felt that women were being pushed out of their own event."
Feminism is the belief that people of all sexes should have equal rights and opportunities. Men who recognize and take action against patriarchal beliefs and practices are considered allies. Mobilizing such allies is an explicit objective of feminist endeavors like UN Women's HeForShe campaign, which describes itself as "an invitation for men and people of all genders to stand in solidarity with women."
So feminism is for men too — this is a key message of activists who seek broader support for the feminist movement among the male demographic.
The fundamental question is what should take priority in feminist settings: the preservation of a space where the experiences and perspectives of women are given absolute preference, or the signaling effect of a space where men are shown to be welcome?
MEN IN THE MOVEMENT
My conversations with three groups of gender equality activists indicate that active engagement of men is an essential and widely accepted part of Taiwan's feminist movement.
What's Wrong with Feminism (女性主義有事嗎) is a popular online platform led by university students, which publishes think pieces about gender equality on Facebook. Editor-in-chief Fang Chi (方綺) says that her co-ed team do not distinguish roles on the basis of sex and gender.
"If men can identify with feminist ideals, and even join us to promote it, this is a plus for feminist advocacy. It can help to disavow more men of their fear of feminism, or their belief that feminism has nothing to do with them," Fang says.
As its contrarian name suggests, opponents of feminism are a key target audience of What's Wrong with Feminism. The platform regularly publishes posts targeted at men, on topics such as enthusiastic consent and power dynamics in male friendships.
Last year, the team went a step further and initiated a dialogue with members of the public who hold grievances toward feminism. An open call on social media led to meetings with almost 60 respondents, all but one of whom were men.
The dialogue attracted criticism from some readers, who felt betrayed by a platform they thought should focus on women's perspectives.
But Fang maintains that the dialogue was valuable, as it provided an opportunity for editors to interact beyond the platform's usual readership and gain insight into how the misogynist mind works. About 10 respondents even experienced a change of heart and became loyal readers of the platform.
The Taiwan Men's Association (臺灣男性協會), which was established last year, is the first group to put men's experiences front and center in the gender equality movement. It's worth noting that the association is the brainchild of the Garden of Hope Foundation (勵馨基金會), a Taipei-based non-government organization that has been supporting female survivors of sexual abuse, domestic violence and human trafficking since 1988.
In a press release, the foundation described its work to help women in distress as only an alleviation of the symptoms of gender inequality. To tackle the root cause, patriarchal mindsets need to be overturned, and the participation of men is crucial for this.
Association secretary-general Wang Hung-liang (王泓亮) says the immediate objective is to "empathize with men, and let men feel that they can voice their feelings."
It's a response to the observation that many men feel alienated by the gender equality movement because they are told they have no standing to speak in it.
In an interview with the Taipei Times last month, association president Shiau Hong-chi (蕭宏祺) said that it is "often awkward" for heterosexual men to participate in feminist advocacy settings, as "they are easily considered chauvinists if they disagree with mainstream feminist ideas, when things might be more complicated than that."
If the focus of the Taiwan Men's Association seems unusual to you, then the current leadership of the National Taiwan University Feminist Club (台大女性研究社) might be even more of a head-scratcher.
Club president Florence Hsu (許國輝) and vice-president Yeh Chun-cheng (葉峻成) are men. When I ask if they were elected, they smile sheepishly and explain that they stepped up to these positions out of necessity, due to low membership numbers and the heavy academic responsibilities of other members.
As leaders, Hsu and Yeh rallied their club to walk in the Women's March. This year, they are holding salons to discuss writings on feminism and hosting speakers like Democratic Progressive Party legislator Yu Mei-nu (尤美女) and New Power Party Taipei city councilor Lin Ying-meng (林穎孟).
On why he joined the club, Hsu says, "I myself am a gay man, and to some extent we are like women, [because] we are all subject to, we are all victims under the system of patriarchy. So from my standpoint, I think that joining the Feminist Club was a matter of course for me."
Patriarchy is not an abstraction for these men. Hsu relates anecdotes of women in his own life who suffer sexist treatment, such as when a friend giving him a frank assessment of her sexual partner was told by an eavesdropping man that she was "shameless."
Yeh, a second-year student in the science and technology stream, simply says that the club was a comfortable space to engage in academic discussions on gender-related issues that interest him. With friends who express ignorance or animosity, Yeh is firm that "people like us who study feminism have to explain that it focuses on gender equality, and not just the rights and interests of women."
Hsu and Yeh are aware of the irony in their leadership of a feminist club. They speak earnestly and introspectively, as young men with growing sensitivity to the effects of gender inequality on women, who stand ready to challenge misperceptions and criticisms of feminism. Talking to them is a reminder that men can communicate respectfully about gender inequality, and are essential to efforts to persuade a wider, inhospitable audience that feminism is for everyone.
"We believe that discussions about sex and gender are not stagnant… such discussions never belong exclusively to women, and there is no one way of conducting them," Fang says.
Comments will be moderated. Keep comments relevant to the article. Remarks containing abusive and obscene language, personal attacks of any kind or promotion will be removed and the user banned. Final decision will be at the discretion of the Taipei Times.