Art exhibition listings
Chinese artist Hang Chunhui (杭春暉) creates paintings that blur the boundaries between painting and sculpture. Trained in Western abstract painting and Eastern ink painting, Hang's earlier works showed interest in combining ink-and-brush techniques with Baroque art concerns such as religious symbolism, manipulation of light and techniques of perspective and illusion. In the last five years, Hang has moved on from issues of representation to explore ideas of visual duality between representation and abstraction. His solo exhibition, Intertextuality (齊物), at Asia Art Center features four new series of paintings that address the relationship between material and form, and matter and space. The title of the show riffs off of Chuang Tzu's (莊子) On Leveling All Things (齊物論), where truth is described as "a construct of contradicting perspectives," writes the gallery, "everything may be either positive or negative, decided by the beholder." Message Obscured by Form is a series of paintings that show hyper-realistic representations of books. The minimalist manner in which these books are stylized make them appear as books in one instant and abstract geometric forms in another. These two readings reveal a duality of reality and illusion that can be observed when exercising different ways of seeing.
■ Asia Art Center II (亞洲藝術中心二館), 93, Lequn 2nd Rd, Taipei City (台北市樂群二路93號), tel: (02) 8502-7939. Open Tuesdays to Sundays from 10am to 6:30pm
■ Until Jan. 27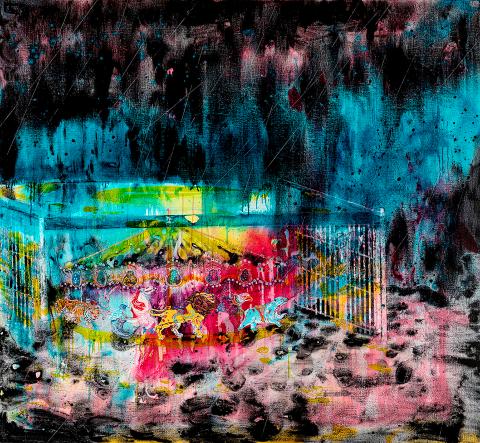 Wang Liang-yin, The End of the Rainbow (2018).
Photo Courtesy of Nunu Fine Art
Universitas: A special exhibition of the University Museum Association of Kyoto (京都好博學!) opens tomorrow at The Museum of National University of Education. Established in 2011, The University Museum Association of Kyoto is an alliance among 14 college museums formed to "collaboratively explore Kyoto's cultural history and context," reads the exhibition's press release. To this end, the show features more than 200 cultural and natural objects that were originally used as educational tools and teaching aids in classrooms and field trips. The show is organized into three parts: The "Hall of Knowledge," "Life in Kyoto" and "Exotic Exploration," themes contextualized by academic surveys, cultural studies and historical artifacts of Kyoto and beyond. Exhibition highlights include early 20th century botanical sketches, a clay model of silkworm anatomy, a miniature electric car from the Showa period and a wall chart that demonstrates the history of Japanese helmet design. The show offers a rare glimpse into the Japanese educational system and the cultural heritage of Kyoto.
■ Museum of National University of Education (北師美術館), 134 Heping E Rd Sec 2, Taipei City (台北市和平東路二段134號), tel: (02) 2732-4084. Open Tuesdays to Sundays from 10am to 5pm
■ Until Feb. 24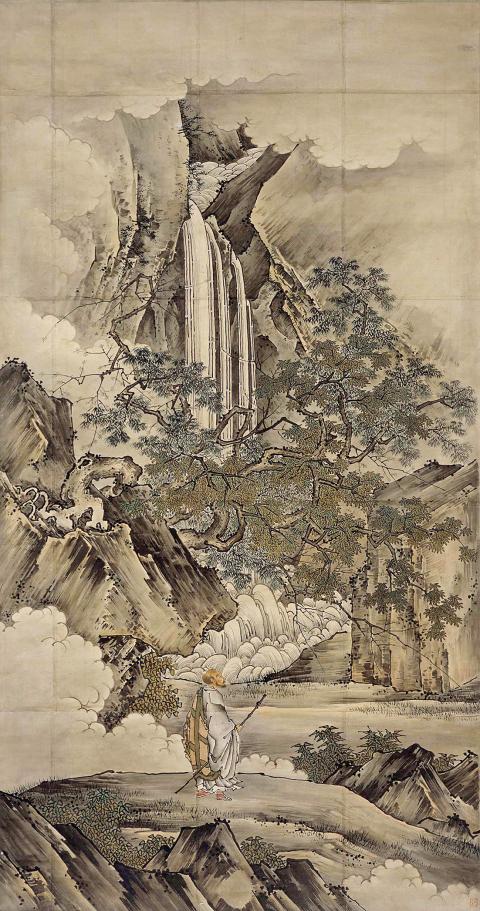 Taniguchi Kyoko, Wall Chart History of Japanese Helmet (1910).
Photo Courtesy of Museum of National Taipei University of Education
Lin & Lin Gallery presents After the Financial Crisis and Automated Production (金融風暴與自動化生產之後), a solo exhibition by prominent artist Chen Chieh-jen (陳界仁). Chen is known for creating video installations that critically reflect on Taiwan's modern and contemporary history. His works often engage with visions of society and reflections on collective memory. The show addresses the global state of corporate control over society, especially in the context of financial technologies that have a stranglehold on the "perceptions, desire and thinking of individuals [and systems]," writes the gallery. The show posits the question: "Is there a way for people to get out from under this situation?" Chen presents three recent works that reflect on this issue. In these works, the artist references the "Middle Way," a philosophical principle associated with the Madhyamaka School of Buddhism. The Middle Way claims a dialectical approach to concepts of self-existence and emptiness and speaks of a state of "neither arising nor ceasing, neither permanence nor nullification, neither identity nor difference, neither coming nor going." Taking the Middle Way as a departure point, "Chen hopes to establish a new worldview and value system, and find ways for people to respond to our current modes of thinking and the societal frameworks in which we live.
■ Lin & Lin Gallery (大未來林舍畫廊), 16 Dongfeng St, Taipei City (台北市東豐街16號), tel: (02) 2700-6866. Open Tuesdays to Sundays from 11am to 7pm
■ Until Jan. 26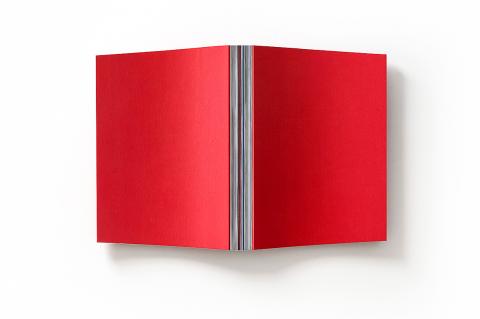 Hang Chun-hui, Message Obscured by Form-No.19 (2018).
Photo Courtesy of Asia Art Center
Abstraction Contextualized (訓詁‧抽象) is a new show by the late Chinese-American artist George Chann (陳蔭羆). Chann was a pioneering artist who became active in the 1950s and 1960s movement of Oriental abstract expressionism. Together with Zao Wou-Ki (趙無極) and Chu Teh-chun (朱德群), Chann blended art traditions from the West and East. "Before the much-known works of the abstract genre were conceptualized, these pioneers had long been immersed in the studies and experimentation of traditional Chinese calligraphy and painting culture," writes the gallery. "These early practices gave root to a solid Eastern texture in their oeuvre which is characterized by a principle of writing." The influence of Chinese characters and calligraphy was consistent throughout Chann's career. His early works began with a deconstruction of written language with ink techniques, which later evolved through many stages of abstraction and interpretation. Chann's show at Tina Keng Gallery includes a selection of paintings dating from the 1950s to the 1980s, which attest to his artistic journey.
■ Tina Keng Gallery, 1F, 15, Ln 548, Ruiguang Rd, Taipei City (台北市瑞光路548巷15號B1), tel: (02) 2659-0798. Open Tuesdays to Sundays from 11am to 7pm
■ Until Jan. 20
As part of its annual winter exhibition program, Nunu Fine Art presents The Spaces within the Spaces within the Spaces (空間中的空間的空間), a group exhibition by four artists from Taiwan, Denmark, Hong Kong and the Philippines. The title refers to a method of building bridges between the private and public spheres, as well as the artist and viewer, a notion conceptualized by art critic Camilla Jalving. By using objects that serve as familiar cultural codes, Jalving addresses the transference of meanings between different spheres as demonstrated in Danish artist Jasper Bonnen's work. Bonnen works with various art forms to explore the relationship between individuals and spaces. His new painting, The Difficulty of Choice, depicts a network of interrelated forms that seems to blur the boundaries between the exterior an interior. Cheng Ting-ting (鄭婷婷) draws inspiration from her daily surroundings. Domestic items such as sofas, tables, sinks and mattresses are considered as lived spaces that both express a material experience of the objects as well as the memories the artist associates with them. Wang Liang-yin (王亮尹) is a Taiwanese artist who explores the relationship between spirituality and the material world. Wang "considers objects to be [both pure physicality] and evidences of flow of emotions and thoughts," writes the gallery.
■ Nunu Fine Art (路由藝術), 5, Ln 67, Jinshan S Rd Sec 1, Taipei City (台北市金山南路一段67巷5號), tel: (02) 3322-6207. Open Wednesdays to Sundays from noon to 7pm
■ Until Dec. 30
Comments will be moderated. Keep comments relevant to the article. Remarks containing abusive and obscene language, personal attacks of any kind or promotion will be removed and the user banned. Final decision will be at the discretion of the Taipei Times.