Taiwan's elections: more than just referendums
Many voters plan to vote in today's referendums but not the elections, which may further entrench direct democracy
Like many of her peers, Liao Tsai-wei (廖采薇) only plans to vote in the referendums in support of same-sex marriage — and not for any candidates in the nine-in-one local elections.
"I'm not really familiar with the candidates," the Nantou native and fourth-year college student says. "The same-sex marriage issue is a trendy topic among university students, and we'll frequently discuss it. In fact, I'm not sure what the other referendum questions are about."
However, when told that Nantou County Commissioner Lin Ming-chen (林明溱) has made anti-LGBT statements — "The fewer same-sex marriages in Nantou the better," for example, or "homosexuality can be prevented" — Liao immediately expressed her distaste, and said that she would do more research.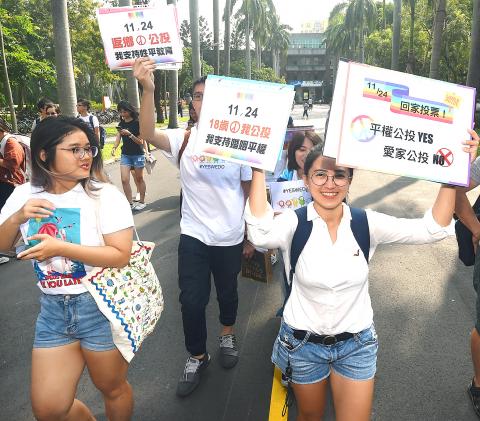 National Taiwan University students hold up signs urging their peers to go home and vote on the referendums during the Taiwan LGBT Pride Parade last month.
Photo: Liu Chen-hui, Taipei Times
"I'll take a look at the other candidates' campaign promises and political ideals," she says. "If they aren't impressive, even if they didn't make [anti-same sex marriage] remarks, I'm still not voting."
With 10 hot-topic questions and a lowered referendum voting age of 18, many news outlets are reporting that general interest in the referendums is higher than in the elections. Political apathy or disappointment in the Chinese Nationalist Party (KMT) and Democratic Progressive Party (DPP) are the main reasons cited. A search on Professional Technology Temple (PTT), Taiwan's largest online bulletin board system, yields numerous comments such as "I don't want to vote for either blue or green candidates, they're all garbage. I'm only voting in the referendums."
Blue refers to political parties, such as the KMT, that want closer relations to China, if not outright unification; green are those political parties that view Taiwan as an independent country and generally promote policies that reflect that.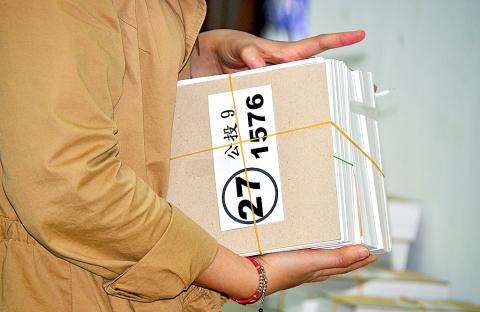 An election worker holds a stack of ballots for this year's record-high 10 referendums during yesterday's preparations for today's elections.
Photo: CNA
"I haven't felt strongly about whoever has been elected in the past," Liao says. "It doesn't really affect my daily life."
Liao's apathy toward today's nine-in-one elections is shared by many others. A handful of PTT commenters, however, are imploring people to pay attention to the local elections and get out and vote.
"I've been hearing that many people are voting in the referendums and not the elections," writes a netizen with the username zxc6931. "Please don't do that! If you vote for the referendums, that means the issue is important to you, right? But what if a candidate with opposing views gets elected? Do you still think that your issue has any hope of being taken seriously?"
When reached for comment, Central Election Committee deputy chairman Chen Chao-chien (陳朝建) said that voting is a basic right and he respects the decisions of the voters.
Louis Wei (魏嘉瑀), who has lived in Taipei for eight years but retains her household registration (戶籍) in Pingtung County, has a different reason for not voting: she feels that she is out of touch with the issues facing the county.
And like most people under 30 working in Taipei, Wei cannot afford to buy her own apartment and moves frequently, and so consequently doesn't see the value in constantly changing her household registration, which is currently at her parents.
According to the most recent statistic released by the Directorate General of Budgeting and Statistic, by the end of 2012 there 4.8 million people didn't live at the household where they are registered, an enormous number that clearly impacts electoral turnout — and one that could be solved by abolishing it.
"I just don't think I should be deciding for the people who actually live there," she says.
However, she is back in Pingtung today just to support marriage equality.
"I wouldn't be going back if it weren't for the referendums. I'm going to deal a blow to the [Alliance of Taiwan Religious Groups for the Protection of the Family (Family Alliance, 護家盟)] … groups that spread disinformation to oppose same-sex marriage."
When asked what she would do if a Pingtung candidate openly opposes same-sex marriage, she replies that that's more the reason not to vote.
"I surely won't vote for that candidate, but I won't vote for the opposing candidate just because of one issue," she says.
Comments will be moderated. Keep comments relevant to the article. Remarks containing abusive and obscene language, personal attacks of any kind or promotion will be removed and the user banned. Final decision will be at the discretion of the Taipei Times.