Highways and Byways: Legacy of a shipping magnate
The Evergreen Maritime Museum in Taipei displays around 600 objects over five floors showing our relationship to the sea over several millennia through boats, maps and paintings
On October 7, the Evergreen Maritime Museum (長榮海事博物館) in Taipei marked its tenth anniversary. The artifacts collected and displayed here explore various aspects of humanity's interaction with the oceans, and will appeal to anyone interested in history or engineering or both.
Located where Ketagalan Boulevard and Zhongshan South Road (中山南路) meet with Renai Road (仁愛路) and Xinyi Road (信義), the museum couldn't be any more central. It faces the Presidential Office, and NTU Hospital Metro Station is a 10 minute walk away.
The museum belongs to the Chang Yung-fa Foundation, created by and named for the tycoon who established the Evergreen Group (長榮集團), a Taiwanese conglomerate that includes a global shipping business and the airlines EVA Air and UNI Air.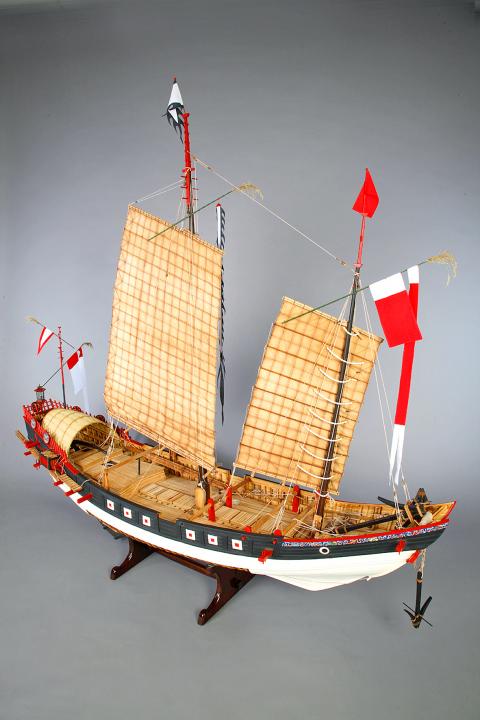 A model of a Chinese fuchuan (boat made in the nautical style of Fujian).
Photo courtesy of Evergreen Maritime Museum
MODEL BOATS
Chang Yung-fa (張榮發, 1927–2016) began working on ships when he was 18, and bought his first vessel in 1968. When his businesses began to flourish, long before he considered opening a museum, Chang began collecting maritime relics. He was particularly interested in models of boats and ships, and for many visitors these fabulously detailed mockups are the most memorable part of the museum.
More than a score of models represent ships that have been part of Evergreen's fleet. The company was one of the first to embrace containerization, and for a period it was the world's top container shipping line. With around 200 vessels, it remains among the world's top six shippers in terms of market share.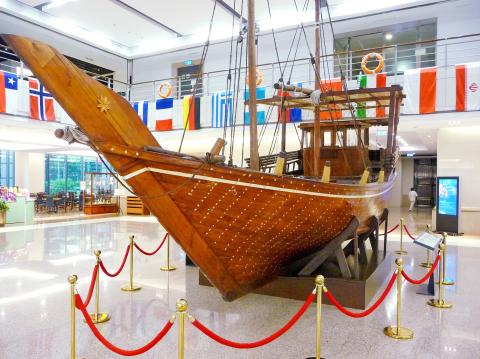 The full-size Arabian dhow Evergreen's founder had specially built for his collection.
Photo: Steven Crook
Thankfully, the museum goes far beyond corporate propaganda. In keeping with its stated mission — "to preserve and present the history, art and science of boats and ships, in the hope of generating public interest in maritime culture" — the museum also displays maps of historical importance, oil paintings and items like a collapsible liferaft, which younger visitors like to climb aboard. The only facet of human activity on the oceans which the museum doesn't cover is piracy.
During his lifetime, Chang donated his collection of 4,500 items to the museum. Around 600 of them are now on display.
Of the four vessels displayed in the lobby, the two most interesting are a traditional fishing boat made and used by the indigenous inhabitants of Taiwan's Orchid Island (Lanyu, 蘭嶼), and an authentic Arabian dhow. A Dubai-based friend of Chang's helped him arrange the building of the dhow in the mid-1990s.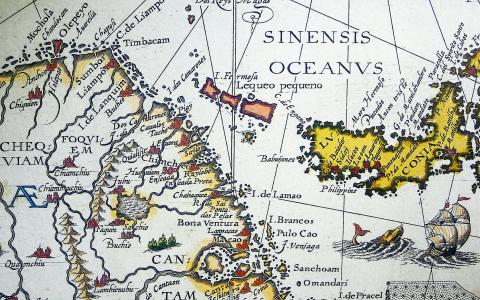 Part of an old map displayed in Taipei's Evergreen Maritime Museum. North is to the left; in the center, Taiwan is depicted as three separate islands colored pink.
Photo: Steven Crook
Visitors are advised to proceed from the lobby to the fifth floor, then work their way downstairs. This way, they'll begin with humanity's most ancient watercraft. Among them are a coracle from the British Isles, an inflated goat skin (a way of crossing rivers in Assyria), a Maori waka, a Taiwanese bamboo raft and the kind of flat-bottomed coastal boat still common in the Philippines.
Also represented are oar-powered triremes like those that fought sea battles in the Mediterranean as recently as the 18th century, and Viking longships. Unlike many seacraft, which need space and time to turn around, the latter could reverse out of a tight spot at the drop of a horned helmet. Whereas most wooden ships are carvel-built, meaning the hull planks are fastened edge to edge, longships were clinker-built, the edges of hull planks overlapping each other, like weatherboard on the side of a house.
Several of the models on this floor, including those of the Mayflower and the Golden Hind, were individually ordered by Chang and crafted by renowned Japanese miniature-ship builder Toshio Uchiyama. Others were purchased at auctions.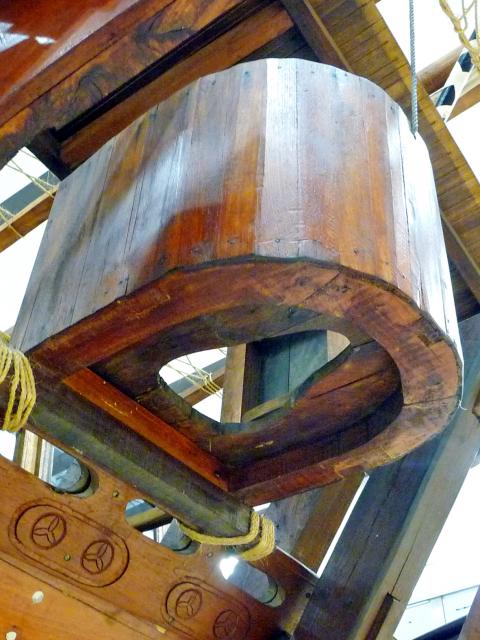 Like many traditional vessels, the dhow's toilet is a simple box hanging off the stern.
Photo: Steven Crook
Here I learned that junk (the name given to a type of ancient Chinese sailing ship) is properly pronounced "yoonk." The word may be of Chinese or Old Javanese origin. Because of their shallow draft, junks were ideal for sailing up rivers and along coastlines (like Taiwan's west coast) littered with shoals and sandbars. Their sails were often made of bamboo slats rather than cloth.
Visitors can also find the Great Eastern, one of three ships designed by Isambard Kingdom Brunel (an engineer better known for railways, and named the second-greatest Briton ever in 2002 poll organized by the BBC). The largest ship ever when launched in 1858, the Great Eastern could sail from the UK to Australia and back without refuelling, carrying 4,000 passengers. For economic reasons it never did, however, instead crossing the Atlantic several times, then finding greater success after being converted to a telegraph cable-laying ship.
Another display is devoted to "king boats" — highly decorated vessels burned for religious reasons during triennial rituals at various places in southern Taiwan — complete with a model "king boat" by Tseng Shu-min (曾樹銘). To craft this replica, Tseng drew on his experience making real "king boats" in Donggang (東港) in Pingtung.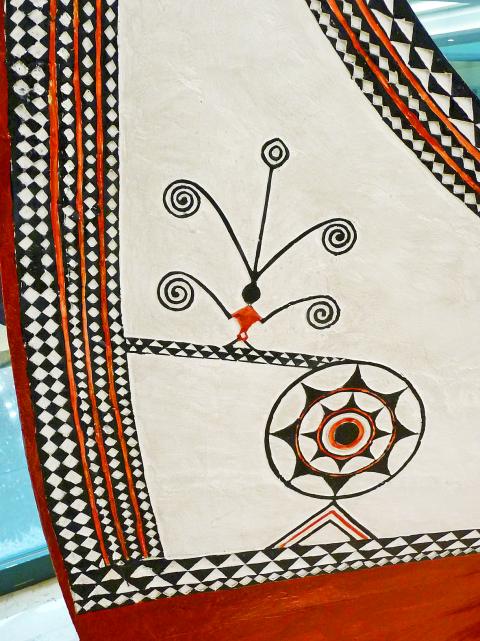 Motifs on the prow of a fishing boat built by the Tao indigenous people on Taiwan's Lanyu island.
Photo: Steven Crook
There is a replica of one of the most important carvel-built ships in history, Santa Maria, the flagship when Columbus crossed the Atlantic Ocean in 1492. The story of the Vasa, a Swedish warship that was fabulously expensive for its era, is less well known. It sank on its maiden voyage in 1628, but was salvaged in 1961 and turned into a tourist attraction.
TITANIC RELIC
The oddest relic on this floor is of dubious authenticity, yet compelling. A notebook-sized piece of wooden planking, it bears a message purportedly scratched by John Jacob Astor IV as he faced certain death during the sinking of the RMS Titanic in 1912.
Astor, a member of one of the richest families in the US, and his wife were returning to New York after a honeymoon in Europe. After the ship collided with an iceberg, Astor's pregnant wife, maid and nurse boarded a lifeboat; all three survived, thanks to the "women and children first" principle. Astor, it is said, then etched this goodbye. Since it was discovered on a beach in Canada, this collectible has changed hands several times, yet the Astor family has never accepted it as genuine.
The third floor is divided between Maritime Taiwan and Marine Paintings. The grandest of the maritime-themed paintings is titled The Japanese Fleet Offshore with Mount Fuji Rising Beyond. In the 1890s, British artist William Wyllie was commissioned by the Imperial Japanese Navy to produce a large painting of its fleet with the country's most famous landscape. The watercolor displayed in Taipei is a study Wyllie did while working on the version in oils that still belongs to Japan's royal family.
A 1983 oil painting showing USS Intrepid attacked by Japanese kamikaze planes is notable for the tiny mermaid, looking on from the surface of the sea.
Much of the equipment displayed on the second floor (Navigation and Exploration) was taken from ships being retired from Evergreen's fleet. Here, you'll learn about working conditions on modern ships, reflecting Chang's wish to encourage young people to pursue careers in the merchant marine.
Sailors are away from home for months on end, and now loading and unloading are done so quickly there's little time to explore ports of call. Nonetheless, salaries are attractive. A third officer working for Evergreen typically earns NT$130,000 per month; container-ship captains make a lot more than that. Venturing out onto the high seas is nowhere near as perilous as it used to be, but for skilled seafarers, there are substantial rewards.
Steven Crook has been writing about travel, culture, and business in Taiwan since 1996. Having recently co-authored A Culinary History of Taipei: Beyond Pork and Ponlai, he is now updating Taiwan: The Bradt Travel Guide.
Publication Notes
IF YOU GO
GETTING THERE
>> Evergreen Maritime Museum is located in the Chang Yung-fa Foundation Building (財團法人張榮發基金會國際會議中心), 1-5F, 11 Zhongshan S Rd, Taipei City (台北市中山南路11號1-5樓) . Open Tuesdays through Sundays from 9am to 5pm. On the Net: www.evergreenmuseum.org.tw
Comments will be moderated. Keep comments relevant to the article. Remarks containing abusive and obscene language, personal attacks of any kind or promotion will be removed and the user banned. Final decision will be at the discretion of the Taipei Times.