Ian's Table: Proud to be bland
Winter melon looks almost as bland as it tastes, but this does not mean it does not have plenty to contribute in the kitchen
Wax gourd is a staple of the Taiwanese countryside. It is a huge, heavy fruit that manages to survive the worst that Taiwan's heat and humidity can throw at it, seemingly impervious to pests and neglect. This hardiness, ironically, has diminished its worth in the eyes of culinary connoisseurs; this and its particularly bland taste, that requires a light touch to make the most of.
The wax gourd is more commonly called winter melon (冬瓜) in Taiwan, a direct translation from the Chinese, and this name persists despite the wax gourd not being any kind of melon, and is more closely related to various varieties of squash. In some quarters it is referred to as the ash pumpkin, but its flesh is also unlike that of most squash, and is closer to that of a marrow, to which, as a member of the Cucurbitaceae family, it is related.
The wax gourd rubs familiar shoulders with squash and zucchini, cucumbers and even watermelons, and like all these vegetables (and fruit), it is a remarkable source of nutrition. One advantage that it has over many of its relatives is that it has a remarkably long "shelf life" after harvest, its waxy coating providing a strong protective layer that allows it to be stored with minimal fuss for months without deterioration. Its disadvantage is its size, with the gourd routinely weighing in at 15kg and its size up to 80cm in length, a surfeit for all but the very largest of extended families. In traditional markets, winter melon is usually sold in wheel-shaped slices (a good format for the dish of steamed pork with winter melon, see recipe).
Steamed pork with winter melon is a classic dish that allows the lightly marinated meat to subtly add its flavor to the winter melon without totally overwhelming its delicate flavor.
Photo: Ian Bartholomew
I first discovered winter melon in the form of candy. My mother used to purchase the sticks of melon, like thick-cut French fries in size, thickly coated in sugar, from the Chinese medicine shop. She used these sticks of translucent melon crusted in white sugar to sweeten chrysanthemum tea. It is used in similar fashion for a variety of Chinese herbal preparations, supposedly providing a soothing element to soften the edges of aggressive teas. The sugar coated melon could be eaten before it ever saw a pot of tea and I always regarded it as a great treat, though a sadly unsophisticated one, which was soon replaced by the multicolored extravagances from the candy store.
Candied winter melon seems to have largely disappeared from regular culinary usage, but I remember the firm gelatinous flesh and crusty sugar coating as something rather special; though picking some up on a whim from a local Chinese medicine shop some months ago, I found the flavor rather disappointing. Perhaps it is best not to test childhood memories against present reality.
Another traditional preparation that continues with some degree of popularity is winter melon tea (冬瓜茶), in which the winter melon is cooked together with sugar for long hours to produce a concentrate to which water can be added to make a distinctive fruit punch, which is much praised for being a cooling drink during the summer months. Often the concentrate is dehydrated and sold as bricks or cubes, making this an easy drink to prepare at home and it is often sold by cold drinks and herbal tea vendors around Taiwan, where it is regarded as something of a national specialty.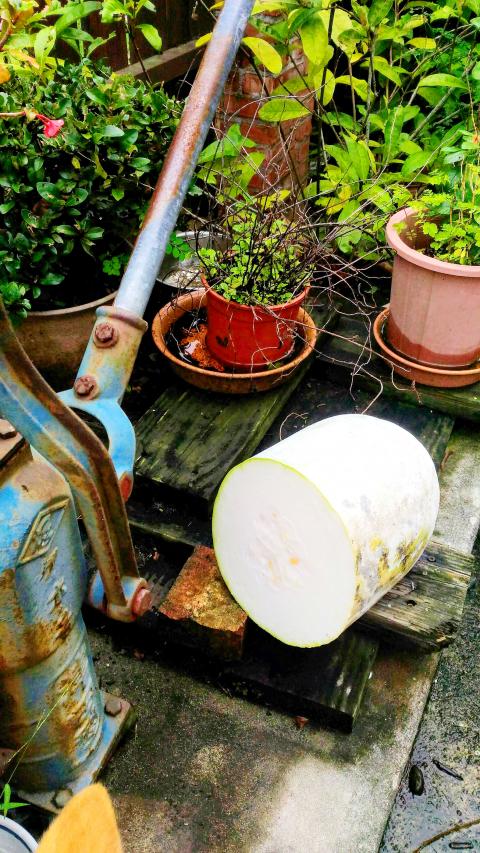 Winter melon is a large gourd that can often weigh up to 15kg.
Photo: Ian Bartholomew
Winter melon still makes a frequent appearance in light soups, perhaps the most definitive being winter melon and clams flavored with ginger. The name of the dish provides an exhaustive list of the ingredients, with only water not being mentioned by name. If clams of high quality are used, and the seasoning is managed with an experienced hand, this soup can be an absolutely delicious adjunct to a rich Chinese meal.
The dense flesh of the winter melon makes it ideal for stewing and it makes a prominent appearance in the culinary tradition of the Hakka, in which it is often paired with pork belly or other fatty meat to provide balance.
In Chinese lore, winter melon is always associated with soothing effects and it is rich in various elements that are good for the body. It's obvious advantages are its bulk, which is nevertheless very low in calories, making it an ideal food to eat if you are looking to lose weight. There is plenty of good dietary fiber, and while other health claims may be less solidly backed, the suggestion that winter melon helps detoxify the body, boosts metabolism and cognitive functions, improves eyesight and prevents migraines, are all very reassuring.
As an edible fruit that almost seems to thrive on neglect, winter melon is absurdly cheap to buy and is almost by definition free of harmful residues (as no one is going to waste money spraying this robust plant with expensive chemicals). This is probably its greatest recommendation, and it just takes a little effort to make the most of this wonderful vegetable's self-effacing flavor.
Steamed pork with winter melon
Recipe
(serves Four)
This is a simple Hakka dish that makes the best of winter melon, allowing the vegetable to show some of its personality. Make sure to get pork that has been finely minced (if purchasing from a traditional butcher, ask them to put it through the mincer twice). Cordia dichotoma is a preserved berry that serves a similar function in Chinese cooking as does the caper in western cuisine (see Taipei Times, Dec. 23 2017), and provides the dish with a hint of sourness that balances the richness of the meat. It is in no way essential. The winter melon sucks up some of the flavor from the marinated meat, but is much lighter in flavor than other Hakka preparations in which the melon is stewed, rendering it little more than a vehicle for a highly flavored sauce.
Ingredients
1 thick slice of winter melon (about 1kg)
350g mince
20g Chinese dried mushroom
10g ginger, minced
2 teaspoons salt
1 tablespoon potato or tapioca starch
3 tablespoons soy
1 generous pinch sugar
1 tablespoon preserved cordia dichotoma (破布子), optional
1 small bunch coriander leaves, optional
Directions
1. Place the dried Chinese mushrooms in a bowl of boiling water and cover. Leave for about 10 minutes.
2. When the mushrooms are soft, remove the stems and then dice the mushroom finely. The water can be discarded.
3. Mix the minced pork with the mushroom, ginger, salt, starch, soy and sugar. Mix well, using your hand. Set aside for 20 minutes to let the flavors meld.
4. Cut away the thick skin from the winter melon. Cut out the seeds using a ring cutter. Cut the ring of winter melon into large chunks and arrange on a plate in a ring. Sprinkle with salt.
5. Fill the center of the ring with the minced meat mixture, packing the meat and pushing the winter melon pieces in against the meat.
6. Bring the water of a steamer to a boil. Place the plate of winter melon into the steamer basket and steam for about 30-40 minutes. (Ensure that you have enough water in the steamer for this long steaming time.) When poked with a skewer, the melon should be firm but allow the skewer to penetrate without effort.
7. Garnish with cordia dicotoma and coriander leaves, if using.
8. Serve hot with rice.
Ian Bartholomew runs Ian's Table, a small guesthouse in Hualien. He has lived in Taiwan for many years writing about the food scene and has decided that until you look at farming, you know nothing about the food you eat. He can be contacted at Hualien202@gmail.com.
Comments will be moderated. Keep comments relevant to the article. Remarks containing abusive and obscene language, personal attacks of any kind or promotion will be removed and the user banned. Final decision will be at the discretion of the Taipei Times.