Art exhibition listings
John Monteith is a Canadian-born artist and curator who has temporarily transformed the Taipei Contemporary Art Center into an installation of originally designed flags. Kindred Spirits (志趣相投) interprets "the architecture of various relational sites of social exchange that make up the urban environment," writes the art center in a press release. The artist abstracts skylines, towers, buildings, zones, paths, parks and other distinguishable city constructs into a system of geometric designs that speak to the politics of space. As part of the Tua-Tiu-Tiann International Festival of Arts, the space will serve as a performance stage for a program of local and international queer artists working in performance, film and video. The presentation explores themes of "gender fluidity, identity, intimacy, fiction, desire, race and self-representation through a relationship between the abstract and the corporeal." The roster of performers include Mria Prosphora, a Taipei-based interdisciplinary artist working in experimental sound, poetry, installation and performance; Soa, a practitioner and performer of BDSM bondage; Vika Kirchenbauer, an artist, writer and music producer based in Berlin; and much more. For the full list of performances visit: www.tcac.tw.
■ Taipei Contemporary Art Center (台北當代藝術中心), 11, Ln 49, Baoan St, Taipei City (台北市保安街49巷11號), tel: (02) 8501-2138. Open Tuesdays to Sundays from 1pm to 7pm
■ Until Nov. 3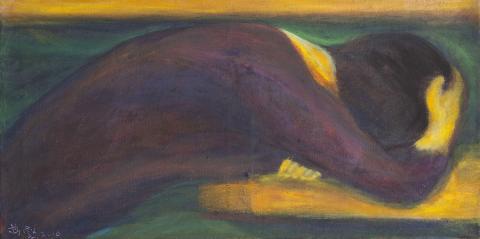 Chiang Hsun, Rest (2018).
Photo Courtesy of Michael Ku Gallery
Michael Ku Gallery presents Great Beauty on Earth (天地有大美), a solo exhibition by Chiang Hsun (蔣勳). Chiang is an artist, writer and educator who is considered Taiwan's most important advocates for art appreciation, according to the gallery's release. He was the founding chairperson of Tunghai University's art department, former editor of monthly art magazine Lion Art and author of many popular books about art appreciation. Chiang's artistic practice mostly involves painting and calligraphy and he works with both western and Chinese materials such as oil paint and ink washes. For this exhibition, Chiang presents a selection of new works, including paintings and calligraphy on canvas and paper. Chiang cites comic art, Hollywood culture, portrait drawing and traditional Chinese crafts as his influences. In his writings, he credits a handicapped portrait maker as "my first mentor [who] gave birth to my first artistic enlightenment." Chiang's later involvement with art history, literature, cinema, dance and theater has fueled his distinct style.
■ Michael Ku Gallery (谷公館), 4F-2, 21, Dunhua S Rd Sec 1, Taipei City (台北市敦化南路一段21號4樓之2), tel: (02) 2577-5601. Open Tuesdays to Sundays from 11am to 7pm
■ Until Dec. 16
Tetsuya Ishiyama, Perseus (2018).
Photos Courtesy of Arki Galeria
Chan Chia-hua (詹嘉華) is a Taiwanese artist with a background in multimedia and animation. She works between visual and performing arts to explore the relationships between people, technology and media. Chan's solo exhibition, The Y Generation: Artificial Corporeality (Y世代:人造知覺─詹嘉華個展), includes a selection of works that reflect upon digital technology and corporeality. She speaks of these themes from the perspective of the Y generation, which according to the exhibition preface, refers to the generation born between 1981 and 2000. "This generation grew up in an era when digital technology had yet to become popular; but as they entered adulthood, they have found themselves living in an environment characterized by digitization and information." How have our senses evolved with the adaption of new electronic products? Are these abilities ephemeral, like virtual realities, which can cease to exist at the blink of an eye? In this exhibition Chan's work seeks to "guide viewers to discover the boundaries between real bodily perception and... artificial perception." Virtual Role: Artist Chan is an avatar on LINE that sends out exhibition information as well as responds to incoming messages generated by a back-end program. SomaMapping II is an interactive installation that records the audience's movements and projects them into a virtual crowd, thereby creating a cluster of collective behavior.
■ Museum of Contemporary Art (台北當代藝術館, MOCA, Taipei), 39, Changan W Rd, Taipei City (台北市長安西路39號), tel: (02) 2559-6615. Open Tuesdays to Sundays from 10am to 6pm
■ Until Dec. 2
John Monteith, Kindred Spirits (2018).
Photo Courtesy of Taipei Contemporary Art Center
Currently on view at Arki Galeria is a solo exhibition by Japanese ceramicist Tetsuya Ishiyama. Tetsuya is an award-winning artist with a background in art conservation. As a conservationist, he has encountered countless works that embody religious faith, tribal spirituality and individual life stories. These experiences become great inspirations for the Tetsuya's ceramic practice. ICON: Those Glorious Days (光輝時刻) includes 22 recent sculptures created during the artist's residency at the Hualian Ceramic Art Center (花蓮台開洄瀾窯國際藝術村) last year. Tetsuya says creating art is a process of reviewing and creating history. By connecting past and present, the artist hopes pass on of human heritage. "The presented works evoke an impression of coral reefs that call towards the deep origins of civilization," writes the gallery.
■ Arki Galeria (築空間), B1, 2, Chongqing S Rd Sec 1, Taipei City (臺北市重慶南路一段2號B1), tel: (02) 2382-1000. Open daily from 10am to 10pm
■ Until Nov. 11
Exhibition view of Play Around the World by Florentijn Hofman.
Photo Courtesy of Whitestone Gallery
Florentijn Hofman is a Dutch artist known for creating public sculptures with a universal aesthetic and instant appeal. He is the creator of the giant Rubber Duck that has made headlines while traveling around the world since 2007. Five years ago, the Rubber Duck made stops in Hong Kong, Keelung, Kaohsiung and Taoyuan, prompting a surge of media craze and public attention. This year the artist returns to Asia with a solo exhibition of his work at Whitestone Gallery. In Play Around the World, Hofman has re-scaled his public sculptures for the gallery display, including a small ceramic version of Rubber Duck and Flip Flop Monkey. The show also includes two new sculptural series Line and Glass Eyes. Line is literally wall-hung contours of animals that "explore the essence of beauty of form and shape," writes the gallery. The artist has intentionally chosen endangered animals in this project to "emphasize the humbling force of nature." Glass Eyes is a series of big, beady, stuff animal eyes displayed as minimal, abstract sculptures. By isolating a single element of the animal body, Hofman's attempts "to create a simplified and purified aesthetic experience."
■ White Stone Gallery (白石畫廊), 1 Jihu Rd, Taipei City (台北市基湖路1號), tel: (02) 8751-1185. Opens Tuesdays to Sundays from 11am to 9pm.
■ Until Nov. 11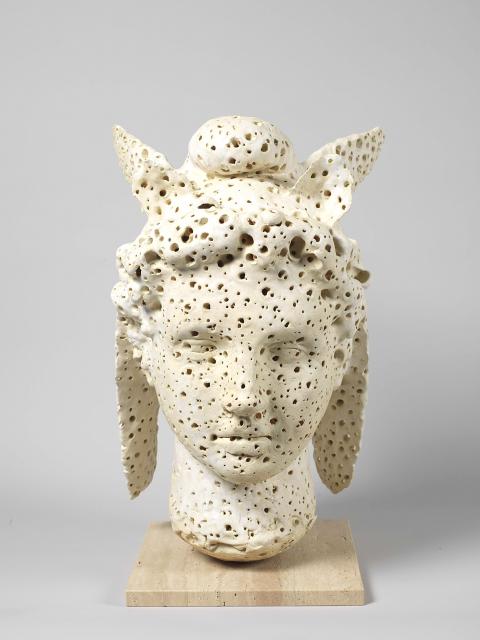 Tetsuya Ishiyama, MAZU (2018).
Photo Courtesy of Arki Galeria
Comments will be moderated. Keep comments relevant to the article. Remarks containing abusive and obscene language, personal attacks of any kind or promotion will be removed and the user banned. Final decision will be at the discretion of the Taipei Times.