Highlight: Ballet: not live, but pretty close
Diehard balletomanes in Taiwan often despair of seeing anything but endless reincarnations of Swan Lake.
Classical ballet companies in most of the world have moved on to new interpretations of the classics by some of the best choreographers working today, as well as contemporary narrative productions, but the budgetary demands of bringing a large troupe on tour mean that promoters want a show guaranteed to fill the most seats.
Unfortunately, that usually means swans, with an occasional nutcracker thrown in, and the cost of tickets are often out of reach for many dance fans.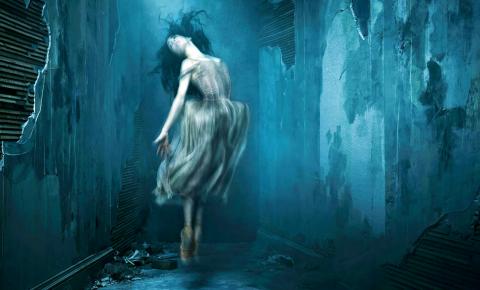 Akram Khan's award-winning production of Giselle for the English National Ballet is among six ballet films that will be shown at Vieshow theaters in Taipei, Taichung and Kaohsiung from this month through December.
Photo courtesy of Jason Bell
While the big troupes typically release videos — and subsequently DVDs — of their productions of the classics, these often lacked appeal to anyone but dance students.
However, in the past few years, companies in the UK and elsewhere have begun partnerships with movie theaters to air live broadcasts of their productions so that people outside major urban centers can see the shows. The National Theater in London and other playhouses have also began to film productions for theatrical release.
Vieshow Cinemas (威秀影城), which began showing some of the National Theater plays on film two years ago, will show a series of ballet films from this month through December (and fingers crossed perhaps more in the future), with two to three showings of each film spaced out over several weeks at its Xinyi District (信義) theater, the Taichung Top Show and Kaohsiung FE21.
Each of the films captures live performances by some of the most groundbreaking choreographers working today as well as two 20th century icons. The line-up starts with the English National Ballet's (ENB) Giselle by Akram Khan, which premiered in September 2016. The film was recorded at the Liverpool Empire in October last year, and the first showing in Taipei is at 1:30pm tomorrow.
I saw the production when the ENB was in Hong Kong at the beginning of June and it was amazing. Khan's vision keeps some elements of the 19th century ballet classic, but turns it into a story about outcasts (migrant factory workers) in place of villagers, and landlords in place of the traditional aristocrats.
While not without flaws, which was only to be expected since it was Khan's first major ballet production, he has given audiences a Giselle for the 21st century.
There are two Royal Ballet productions in the line-up: Christopher Wheeldon's 2011 version of Alice in Wonderland, and Peter Wright's 1984 interpretation of The Nutcracker.
There are also two films by the Bolshoi Ballet: Jean-Christophe Maillot's 2014 version of The Taming of the Shrew, filmed on Jan. 24, 2016, and John Neumier's 1978 classic The Lady of the Camellias, which was filmed on Dec. 6, 2015.
British choreographer Matthew Bourne's inventive reimagining of Cinderella, which he set in London during World War II, premiered in 1997 and he has revived it twice, in 2010 and again last year.
Performed by his New Adventures troupe, the film of the ballet was recorded live at Sadler's Wells in December last year.
Comments will be moderated. Keep comments relevant to the article. Remarks containing abusive and obscene language, personal attacks of any kind or promotion will be removed and the user banned. Final decision will be at the discretion of the Taipei Times.