Art exhibition listings
Lin & Lin Gallery presents Bubble Kabushiki Kaisha (泡泡株式會社), a solo exhibition by Taiwanese painter Lai Chiu-chen (賴九岑). Lai is known for incorporating and reconfiguring elements of popular culture, such as cartoons and comics, into original assemblages. His exhibition title refers to a fictional company that processes bubbles — which he describes as a metaphorical substance that reflects everything around it, including images, emotions and feelings. As the head of this company, Lai explains his methodology of working with bubbles: "When I face empty canvases, I look through the various online images I have stored and added over the years, as well as all kinds of ideas that pop up in my head, like bubbles that take form one after another and then quickly disappear," commenting on the ephemeral nature of images in one's memory. "Those tiny bubbles that fail to escape are scooped up by a spoon ... They find a small blank spot on the canvas where they can settle down in peace, allowing dreams and fantasies to become reality."
■ Lin & Lin Gallery (大未來林舍畫廊), 16 Dongfeng St, Taipei City (台北市東豐街16號), tel: (02) 2700-6866. Open Tuesdays to Sundays from 11am to 7pm
■ Through Nov. 24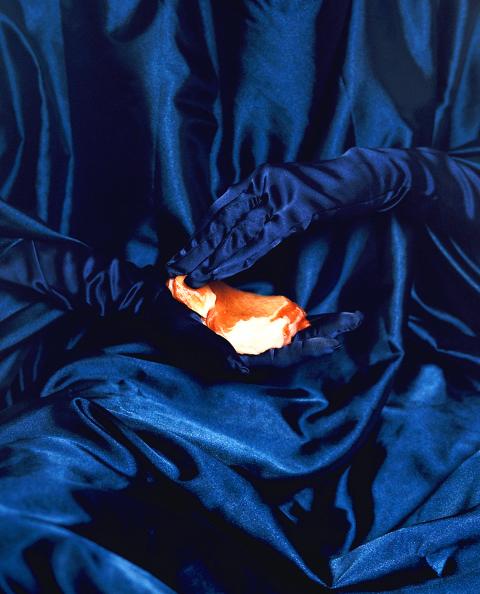 Shauba Chang, a touch of (2018)
Photo Courtesy of Shauba Chang
An exhibition of renowned Belgian surrealist Rene Magritte is presently on view at the Taipei Fine Arts Museum. Curated by the director of Charleroi Museum of Photography, Xavier Canonne, The Revealing Image: Photos and Films Rene Magritte (揭相:馬格利特影像展) is a selection of photographic prints and home videos shot between 1914 and 1967 that reveal "the true colors of Rene Magritte in his daily life and creative process" while shedding light on the development of surrealism in Belgium, writes the museum in a press release. This archive of images remained unknown for a decade after the artist's death in 1967. They offer an intimate glimpse into Magritte's daily life, including moments with his family. Magritte is known for creating paintings that evoke mystery, as he once said, "When one sees one of my pictures, one asks oneself this simple question, 'What does that mean?' It does not mean anything, because mystery means nothing, it is unknowable." The show provides some idea on how Magritte utilized photography as a supporting medium for his painting practice. In some of the photographs on view, the artist "turns himself into a comedian improvising in these photos, an image so drastically different from the contemplative and philosophical nature in his paintings." Other images show the artist at work, posing with a painting, or playfully experimenting with surrealist narratives through the lens.
■ Taipei Fine Arts Museum (台北市立美術館 TFAM), 181, Zhongshan N Rd Sec 3, Taipei (台北市中山北路三段181號), tel: (02) 2595-7656. Open Tuesdays to Sundays from 9:30am to 5:30pm and until 8:30pm on Saturdays
■ Through Nov. 25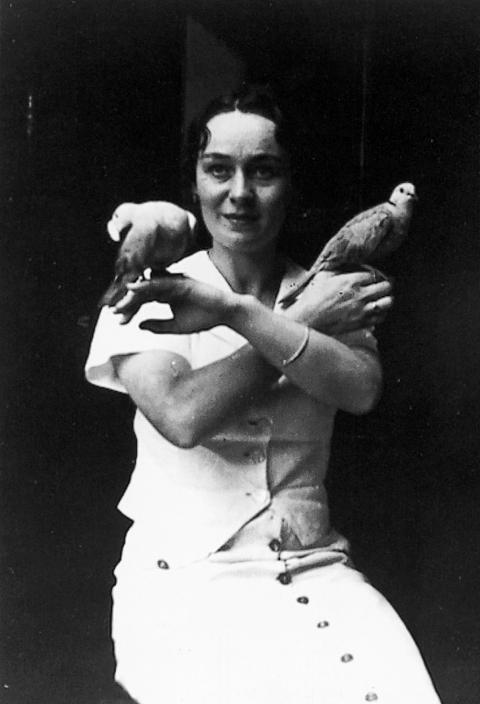 Renee Magritte, The Meeting (Le Rendez-vous) (1938)
Photo Courtesy of Brachot Gallery, Brussels
Nicolas Havette is a French-born artist who spent time in Taiwan last year as part of an artist residency program organized by Soulangh Artist Village. During his stay, Havette produced a number of projects with the Taipei Artist Village, The French Office in Taipei and VT Art Salon. This year, the artist returns to VT Art Salon with a solo exhibition inspired by Taiwan's history and its contemporary challenges. The show, entitled Erasing Silences, is a culmination of Havette's creations since 2017. The works are organized as four chapters that belong to a larger project, "Fortunes," which involves collaborative efforts that combine photography, drawing, documentary and contemporary mythology. In this project, the artist works with "groups of people from different social backgrounds living around his workplace, studio and associated galleries," states the gallery. Participants are asked to take pictures of their surroundings, which are then transferred into overlaid chalk drawings by the artist. Included in the show are photographs as well as drawings created during this process. Havette considers these resulting images "mysterious documentary mythology" that express "an inner identity of the places [people live in]."
■ VT Art Salon (非常廟藝文空間), B1, 47 Yitong St, Taipei City (台北市伊通街47號B1), tel: (02) 2516-1060. Open Tuesdays to Thursdays from 1:30pm to 9pm, and Fridays and Saturdays from 1:30pm to 10pm
■ Through Nov. 3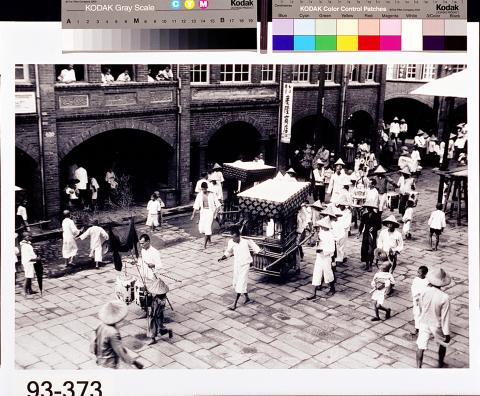 Deng Nan-guang, Beipu Street (1950).
Photo Courtesy of National Museum of History
RUINS is an intimate photography show hosted by Washida Home Store in Taichung. The three artists, Tomoya Fujii, Kazuo Yoshida and Shauba Chang (章芷珩) together present a reflection on the passing of time and the traces of things, memories and emotions that are temporarily left behind. "We can say that every day we leave some sort of 'trace' and are blessed by them," reads the curatorial preface. "However, for both physical traces left in a place or traces left in memories, they eventually fade over time, appear in front of us as a kind of 'ruin,' and again vanish away with memories." In this exhibition, Yoshida utilizes both digital and analog methods to conduct an examination of light as an attempt to reflect upon the nature of photography. Fujii explores the relationship between time and imagery through overlapping, cutting and assembling images in a disciplined framework. Chang creates pictures that explore the process of history; by reflecting upon her own personal experience, she "examines how the desire of being, aging and dying defines time," says the artist.
■ Washida Home Store, B1 Space, 4, Zhongxing 4th Ln, Taichung City (台中市中興四巷4號), tel: (04) 2301-6981. Open daily from 2pm to 10pm
■ Through Nov. 4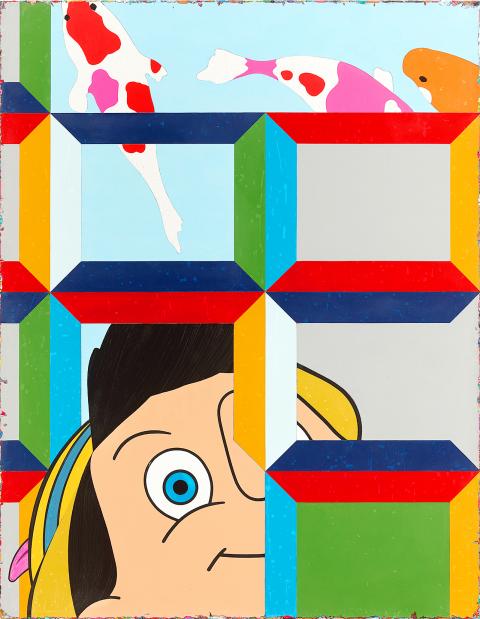 Lai Chiu-chen, Pinocchio Cannot Go Fishing Without Lying (2018)
Photo Courtesy of Lin & Lin Gallery
Mirror Image / World Image (鏡像‧境象—史博館館藏名家攝影展) is an exhibition about the early developments of Taiwanese documentary photography. Hosted by National Hsinchu Living Arts Center (國立新竹生活美學館), the show is a selection of works from the permanent collection of the National Museum of History (國立歷史博物館). According to the museum, photography was first introduced to Taiwan in the 19th century, when foreign researchers began to visit the island. The art of photography was formally taught during the Japanese colonial period, when the government trained a group of Taiwanese apprentices. Other Taiwanese elites studied the art form in Japan and returned to Taiwan to open photo studios. As local knowledge of photography grew, amateur photographers also began to emerge, capturing moments of colonial Taiwan and local ways of living. Show highlights include works by Lin Cao (林草), an alumnus of the apprentice program, and Deng Nan-guang (鄧南光), a Hsinchu native who was very much influenced by Japan's New Photography movement. Deng captured images of his surroundings, including festive occasions as well the ordinary daily life of his hometown of Beipu.
■ National Hsinchu Living Arts Center (國立新竹生活美學館), 110, Wuchang St, Hsinchu City (新竹市武昌街110號), tel: (03) 526-3176. Open daily 9am to 5pm
■ Until Nov. 20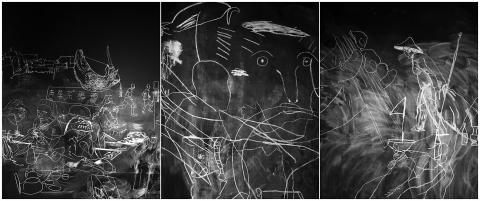 Nicolas Havette, Fortunes Tainan, Taiwan (2017)
Photo Courtesy of VT Art Salon
Comments will be moderated. Keep comments relevant to the article. Remarks containing abusive and obscene language, personal attacks of any kind or promotion will be removed and the user banned. Final decision will be at the discretion of the Taipei Times.