Highways and Byways: Taking a dip in the interior: Kayoufeng Waterfall
A not-so-mysterious waterfall beckons to those who notice it while riding the train from Kaohsiung to Taitung
It's an itch I've been wanting to scratch for years. Long ago, perhaps the very first time I took the train from Kaohsiung and Taitung, I noticed it. As the railroad veers inland, a waterfall, briefly visible to the north, urged me to venture into the mountains and find a path to its base.
Years later, having seen the cascade several more times, I found out its name: Kayoufeng Waterfall (卡悠峰瀑布). At times an impressive torrent, but often no more than a ribbon of water, it looked just near enough to be accessible, yet far enough from civilization to make for an adventure.
As the crow flies, Kayoufeng Waterfall is 6km from the Taiwan Strait and 1.8km from the South Link Line (南迴鐵路). I wondered if reaching it would involve a dry-season scramble up a boulder-filled creek, or if farmers' roads could get me close. Nearby hillsides are cultivated, and I knew from years of exploring Taiwan's interior that if a patch of land is being used for agriculture, there would certainly be some kind of track so a farmer could get a vehicle to it.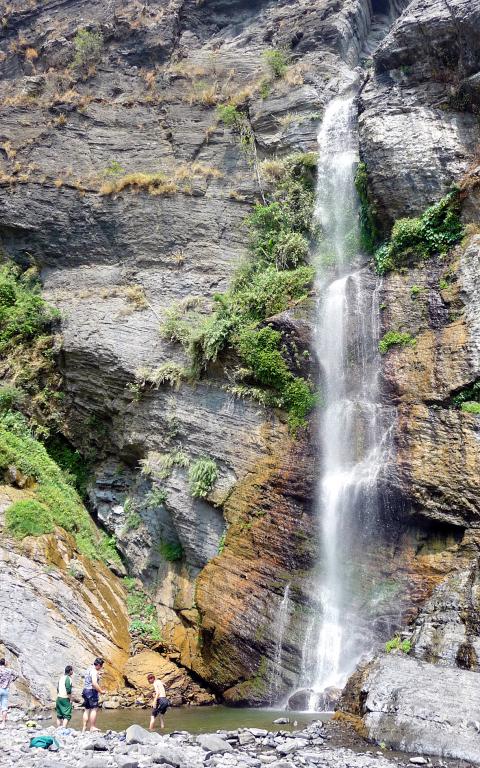 Visitors cool off at Kayoufeng Waterfall.
Photo: Steven Crook
A bit of research confirmed that not only would I be able to get a motorcycle close to the waterfall, but that thousands of people have already done so. The local government, Pingtung County's Shihzih Township (獅子鄉), has tried to develop the waterfall's tourist potential. But, as so often is the case in Taiwan, Mother Nature hasn't been fully cooperative.
Before making my way to the waterfall, I took a quick look at Fangshan TRA Station (枋山). I tried recently to tally at how many of Taiwan's 227 functioning passenger railway stations I've boarded or disembarked from trains. About 90, it seems. Fangshan isn't one of them, which isn't surprising: It's perhaps the least-utilized station in Taiwan at which passenger trains still halt on a regular basis.
Just two eastbound and two westbound services stop here each day. TRA decided long ago there was no reason to assign personnel to the station. According to some sources, the station handles "just three or four passengers" on an average day.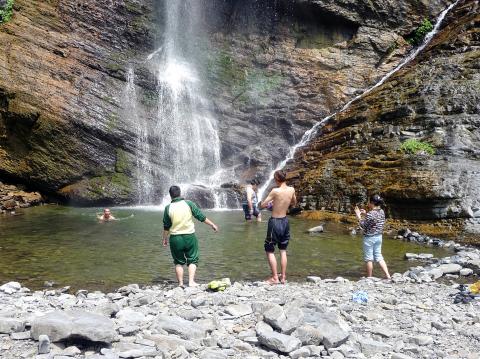 Visitors cool off at Kayoufeng Waterfall.
Photo: Steven Crook
The station is 63m above sea level and was completed in 1992 as part of the South Link Line. It's the final halt on the western side of the Central Mountain Range. Now that trains no longer stop at Guzhuang (古莊) in Taitung, the next place eastbound travelers can get on or off is Dawu (大武), 30.2km down the line.
In terms of architecture, the station isn't anything special. However, the backdrop — blue ocean and green hillside — is appealing. It's easy to see why photographers come here and snap pictures of trains approaching from the northwest.
The sign on Provincial Highway No. 1 that points the way to Kayoufeng Waterfall is in Chinese only. Even so, the turnoff isn't hard to find. Pingtung County Route 147-1 veers inland at Provincial Highway No. 1's 452.3km marker, about 100m south of a gas station.
Indigenous motifs decorate the trail to the waterfall.
Photo: Steven Crook
The first stretch of 147-1 is reasonably wide and properly surfaced, but soon it becomes a concrete track. Ordinary cars should encounter no problems so long as the drivers keep an eye out for potholes. During the cooler months, when plots of land down by the Fangshan River (枋山溪) are turned into watermelon plantations, folks heading up to the waterfall should also be ready to give way trucks loaded with fruit.
Almost 4km from Provincial Highway 1, a small Chinese-only sign directs waterfall seekers to the left. The distance to the official parking lot (closed at the time of my visit due to typhoon damage last year) was 3.7km. Two-wheelers can make it that far, but if you're in a larger vehicle you would have to stop a few hundred meters earlier. There are a few spots where a car could park without blocking the road. At a small clearing, a semi-legible hand-painted notice informs motorists they can park on this private plot, if they're willing to pay NT$200.
The trail from the parking lot to the fall is 510m long and has a lot of steps. I had to take care not to tread in what I assumed to be monkey feces. Some of the mango orchards in the valley, I noticed, are surrounded by electric fences, presumably to keep animals from stealing the fruit.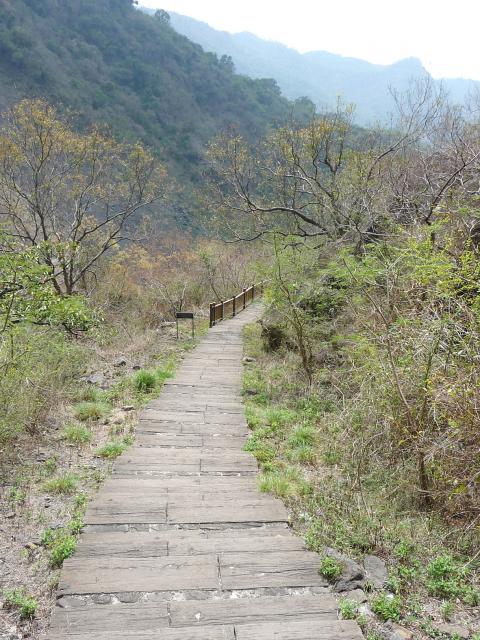 No bushwhacking needed: A well-constructed trail links the parking lot with the base of the waterfall.
Photo: Steven Crook
An information board beside the trail says the waterfall is 40m high, and that it had two different names in the past: Neishi Waterfall (內獅瀑布) and Damenkeng Waterfall (大門坑瀑布). It wasn't until 2013 that the township chief ruled Kayoufeng to be the best Chinese transliteration of its name in the Aboriginal Paiwan language.
The pool at the base is big enough for several people to cool off in at the same time, but not deep enough for swimming, let alone diving. I saw no sign of a trail or scramble route to the top of the waterfall, the cliff being both steep and crumbly.
Three times during the hour I spent beside the pool I heard a locomotive rumbling past. I turned to look on each occasion, but I could never see any train. Perhaps, by the time the sound has echoed up as far as the waterfall, the train making it had already disappeared into one of the South Link Line's 38 tunnels.
When I couldn't even make out the railway tracks, it struck me that this is one of those very rare places in Taiwan, near the coast and a mere 300m or so above sea level, where one cannot see any cars or roads or buildings.
My next mission in this part of Taiwan is to follow County Route 147-1 further inland. Maps imply it goes another 10km, possibly more. Ideally, I'll do it by bicycle, not motorcycle. I expect it'll be hot and dusty, and the views may not be as good as I hope. But it's another itch I need to scratch.
Steven Crook has been writing about travel, culture, and business in Taiwan since 1996. Having recently co-authored A Culinary History of Taipei: Beyond Pork and Ponlai, he is now updating Taiwan: The Bradt Travel Guide.
Comments will be moderated. Keep comments relevant to the article. Remarks containing abusive and obscene language, personal attacks of any kind or promotion will be removed and the user banned. Final decision will be at the discretion of the Taipei Times.