Art exhibition listings
Breaking the Rules (顯影。破格而出:台北電影節20印記特展) is a retrospective that celebrates the 20th anniversary of the Taipei Film Festival. The show includes over a hundred manuscripts and memorabilia from Taiwanese filmmakers, as well as film excerpts from past participating works of the festival. It has been a tumultuous ride for the Taiwanese film industry in the last two decades. According to the commission, the industry experienced a deep decline that lasted until the late 1990's; a great revival came with the hit film Cape No. 7, which was featured as the opening film of the 2008 Taipei Film Festival. Standing by its original mission, the festival continues to foster an appreciation for film from the angle of visual arts and cinematic language and promotes "independent, innovative and non-mainstream" projects.
■ Bopiliao Historical Block (剝皮寮歷史街區), Ln 173, Kangding Road, Taipei City (台北市康定路173巷), tel: (02) 2308-2966. Open Daily from 11am-6pm
■ Until Sept. 30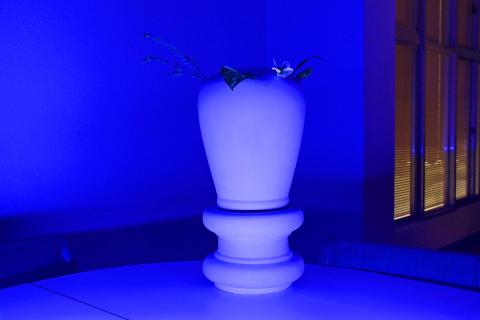 Ting Chaong-wen, North (2018).
Photo Courtesy of the artist
Catch the last day of SITE OF CONSCIOUSNESS: COUNCIL ROOM, a week-long, site-specific exhibition at the Tainan City Council. For three decades the building served as the Tainan County Council, until it changed its name to Tainan City Council when the county was incorporated into the city in 2010. Three Tainan-based artists collectively adapt the method of "on-site," which, according to the organizers, means the production of artistic projects that emphasize the local. Ting Chaong-wen's (丁昶文) North seeks to recreate missing components of the roof, which were intentionally removed because of its impact on fengshui. Cia Hsinyuan's (李欣芫) A Pool, a Group of Koi, Knocking is a series of actions, performances and installations that work with sound, water, reflections and a narration of local life and politics. Nigel Brown invited community Chinese chess players to continue their games inside the building. Democracy Xiangqi is a sound installation that involves relevant field recordings and archival recordings broadcasted with speakers, FM transmitters and portable radio.
■ 38, Minzhi Rd, Tainan City (台南市新營區民治路38號), Open from 9am to 3pm
■ Ends today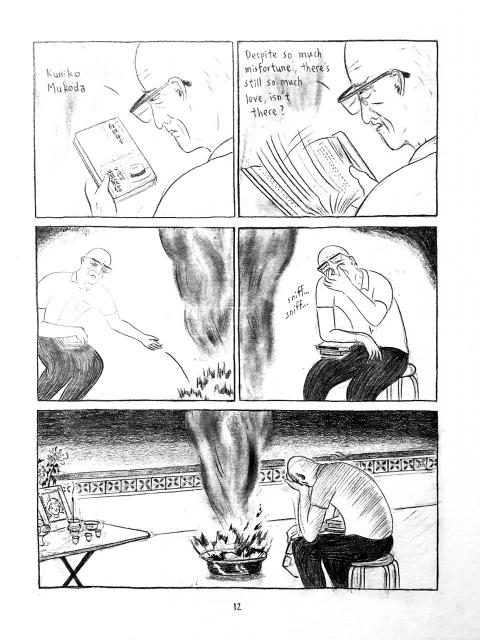 Chihoi, The Library (2017).
Photo Courtesy of Mangasick
Chihoi (智海) is a Hong Kong comic illustrator, cartoonist and writer who has a background in drawing and nutritional sciences. His work has been featured in various publications and anthologies, including Hijacking — Comic Hong Kong Literature (大騎劫—漫畫香港文學) and The Train (灰掐). Chihoi's current solo exhibition, The Library and the Reading Room (圖書館/我和我聖人), features two new comic albums released by Taipei-based independent publishing house nos:books. The Library (圖書館) is an ongoing comic project that involves a dazzling library that entraps people in the a sea of memories. The narrative also features a burning book hell. I am with my Saint is a selection of short comics that Chihoi has created over the last 10 years. The show includes original drawings from these two books, as well as an unpublished episode of The Library that is only available for viewing at the gallery.
■ Mangasick, B1, 2, Alley 10, Ln 244, Roosevelt Rd Sec 3, Taipei City (台北市羅斯福路3段244巷10弄2號B1), tel: (02) 2369-9969. Opens Thursdays to Tuesdays from 2pm to 10pm
■ Until Oct. 1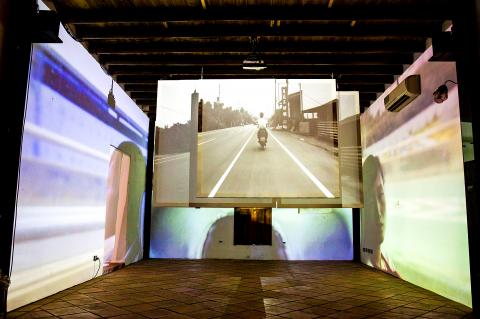 Exhibition view of "Breaking the Rules: A 20-Year Retrospective of the Taipei Film Festival."Photo Courtesy of Taipei Film Festival Exhibition view of "Breaking the Rules: A 20-Year Retrospective of the Taipei Film Festival."
Photo Courtesy of Taipei Film Festival
"It seems that you are familiar with this city but sometimes you may feel a little bit strange; sometimes the city is close but sometimes it seems far away," writes Han Ching-ling (韓慶玲) in the curatorial preface for INTO—2018 TAV ART PROJECT (透明象限—2018 TAV 藝術採集計畫). Organized by Taipei Artist Village, the 13-artist show explores the idea of "art residence." Featured works include artistic surveys of the village's vicinity, many of which are based on daily discoveries during the artists' participation in the village's residence program. Yu Cheng-ta's (余政達) Ventriloquists: Liang Mei-Lan and Emily Su is a film of two women from the Philippines who married into Taiwanese families. The work captures the conversations between the artist and the two women using a combination of languages. SUPER ADD's Taisho Roman Dori is an examination of commercial signage in an old Japanese residential district in Taipei that is now known for restaurants, entertainment and nightlife. The exhibition opens next Saturday with a series of performances and interactive events. For more information, visit the Taipei Artist Village Web site: www.artistvillage.org.
■ Barry Room, Taipei Artist Village (台北國際藝術村百里廳), 7 Beiping E Rd, Taipei City (台北市北平東路7號), tel: (02) 3393-7377. Open Tuesdays to Sundays from 11am to 9pm
■ From Sept. 29 to Nov. 4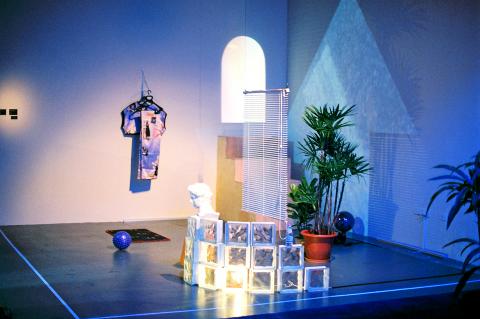 SUPER ADD, Taisho Roman Dori (2018).
Photo Courtesy of Taipei Art Village
Acts Without Effort—The Societal Architecture of Hsieh Ying-Chun (為無為—謝英俊建築實踐展) is a survey of renowned Taiwanese architect Hsieh Ying-Chun (謝英俊). The term "act" in the title refers to Hsieh's working method, which seeks to actualize the potential of collaboration between users, professionals and local construction collaborators. Hsieh is known for his projects that focus on post-disaster reconstruction, new rural and community-based development and his unique theories of tri-dimensional urban architecture. Nineteen years ago, the architect began his first post-disaster project with the Thao Tribe (邵族) of Sun Moon Lake (日月潭), where he adapted "a holistic construction technology — a value system — of lightweight steel structure and co-operative construction," according to the museum Web site. "More than merely post-disaster reconstruction and humanitarian aid, Hsieh's work is a response to the equally urgent issue of contemporary social housing." The show includes documentaries, images, multimedia presentations and archival material of past projects. Be sure to also check out the accompanying program of talks and educational activities.
■ Kaohsiung Museum of Fine Arts (KMFA), 80 Meishuguan Rd, Greater Kaohsiung (高雄市美術館路80號), tel: (07) 555-0331. Open Tuesdays to Sundays from 9:30am to 5:30pm.
■ Until Feb. 10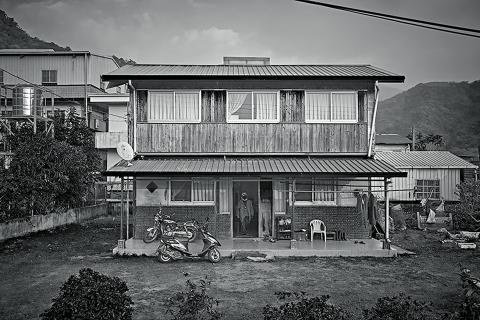 Lee Kuo-min, Wolf (2016).
Photo Courtesy of Kaohsiung Museum of Fine Arts
Comments will be moderated. Keep comments relevant to the article. Remarks containing abusive and obscene language, personal attacks of any kind or promotion will be removed and the user banned. Final decision will be at the discretion of the Taipei Times.