Highways and Byways: Guardians of the valley
A foothills ramble in Chiayi County passes an ancient temple and 18 'guardians of the Buddhist faith'
For generations, pious Buddhists have been drawn to Bantianyan (半天岩) in the hills of Chiayi County. Bantianyan's Purple Cloud Temple (紫雲寺) is believed to have been established in 1682 by a Buddhist monk from China who carried with him an icon of Guanyin (觀音), the bodhisattva of compassion. The rain clouds which hover hereabouts during the wet season are said to have inspired the temple's name.
When I stepped off the bus near the temple earlier this month, I wasn't sorry that dark clouds were blocking the sun's rays. Rather than pray or engage in extended meditation (a popular activity among those who frequent Purple Cloud Temple), I aimed to tramp from Road 159A (159甲) in a southerly direction to Highway 18. The former is a splendidly scenic but little-used route that climbs to the tea-growing area of Shihjhuo (石卓). The latter is the main Chiayi-Alishan road. If I could complete the hike without being cooked by the sun, all the better.
Right beside the bus stop, a bilingual map shows the area's hiking trails. There's very little English-language information at Purple Cloud Temple itself, but taking a close look inside is worthwhile. In many urban temples, appreciating the most delicate and ancient ceramic wall decorations is difficult because they're protected by perspex screens. But not here — is it because the air is less polluted?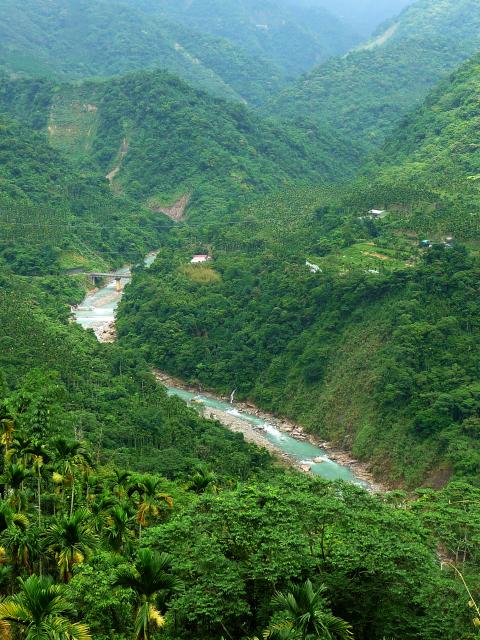 Local Road 124 overlooks Chiayi County's upper Bajhang River.
photo: Steven Crook
In 2014, the Pew Research Center concluded that Taiwan is the second-most religiously diverse society in the world, behind only Singapore. Proof of this can be found just up the hill from Purple Cloud Temple. Offerings are still made at an animist altar before an armchair-sized boulder.
LORD STONE
Characters that are now barely legible were carved into the rock, which locals call "Lord Stone" (石頭公), to ensure that no one would move it or break it up for building materials. In centuries past, those walking from the lowlands to the highlands would often rest here and pray to Lord Stone for a safe journey. Local families sometimes asked the stone's spirit to serve as their son's godfather. If the boy enjoyed good health throughout his childhood, on his 16th birthday the family would hold a banquet in honor of Lord Stone.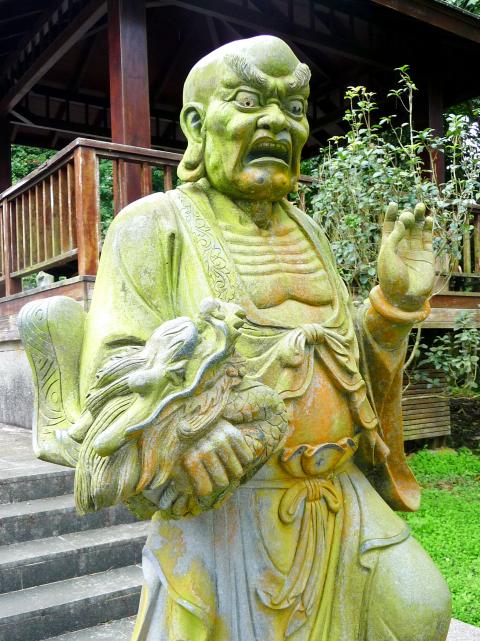 Nantimitolo, also known as the Taming Dragon Arhat, at Arhats Plaza on Bantianyan in Chiayi County.
photo: Steven Crook
Hikers can reach Lord Stone by following a section of Siouhui Trail (修慧步道) through the mixed woodland behind Purple Cloud Temple. If the weather is clear, detouring to Shenglong Guanyin Plaza (昇龍觀音廣場) leads to views far more engaging than the plaza's bronze Guanyin. Including the pedestal, the statue is 23.3m tall.
From Lord Stone, I followed the Cifu Trail (祈福步道) southeast. In the dense cluster of homes called Caicuo (蔡厝), people were sorting and packing persimmons, a key cash-crop in this corner of Chiayi County. Cifu Trail climbs for most of its 2km length, approaching but not quite reaching the top of Mount Bantianyan (半天岩山), 639m above sea level.
Along the way, ecotourists will find plenty of interesting plants, butterflies and grasshoppers. But do take care, as almost every part of the trail is concrete and much of it is shaded; I found the surface slimy and slippery in several places.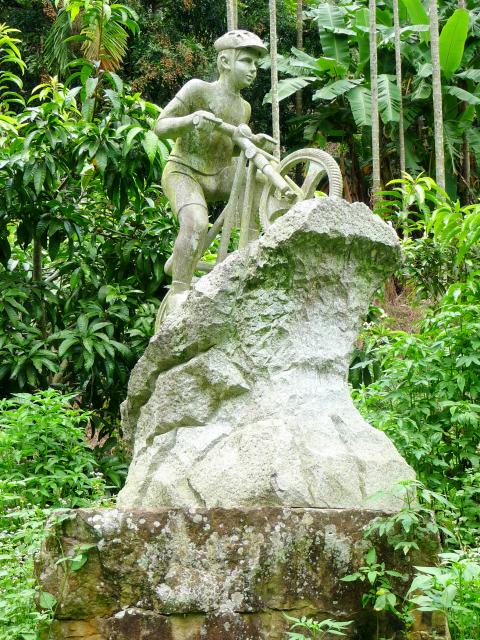 A statue of a cyclist at the overgrown rest stop on Local Road 124.
photo: Steven Crook
18 GUARDIANS
In addition to the facilities at Purple Cloud Temple, there's a bathroom beside Arhats Plaza (羅漢廣場), where human-sized bronze statues of all 18 "guardians of the Buddhist faith" look out across the valley. Most of them look quite serene, and all appear very well-fed. Nantimitolo (慶友尊者), however, wears an expression like that of a PTSD sufferer. His terrified grimace made sense when I found out he's also known as the Taming Dragon Arhat (降龍羅漢).
Rather than take the wooden steps down to Road 159A, I cut through abandoned farmland to Local Road 124 (嘉124) and began to march south. This is a very pretty backroad with hardly any traffic. The authorities have tried to promote it as a cycling route. I didn't see a single bike, however, and the cyclists' rest stop a couple of kilometers down the road looked utterly neglected.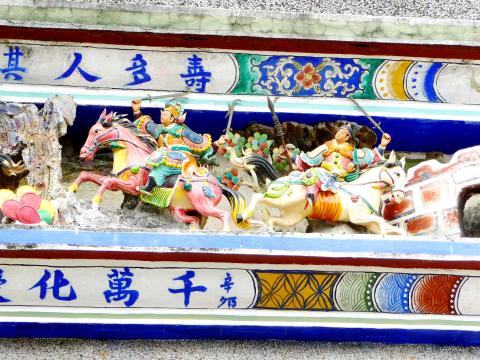 Ceramic decorations on the exterior wall of Purple Cloud Temple in Chiayi County.
photo: Steven Crook
The Bajhang River (八掌溪) soon came into view. This 81km-long waterway is one of south Taiwan's principal rivers. A short stretch forms the border between Chiayi City and Chiayi County, while its lower third separates Chiayi County and Tainan City.
I'd never before looked down on Chukou's familiar pedestrian footbridge or the village's elementary school. And it turned out there was no need to go to that end of the village. After 3.7km hiking along Local Road 124, then another 2.3km walking downhill on Local Road 124-1 (嘉124-1), I reached Highway 18 and quickly found a bus stop.
I realized that getting aboard a public bus here mightn't be easy. On Highway 18, at least nine out of every 10 buses carries a tour group heading to or returning from Alishan. (The situation is similar in the vicinity of Taroko Gorge and Sun Moon Lake.)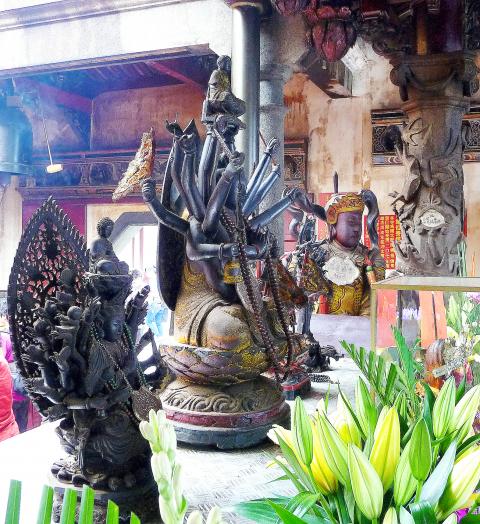 The front altar inside Purple Cloud Temple in Chiayi County.
photo: Steven Crook
Among all the tour buses, spotting the rare public bus willing to pick up an individual like me would've been difficult indeed if I didn't already know that Chiayi Bus Co vehicles are either harlequin green or light gray. I ignored those painted other colors, and braced myself to spring out into the road the moment my bus appeared.
Many drivers are in a hurry to reach their destination; looking to see if there's anyone waiting at a stop doesn't appear to be among their duties. Instead, the folks hoping to catch the bus are responsible for alerting the person behind the wheel. To his credit, the driver who took me back to Chiayi did apologize for not coming to a halt until he was well past the stop. For the sake of the less agile half of the population, should I hope that bus operators can train their employees better, or simply look forward to the era of self-driving buses?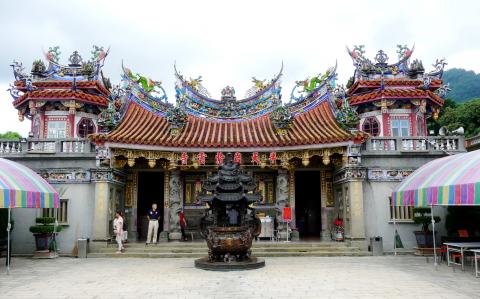 Purple Cloud Temple in Chiayi County isn't especially large, yet it attracts hundreds of Buddhists every day.
photo: Steven Crook
Steven Crook has been writing about travel, culture, and business in Taiwan since 1996. Having recently co-authored A Culinary History of Taipei: Beyond Pork and Ponlai, he is now updating Taiwan: The Bradt Travel Guide.
Publication Notes
IF YOU GO
Seven buses per day connect Chiayi's railway station (and other points in the downtown) with Bantianyan. The services are numbered 7308 and 7317; travel time is 40 to 50 minutes and one-way fare is NT$58. Between Chukou and Chiayi there are 16 buses each day, most of which set out from Alishan. The fare is NT$62 and journey time around 45 minutes.
Comments will be moderated. Keep comments relevant to the article. Remarks containing abusive and obscene language, personal attacks of any kind or promotion will be removed and the user banned. Final decision will be at the discretion of the Taipei Times.