Art exhibition listings
Chijikinkutsu / Chozumaki (地磁水琴窟裝置/手水缽漩渦裝置) is a sound art show by Japanese artist Nelo Akamatsu (赤松音呂) presently on view at Vima House in Taichung. Akamatsu is a Japanese artist who works with a variety of art forms including electric devices, event installations, video installations, sculptures, paintings and photos. His award-winning sound installation Chijikinkutsu consists of a group of glass vessels that make sound with electro-magnetized needles. The vessels are filled with water in which the needles float and move according to th energy of the room. The title of the work is combination of two Japanese terms; "chiji" means geomagnetism and "suikinkutsu" refers to a traditional Japanese sound device that involves water dripping into an inverted ceramic pot. Nelo reinterprets this instrument, typically found in Japanese gardens, with natural and minimalist sensibilities. Also included in the show is Chozumaki, a more recent sound installation created during the artist's residence in Glasgow. The piece works with the phenomenon of vortex caused by atmospheric circulation; magnetic stirrers are placed in glass containers to create an endless whirl of water.
■ Vima House (維摩舍), 147, Yunglung Rd, Dali Dist, Taichung City (台中市大里區永隆路147號), tel: (02) 2597-2525. Open Tuesdays to Fridays from 1pm to 6pm, and Saturdays from 9am to 6pm
■ Through Sunday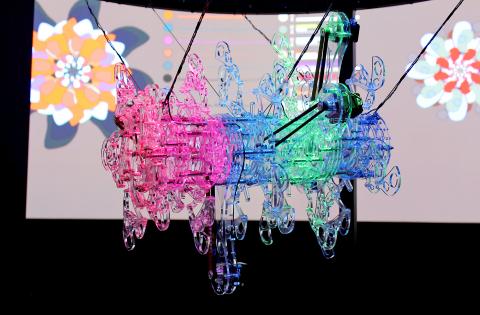 Li Ping-yeh, Flowers of Time: Universal Correspondence (2018).
Photo Courtesy of National Taiwan Museum of Fine Arts
Pon Ding presents Story Highlights (精選動態), a selection of works by Taipei-based branding studio ZISHI (只是). The studio was founded in 2013 by artist and product designer Chang-chien Shih-yang (張簡士揚), who leads a design team dedicated to various forms of image production, including illustration, graphic design, ceramics, textile, furniture and mural paintings. Their work is distinctly detailed and playful, incorporating modern and traditional elements to create a new blend of aesthetics. "Having grown up in a rural area, traditional, classical and old things are more familiar to me than the modern," says Chang-chien. He maintains an interest in breaking boundaries between different fields of creativity, which inspires his interdisciplinary work between art and design. The exhibition features a selection of work created in the last five years, including color illustrations, tea sets, lamps, backpacks and other merchandise released under the studio's own label. Musicians is a painting of four traditional Chinese musicians in pink suits riding on bicycles. Black Tiger I, II, III is a illustrational triptych that narrates an imaginative relationship between a domestic tiger and humans. A series of ceramic painting classes are offered during the exhibition period; the classes are offered in Chinese and registration is still open for the session on Sept 1.
■ Pon Ding (朋丁), 6, Ln 53, Zhongshan N Rd Sec 1, Taipei City (台北市中山北路一段53巷6號), tel: (02) 2537 7281. Open Tuesdays to Sundays from 11am to 8pm
■ Through Sept 9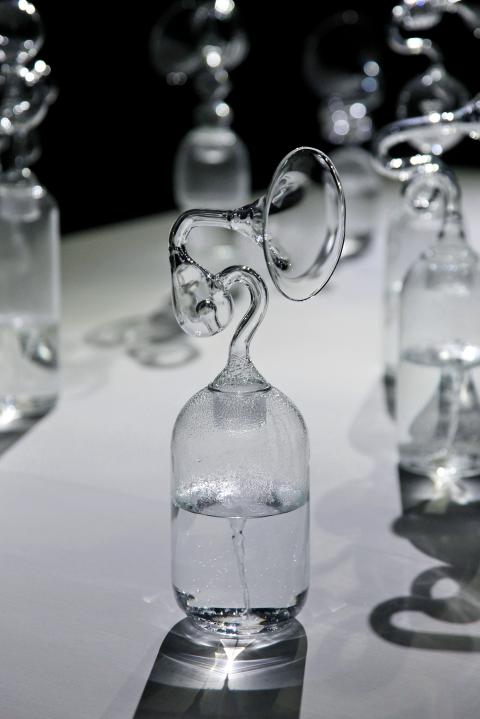 Nelo Akamatsu, Chozumaki (2017).
Photo Courtesy of Vima House
Taiwanese new media artist and scholar Li Ping-yeh (李炳曄) debuts his new project Flower of Time: Universal Correspondence (時間之花:對應宇宙) at National Taiwan Museum of Fine Arts. Li is interested in how abstract data can be presented in a physical space. He often works between digital technology and new media art forms, combining the two realms to explore new possibilities. The present work on display consists of a series of electronic, mechanical installations and a 360-degree animation that is generated according to data that is collected live. "The artist translates temporal data into a physical sensory system," writes the museum. "Everything that the visitor sees and hears, such as color, form, rhythm and sound, are thus manifestations of data." Through this work, the artist reflects upon the idea of universal correspondence, or how the universe is interconnected from a micro to macro scale, and how certain truths resonate between different systems. The work also has an online version available for viewing on Li's personal Web site at www.pingyehli.com
■ National Taiwan Museum of Fine Arts (國立台灣美術館), 2, Wuquan W Rd Sec 1, Taichung City (台中市五權西路一段2號), tel: (04) 2373-3552. Open Tuesdays to Fridays from 9am to 5pm, Saturdays and Sundays from 9am to 6pm
■ Through Oct 21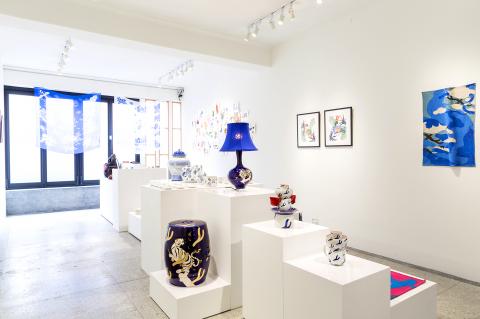 Exhibition view of Story Highlights.
Photo Courtesy of Pon Ding
Sansia & Yingge Placemaking (三鶯宴) is a cultural exhibition that presents several collaborative projects between local craftsman and artists. San-ying (三鶯), short for Sansia and Yingge, is a region in Taipei that used to be a properous trade area and is now known for its preservation of traditional handicraft and culture. Sansia is a place of cultivation for tea and dajing, the Chinese rainbell plant that is used in textile dye. Yingge, on the other hand, has a rich history of ceramic arts. The show is part of a revitalization effort for the dwindling population and local cultural heritage. Theater costume designer Chan Ya-chen (詹雅真) and blue dye craftsman Liao Pao-kui (廖寶桂) teamed up to create a theatrical textile installation using various blue dyes and layers of fabric. The work seeks to "get rid of the [stereotypical] impression on blue dyeing" and attempts to interpret the "clouds and mists of the Sansia and Yingge landscape," write the artists. Taiwanese singer Hsieh Ming-yu (謝銘祐) and ironsmith Su Wan-fa (蘇萬發) collaborate on a song entitled The Way of Iron, for Song of Life, which draws inspiration from the Su's iron shop, the only one existing in the old Sansia market. The daily sight of red fire and the craft of the ironsmith and his rhythmic breathing are translated into song.
■ CAN Culture, Art and Nature (甘樂文創合習聚落), 9, Zhongshan Rd, Sansia Dist, New Taipei City (新北市三峽區中山路13巷9號), tel: (02) 2671-7090. Open daily from 10am to 6:30pm
■ Through Sept 16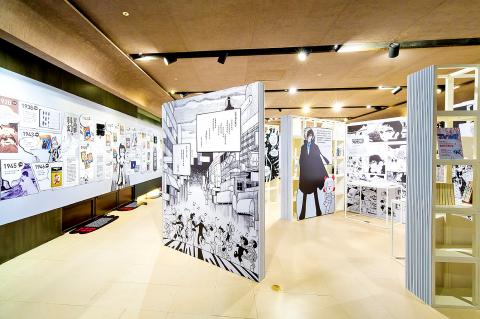 Exhibition view of Tezuka Osamu Bookstore.
Photo Courtesy of Eslite Bookstore
Taipei's 24 hour bookstore Eslite Dunnan (誠品敦南) is currently hosting Tezuka Osamu Bookstore (手塚治虫書店), an exhibition featureing the life's work of Japanese manga artist and cartoonist Tezuka Osamu (手塚治虫). Tezuka was one of Japan's most prolific animation artists of the 20th century. Living through World War II, his reflections of war and violence were reflected in many of his works. Considered the godfather of manga, Tezuka was responsible for creating many legendary manga series including Astro Boy, Kimba the White Lion and Black Jack. The artist was a great fan of Walt Disney, whose work influenced his style in drawing as well as storytelling. He founded the animation company Mushi Productions, which created the first Japanese animation series dubbed in English. In a career that spanned over 50 years, Tezuka created more than 150,000 pages of drawings and 700 published works. The show includes magnified prints of the artist's original sketches, details on Tezuka's famous production workflow and his pioneering use of cinematic techniques in manga storyboards. A series of talks about manga culture is running concurrently with the exhibition with the last one taking place at 9pm tomorrow. For more details, visit Eslite's Facebook page at www.facebook.com/eslite.
■ The main exhibition is held at Eslite Dunnan Branch (誠品敦南店), 245, Dunhua S Rd Sec 1, Taipei City (台北市敦化南路一段245號), tel: (02) 2775-5977. Open 24 hours. Inquire by phone for satellite exhibition details.
■ Through Sept 2
Comments will be moderated. Keep comments relevant to the article. Remarks containing abusive and obscene language, personal attacks of any kind or promotion will be removed and the user banned. Final decision will be at the discretion of the Taipei Times.