Democratizing dance
French choreographer Jerome Bel likes to challenge conventions. With 'Gala,' he wants to prove that anyone can — and should — feel free to dance, without apologies
French choreographer Jerome Bel early on developed a reputation as an agent provocateur, someone who would leave critics scratching their heads and searching for words to describe his shows, while leaving audiences either enthralled or frustrated enough to walk out of performances.
He brought his Compagnie Jerome Bel to Taipei 12 years ago for the Novel Hall Dance Series, with performances of his Jerome Bel and Nom Donne Par l'Auteur, as well as his dialogue with Thai classical dancer and choreographer Picher Klunchun that grew out of a 2005 residency in Thailand, entitled, naturally, Picher Klunchun and Myself.
Bel is back in town for the Taipei Arts Festival, which invited him to stage his 2015 production Gala at the Zhongshan Hall for three shows, starting tomorrow night.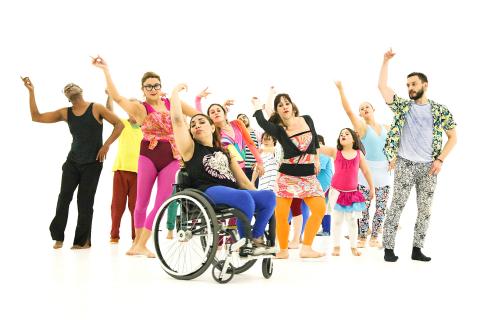 Jerome Bel's Gala is performed at the Museum of Modern Art in Buenos Aires, Argentina, in August 2015.
Photo Courtesy of Josefina Tommasi
He recruited local participants to appear alongside a small crew of his dancers and actors for the 20 person cast of Gala, which was created to make audiences to reconsider the judgments they tend to make about performers on stage.
The idea for Gala grew out of series of workshops he gave in Paris for non-dancers. Inspired by their energy, enthusiasm and enjoyment, he decided he want to produce a "professional show" for non-professionals, as well as challenge the established notions of what a dancer should look like, what a dance or theater production should be, what constitutes "a performance" and what differentiates a failure from a success.
The idea of perfection bores him, he has told interviewers.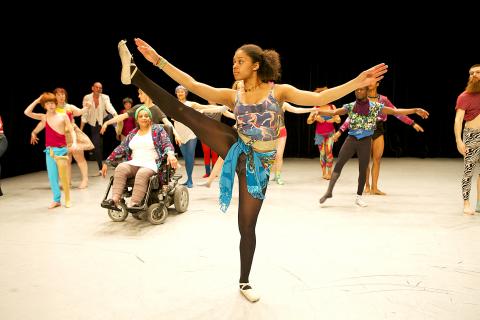 French choreographer Jerome Bel's Gala is performed at La Commune in Aubervilliers, France, in April 2015.
Photo Courtesy of Veronique Ellena
"Dance should be for everyone: kids, old people, disabled people, sexy people, non-sexy people, introvert people, extravert people … there are no limits! The more we have different bodies, the more we have different dances," he is quoted as saying in notes from the Taipei Arts Festival.
While Bel has said he wanted to create something that was accessible to amateurs of all ages and backgrounds and give them the flexibility to make it their own, there are always a few professionals.
He has also said he also wanted to celebrate the idea of community. A crucial element in the creative process is that he does not "choose" the performers; they are "invited."
Gala which has been performed in more than 20 countries and 50 cities, is different in each place because the cast is different.
The show begins with a slideshow of empty theaters and stages, and then the cast enter one by one to an excerpt of music from Giselle. As the show continues, the score proves to be as diverse as the performers.
Bel might be the host of the party, but it is the people he invites that make it a memorable experience. The show has been hailed as revelatory, joyful and fun, for performers and audiences alike.
Publication Notes
Performance Notes
WHAT: Gala
WHEN: Tonight and tomorrow at 7:30pm, Sunday at 2:30pm
WHERE: Zhongshan Hall (台北市中山堂), 98 Yanping S Rd, Taipei City (台北市延平南路98號)
ADMISSION: NT$500 to NT$1,500; available at NTCH box offices or Eslite ticket counters, online at www.artsticket.com.tw and at convenience store ticketing kiosks
Comments will be moderated. Keep comments relevant to the article. Remarks containing abusive and obscene language, personal attacks of any kind or promotion will be removed and the user banned. Final decision will be at the discretion of the Taipei Times.