Something for everyone
This year's Taipei Arts Festival, under the guidance of Singaporean artistic director Tang Fu Kuen, offers a dizzying array of performances, talks, workshops and forums, more than 30 events in all
The Taipei Arts Festival is celebrating its 20th anniversary this year, and to mark the milestone the Taipei Department of Cultural Affairs and Taipei Culture Foundation decided to expand the size and scope of its arts extravaganza by joining forces with the Taipei Children's Arts Festival and the Taipei Fringe Festival to ensure there will truly be something for everyone.
It is also an extra-long Taipei Arts Festival year, opening on Wednesday next week and running through Oct. 21. As usual, events will be taking place citywide, ranging from Zhongshan and Metropolitan Halls, to the Wellspring Theater and the campus of the Taipei National University of the Arts.
The staff of the Taipei Performing Arts Center, whose long-awaited home in Shilin District (士林) is still under construction, were tasked with organizing this year's festival.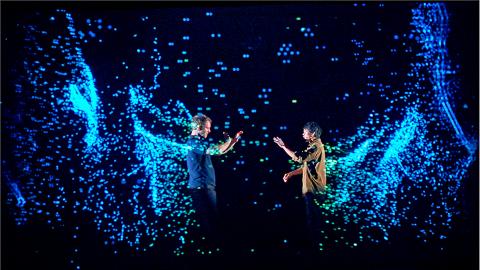 Multi-media artist Chou Tung-yen has teamed up with the Very Theatre and Denmark's The Culture Yard to present Chronicle of a Year of Light at the Experimental Theater at the Taipei National University of the Arts from Friday next week to Aug. 18 as part of the Taipei Arts Festival.
Photo Courtesy of Taipei Arts Festival
One of the first decisions center director Austin Wang (王孟超) made was to ask in May 2016 Singaporean Tang Fu Kuen (鄧富權), a well-known dramaturge, curator and producer who has made a name for himself curating dance and performing art works in Europe and around Asia, to be the festival's artistic director.
Wang thought that Tang's Southeast Asian connections and networking skills would be invaluable, while he was familiar with Chinese culture.
Tang, who worked with Taiwanese dancer/choreographer Chen Wu-kang (陳武康) and Thai dancer Pichet Klunchun on their controversial show Behalf (半身相), seen in May at the Cloud Gate Theater, did not say yes right away, since the job would mean moving from Bangkok, where he had lived for about a decade.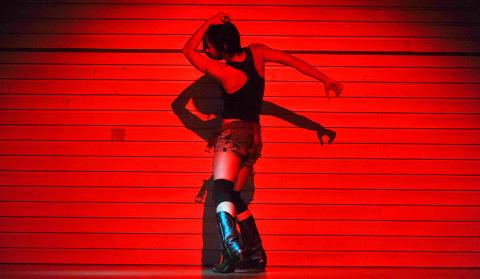 Eisa Jocson from the Philippines will give both a workshop and a talk about her gender-bending show, Macho Dancer, as part of the Taipei Arts Festival.
Photo Courtesy of Taipei Arts Festival
He made four study trips to Taipei before agreeing at the beginning of last year to accept the position and a three-year contract. He told a news conference last year when his position was announced that one of his goals was to get young artists from Taiwan and Southeast Asia talking to one another.
Tang's theme for this year's festival is "Assembly," and he has certainly pulled together a wide array of performances, workshops, lectures that cross both cultural and artistic boundaries.
There are more 30 events in all, grouped under headings ranging from music, dance and theater, to critics' list, artist list and the Think Bar. However, the festival's Web site notes that the performances are not intended for family audiences. It says children younger than seven are not allowed, and those under the age of 12 must be accompanied by a guardian.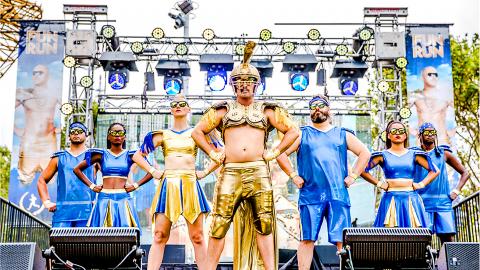 Australian artist Tristan Meecham is bringing his unusual marathon run-dance performance to the plaza in front of Taipei's Zhongshan Hall on Aug. 18.
Photo Courtesy of Taipei Arts Festival
Despite that admonition, there are at least two shows that are family friendly, and one that says it is suitable for those six-years of age and up: the Ting-Koo-Ki Juggling Battle! (釘孤枝雜耍擂台) from Hsingho Co (星合有限公司), founded by former Cirque du Soleil performer Chen Hsing-ho (陳星合), on Sept. 9 at Zhongshan Hall.
There is not enough space in this story to cover all the events, and in any case, the festival has an excellent Web site detailing everything from the events, to the artists and special offers to ticketing links (www.artsfestival.taipei/Schedule.aspx?FWebID=39).
However, one of the highlights is sure to be the long-awaited new show by dancer-choreographer Huang Yi (黃翊), Under the Horizon, a collaboration with Japanese audiovisual artist Ryoichi Kurokawa and the Nederlands Kamerkoor.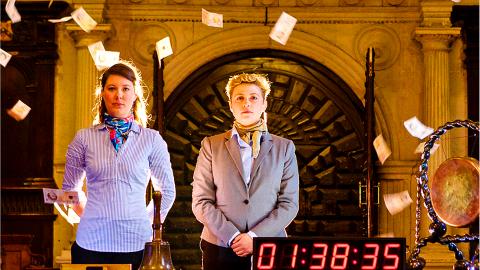 The Kaider studio from Exeter, England, is bringing its interactive The Money show to Taipei's Zhongshan Hall for three shows, starting Aug. 25.
Photo Courtesy of Taipei Arts Festival
Inspired by the global refugee crisis, the show explores the frontier between life and the hereafter and the search for hope and a home.
The Huang Yi Studio's (黃翊工作室) gave a preview of the show at the Cloud Gate Theater in October last year and it was mesmerizing. The show had been scheduled to be part of the opening season of the Taipei Performing Arts Center this year, but since the center is not finished it will be at the Metropolitan Hall instead
There are two versions: the first two shows, starting on Oct. 18, will feature vocals by the Nederlands Kamerkoor, the Oct. 20 and Oct. 21 shows will use the group's recorded music.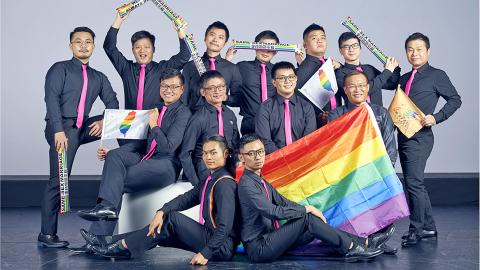 The G-Major Chorus & The Bleinders will perform This Is It at Taipei's Zhongshan Hall on Sept. 9.
Photo Courtesy of Taipei Arts Festival
French choreographer Jerome Bel is bringing his Gala for three shows from Aug. 24 to Aug. 26 at the Zhongshan Hall. Bel was last in Taipei in 2005 with Pichet Klunchun and Myself as part of the Novel Hall Dance series.
Gala, for which he recruited local participants to appear alongside his dancers and actors, is aimed at getting audiences to reconsider the judgments they tend to make about performers on stage.
Under the title "Think Bar," a total of 17 shows, workshops and talks will be given by Taiwanese and visiting artists.
Among the shows are Philippine Elsa Jocson, whose Macho Dancer is a gender-bending performance inspired by a form of dancing performed only by young men in Manila nightclubs; Jaha Koo from South Korea, whose show examines the impact of the 1998 economic crisis on his nation, in a story told through rice cookers; and Liting Tan from Singapore, who is bringing her play, Pretty Butch, about gender definitions and identity.
Joanna Warsza, a Warsaw-born Germany-based curator who is the artistic director of Public Art Munich, will give several talks on topics ranging from curating in public spaces to dealing with politically inspired boycotts of the arts.
In music, The Bleinders, the world's only visually impaired A capella group, and the 17-year-old G-Major Chorus, an LGBT ensemble, will perform This Is It at Zhongshan Hall on Sept. 9
In the "hard to categorize" category is Australian artist Tristan Meecham's Fun Run, where he attempts to run the length of a marathon on a treadmill as the show tells the tale of the Greek messenger Pheidippides, who ran to Athens to announce the defeat of the Persian army in the Battle of Marathon, and died after delivering the message.
Meecham will be accompanied by community performers and athletes from Taipei, several dancers and a slew of mystery guests. The show, which lasts five hours and includes hourly flash mob dances, is free, and people are encouraged to just drop in for part of it, it they do not think they can last the entire performance. This is the second show that would be suitable for children.
Since festival tickets went on sale in May, several of the programs have already sold out, including two theater shows: multi-media artist Chou Tung-yen's (周東彥) coproduction with the Very Theatre and Denmark's The Culture Yard, Chronicle of a Year of Light, and The Kaider's interactive The Money.
Comments will be moderated. Keep comments relevant to the article. Remarks containing abusive and obscene language, personal attacks of any kind or promotion will be removed and the user banned. Final decision will be at the discretion of the Taipei Times.